Open Daily from 07:00 – 23:00
Breakfast, lunch or dinner? Al fresco and romantic on our private beach or in our elevated bistro-style restaurant? Feet in the sand or on a comfortable sofa? A twosome or a larger private function? Whatever your choice, our Fat Cats Bar and Restaurant has the answer. Our extensive international menus guarantee something mouth watering, whatever your tastes or dietary requirements.
Only The Best
We're only using the best ingredients to prepare our dishes and our well trained staff will make your stay at Fat Cats pure joy.
Our Menu includes something for everybody to be enjoyed. You can download our Food and Drinking menu by clicking at the button below.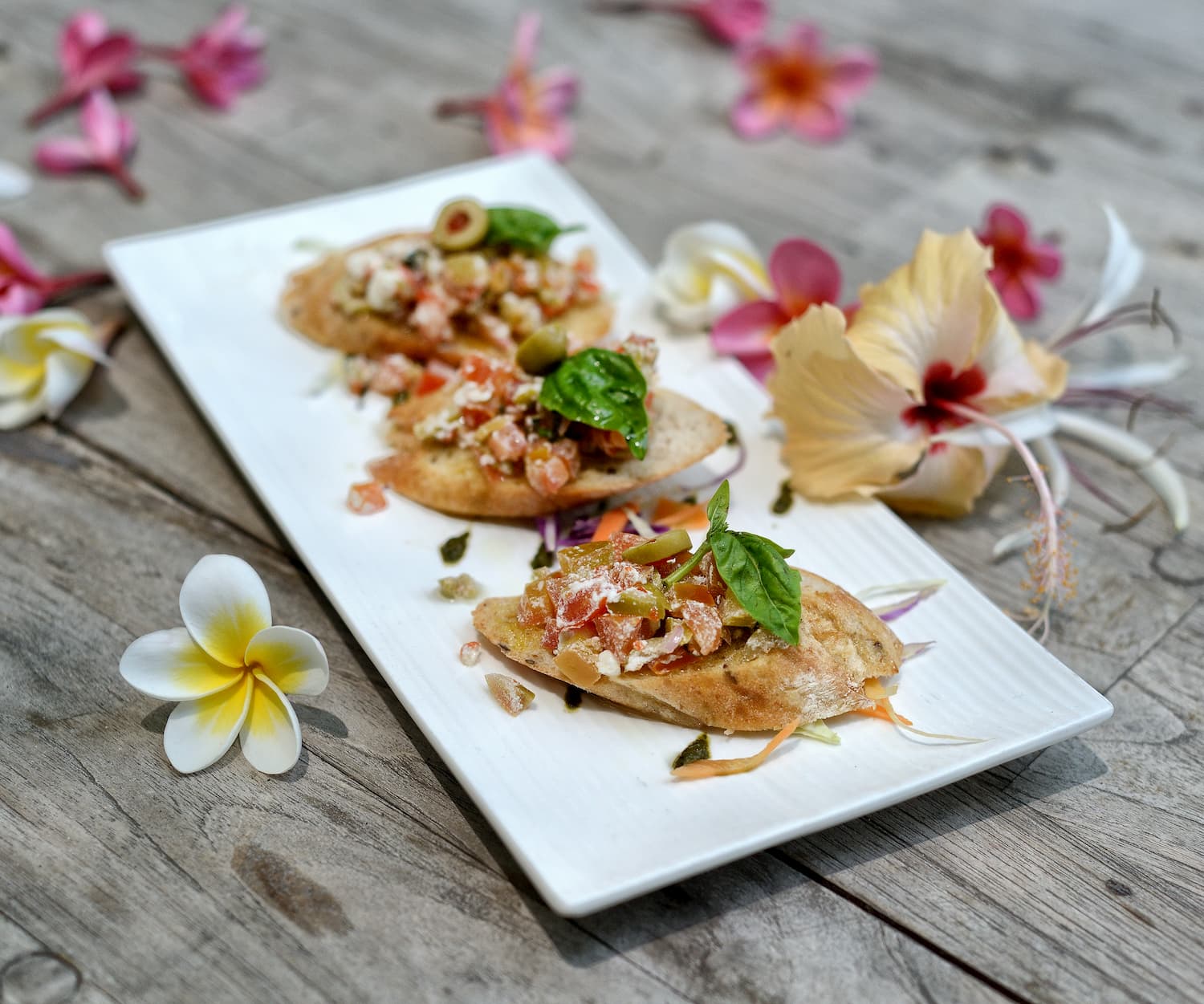 Fresh locally sourced Ingredients
Our food, cold-pressed juices, blended smoothies and famed cocktails all use locally-sourced, fresh and organic vegetables, fruit and ingredients and, as the seasons change, so do the choices we can offer as monthly specials. So, the Fat Cats menu gives you 5 a day in a fun as well as a healthy way!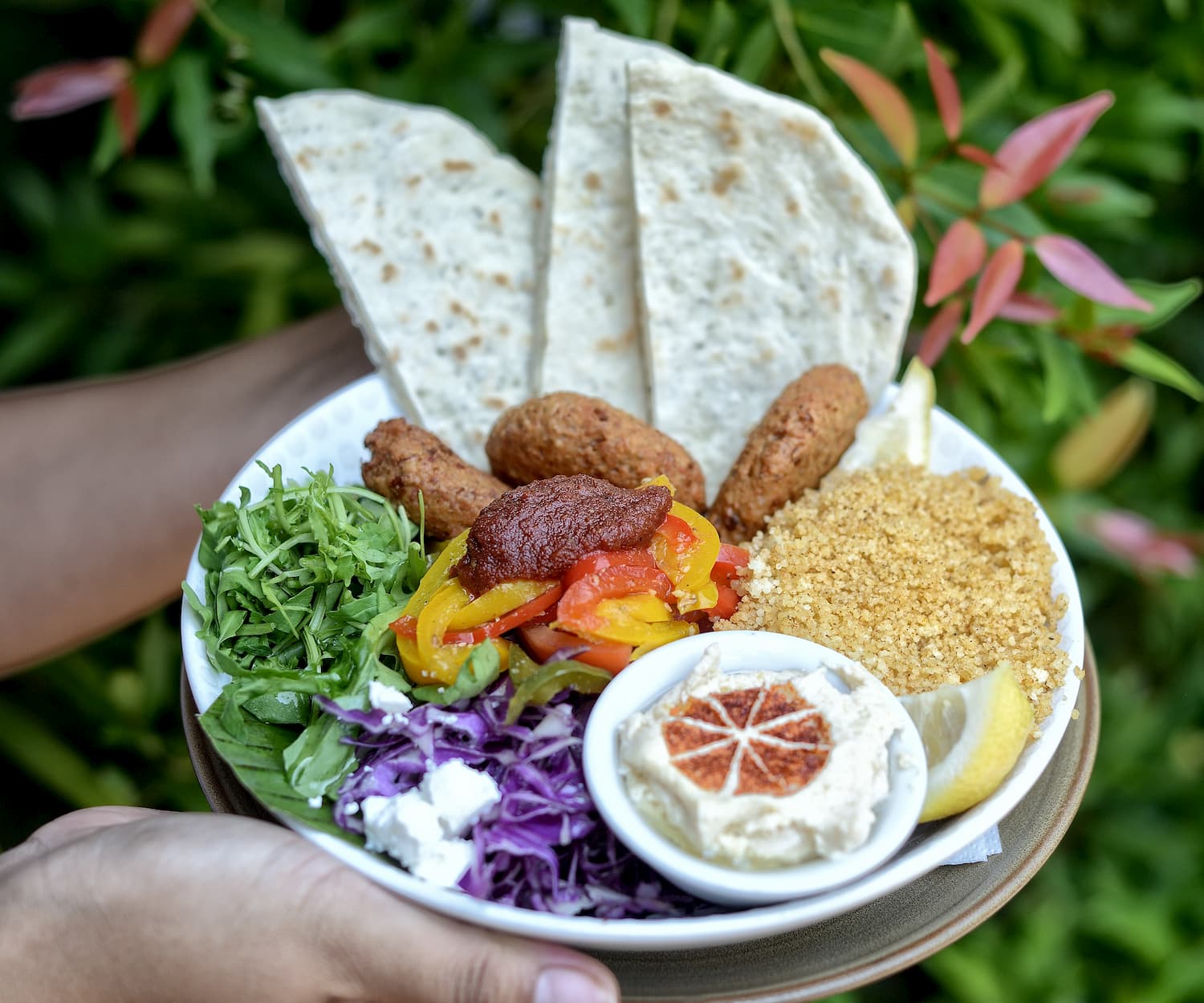 Cocktails
Our contemporary cocktail list is constantly changing so that we can use the freshest seasonal fruits and introduce new creations. Our highly trained mixologist team will make your taste buds tingle. Our selection of infused liquors, martinis, sangrias, margaritas and more will leave you spoilt for choice. One is never enough!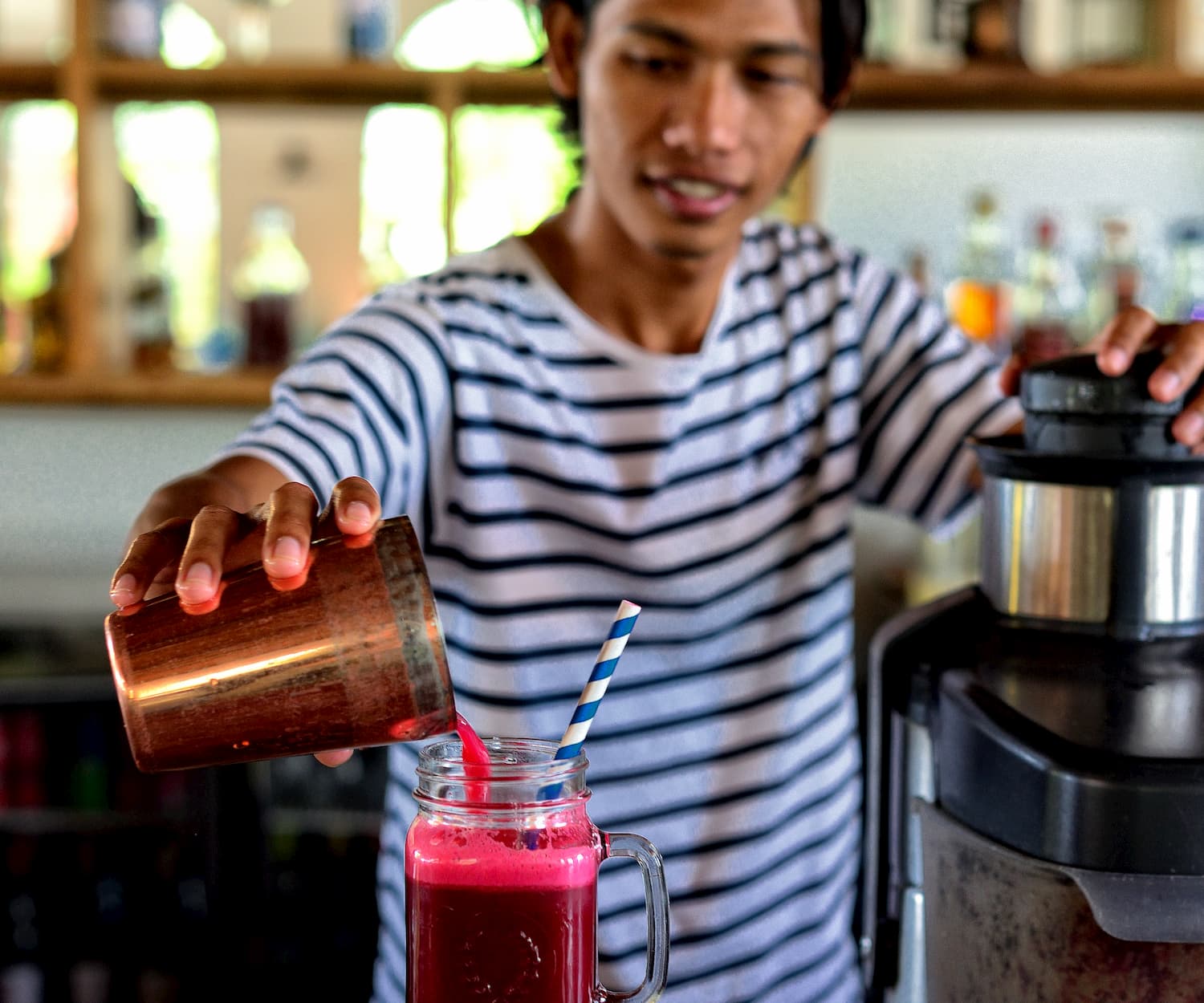 Atmosphere and Location
You can enjoy a romantic meal on the beach listening to the sounds of the ocean with stunning views over Lombok and Gili Meno. Our upstairs restaurant is perfect for hosting larger groups and private functions.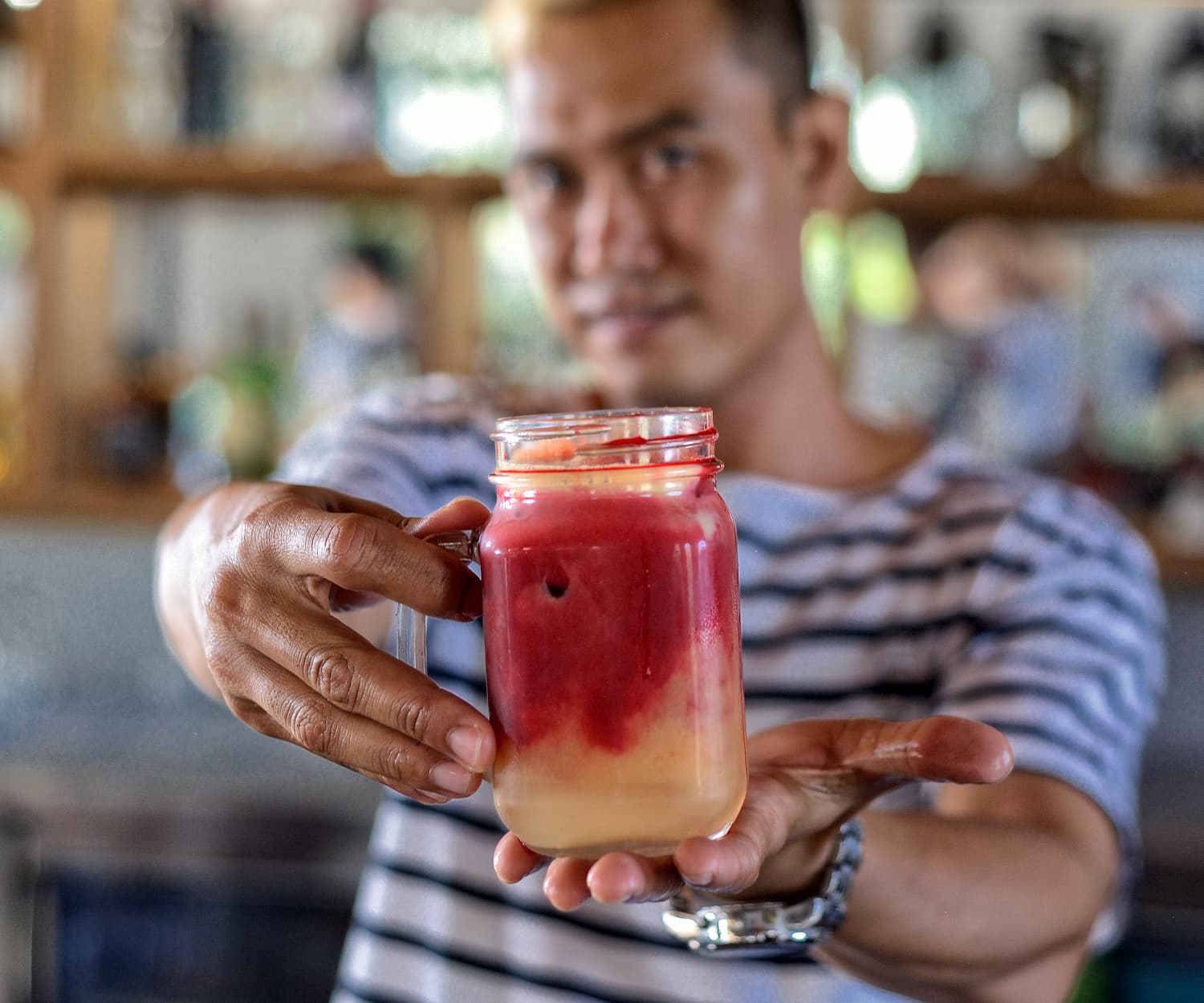 Juices and Smoothies
Our selection of cold-pressed juices and blended smoothies are made from locally sourced, fresh, organic ingredients. There is no excuse to not get your 5 a day with so many healthy options to choose from.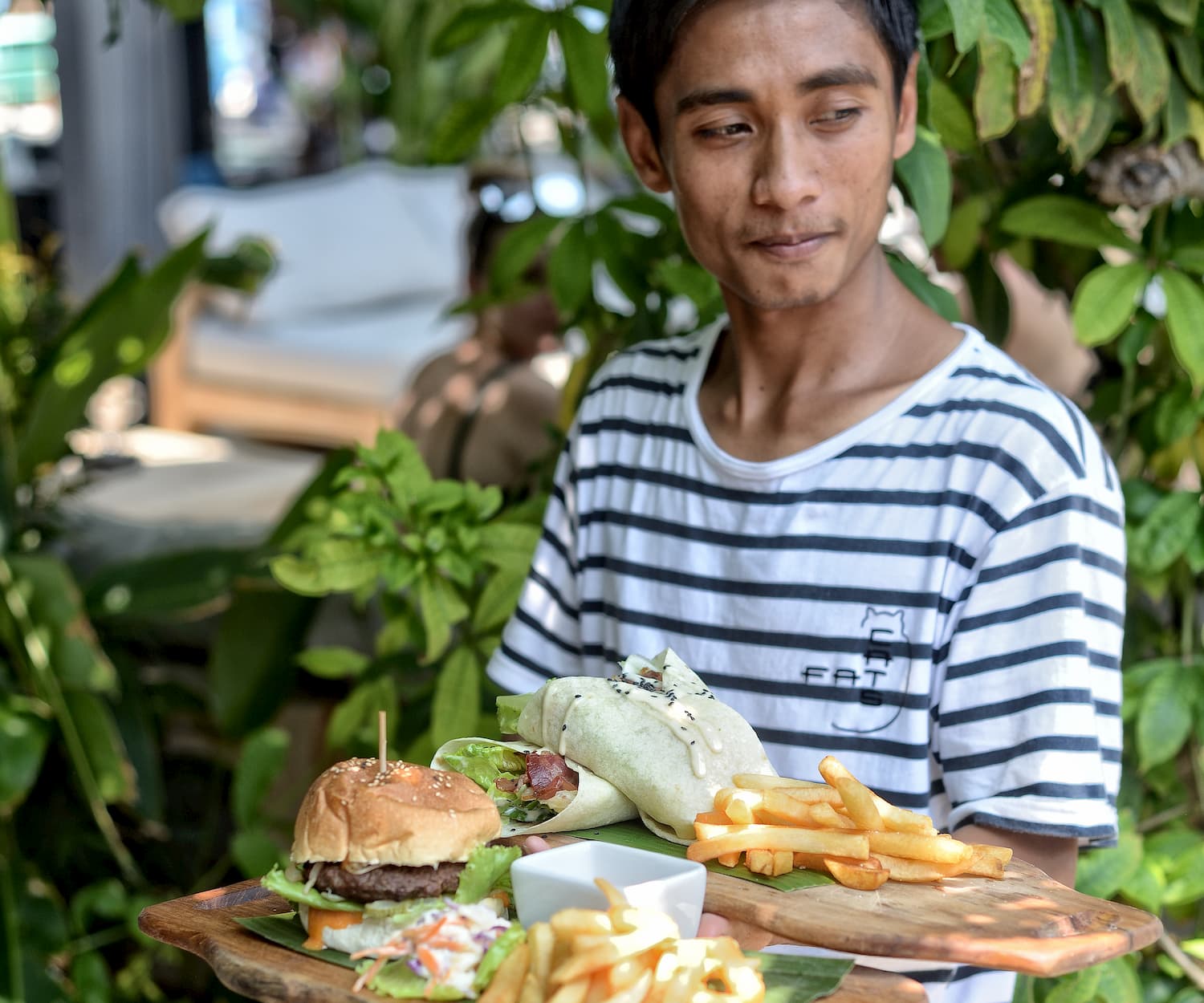 Large Groups and Private Functions
Our team are well trained in catering to larger groups. Our elevated bistro is perfect to host a private function, or a group meal. Buffet style or a-la-carte dining options are available, and we can even bake cakes for special occasions.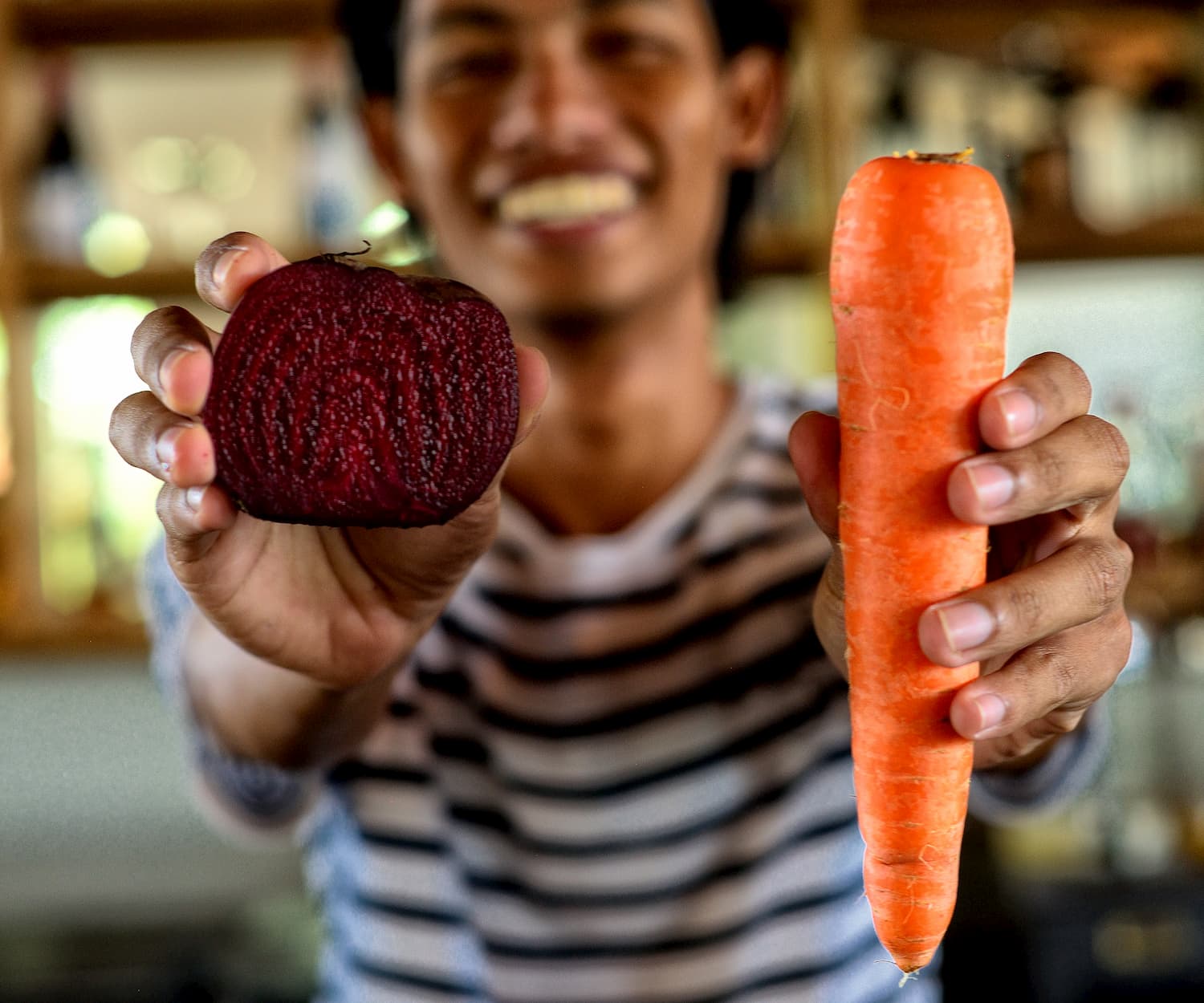 Special Menus
We like to keep things interesting at Fat Cats. We have monthly specials using seasonal ingredients, so returning guests can try something new and exciting.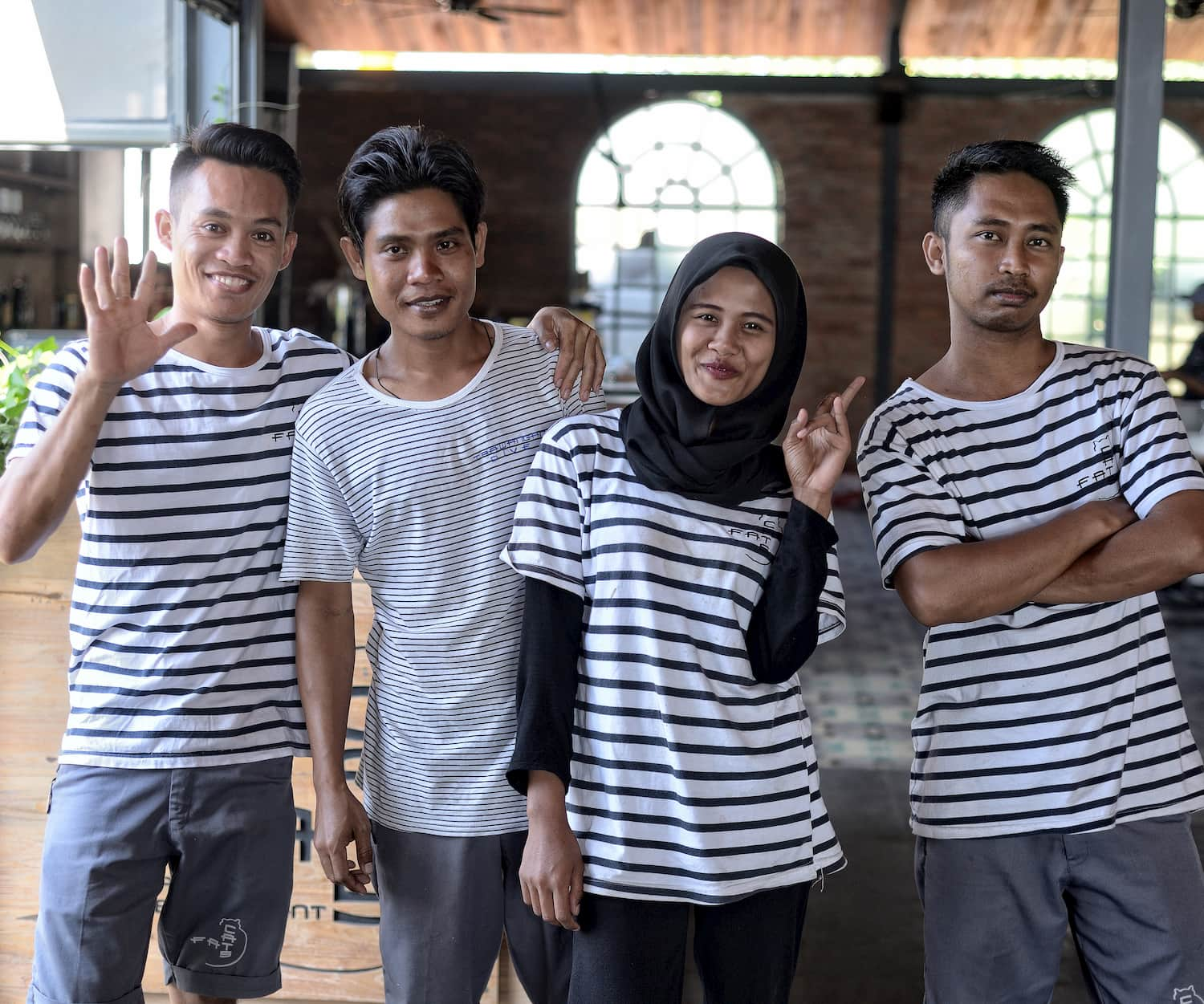 Special requirements
At Fat Cats, we take our customer's special requirement very seriously. We have created a menu that includes a range of choices for vegans, vegetarians and coeliac. If you have special requests, just tell our friendly staff who will be happy to help.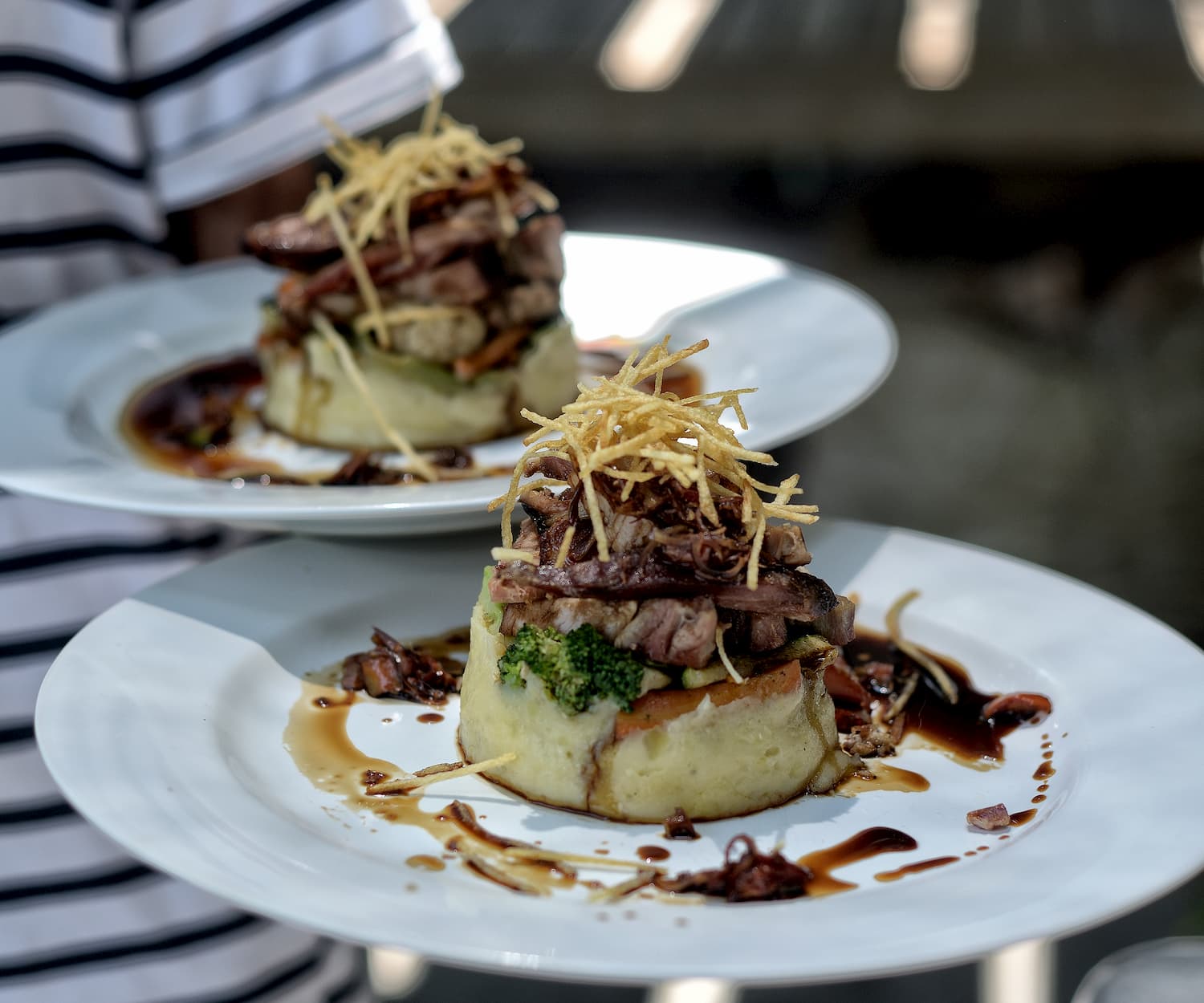 Bistro-Style Restaurant
Have you ever ventured upstairs to our bistro-style restaurant? An ideal space to enjoy a relaxing meal, or find a comfortable corner on our sofas, log onto the Wi-Fi and catch up on some emails. It's also a perfect place to escape the rain and enjoy a freshly brewed coffee. Did we mention the breath-taking view of the three neighboring islands?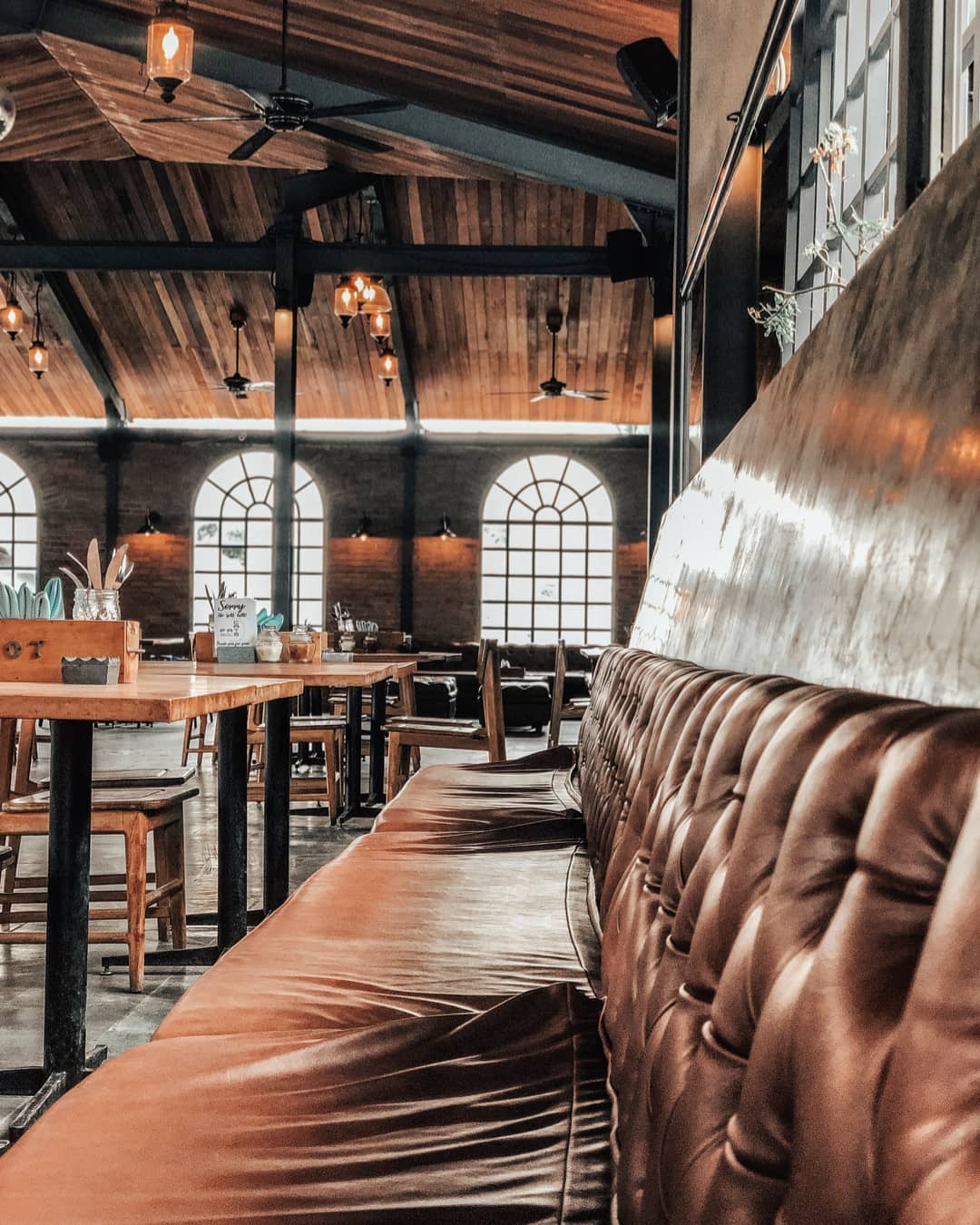 Fat Cats coffee – made with love!
Start your day or finish your meal with a Fat Cats coffee, made by a trained barista on our LaMarzocco coffee machine; drink in or take away in a compostable cup for your environmental conscience. That meal ending espresso, cappuccino or latte will never have tasted so good, especially with a well-chosen digestif.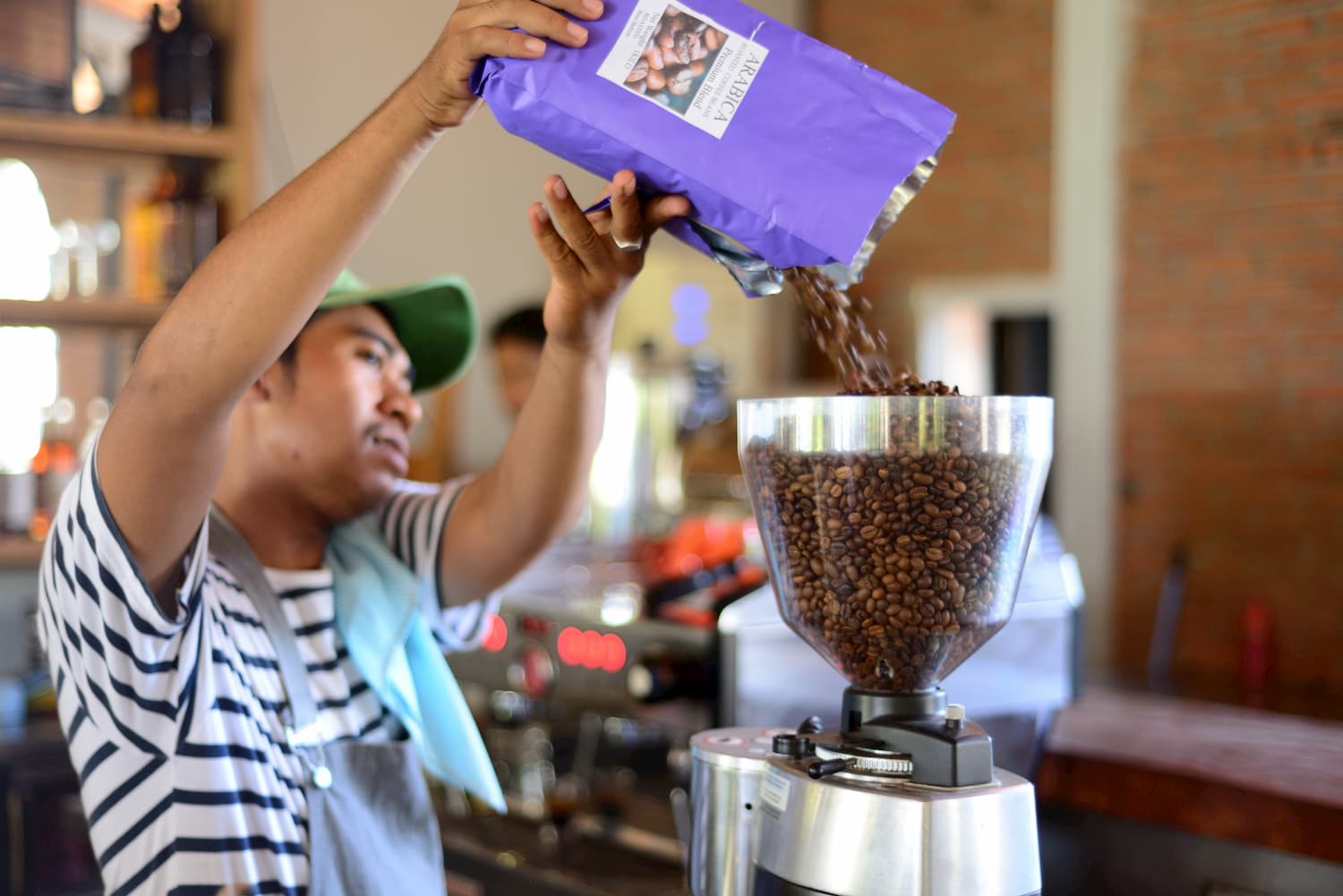 What is your favourite coffee? Cappuccino? Latte? Or simply an Espresso?
Our skilled Baristas are trained to make your favourite coffee whether it's hot or iced. All options are available with soy milk.
At Fat Cats, we serve Barista style coffee using a commercial LaMarzzoco machine, so if you are looking for richness in quality, then look no further.
Our premium grade coffee is available all day long. If you're on the run, grab your coffee to take away in our 100% compostable cups.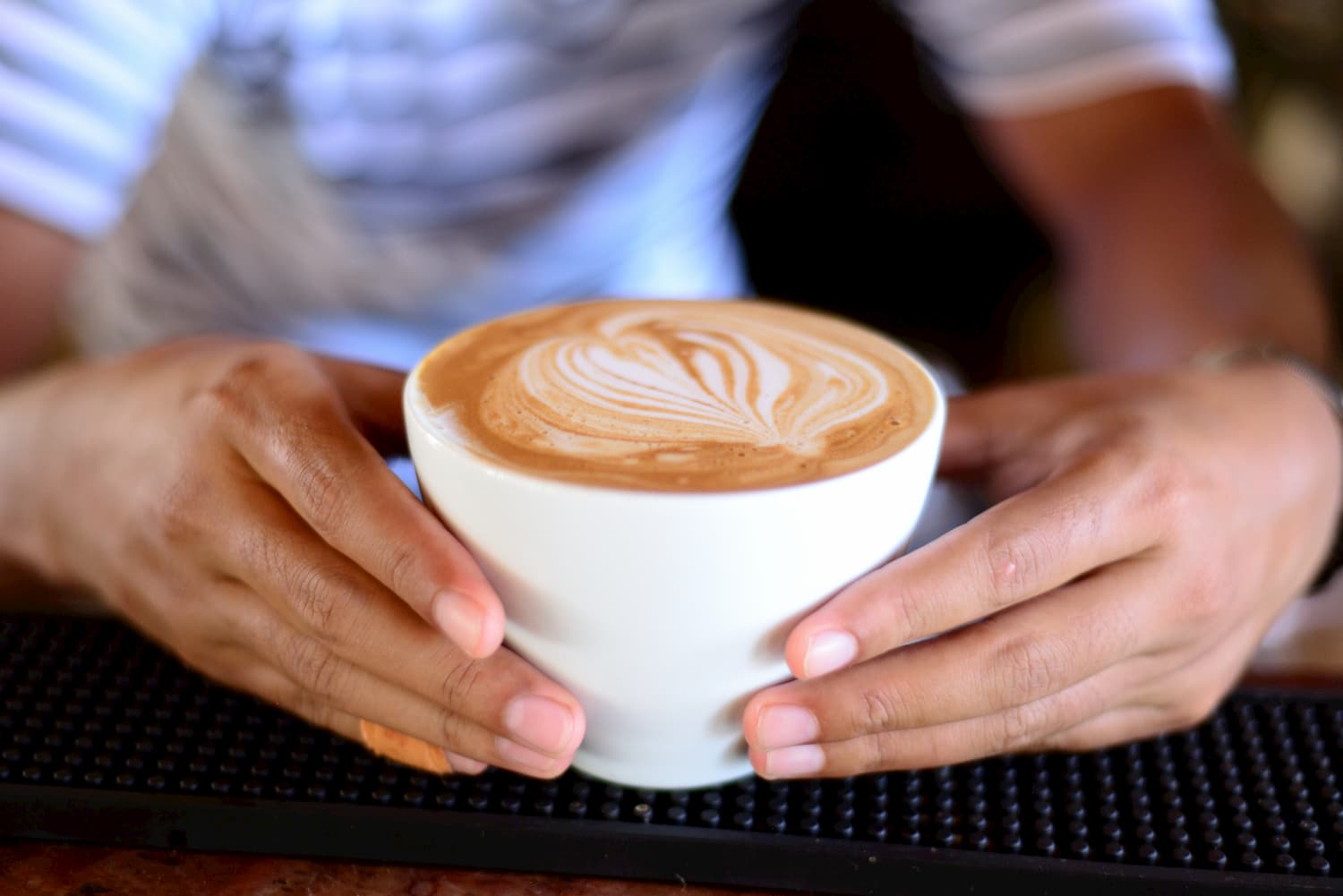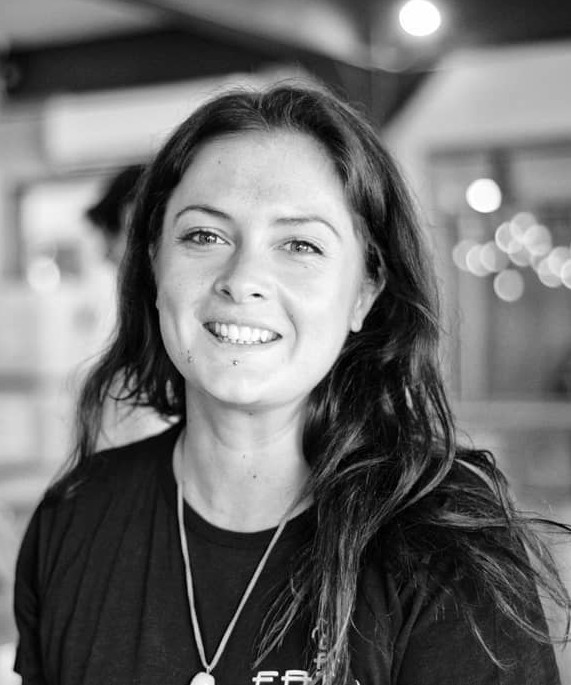 Have you met the lady behind Fat Cats?
Chloe is our Restaurant and Bar Manager. Over the last 3 years she has reinvented the restaurant. When she's not busy creating new menu ideas, infusing liquors, trying new cocktail ideas, she's out on the floor interacting with customers, and is always delighted to hear your feedback.
"A big thank you to all of our awesome guests for continuing to leave us such kind feedback!"
Great restaurant, excellent food, nice staff. The lemon ice tea is excellent, the pork ribs and the grilled salmon were top notch. Location is great to and the ambient is really nice. Really shocked that a small island has restaurants as good as this.

The location is awesome. You can sit on the beach while drinking and eating the delicious food of the restaurant. For Indonesia, the portions are big and nice, it tastes good and the service is nice. The prices are average for Gili T.
Definitely recommend it.

Maybe the best cocktails on Gili T, I mean I haven't tried them all, but they were great and a big range of choices. The food is also very good with plenty of options including vegan.

Really delicious food! The chicken screw were incredibly good as was their salad with chicken. Totally recommend. Staff is friendly and the atmosphere is very nice!

Great place for a decent meal. Love the gypsy burger and the potato wedges. I could spend all day in the pool bar drinking mango chilli margaritas and not regret a single moment.

This place serves the best coffee and smoothies on the island. The staff is incredibly friendly, upbeat, and quite simply kind. Fat Cats became our hub during our stay in Gili T. as members of our crew took diving classes while others (aka me) ate! Hugely appreciate their efforts in eliminating plastic use on the island #iamnotplastic

We absolutely loved this place, everything we ordered was so good and we ate there almost every day and I would definitely recommend the Beef tenderloin steak. It is so delicious and the staff is so friendly.

Fat Cats is one of my fave eateries! With choice of seating upstairs in the newly renovated dining area or right on the beach with the sand in your toes you have a delicious menu to choose from. Mostly western dishes but with a few of your favourite local must haves. Tons of vegan and vegetarian options (recommend the gypsy burger & poke bowl) but meat eater dishes as well (steak is bomb!) I have eaten here many times for dinner and cocktails before a night out or for lunch in between dives and I'm always satisfied with the fresh food. The attentive and funny staff make your dining experience that much better!

Love the Poke bowls, the burgers and the selection of smoothies and cocktails! Plus the view from the beach and the restaurant are some of the best on the island!

I'm lucky enough to come to Gili every 2 weeks and Fat Cats is my go to. As a vegan it's sometimes very hard and quite tedious going to some restaurants as the choices are so limited or boring. Not at Fat Cats!!!! Vegans are totally spoilt for choice! Vegan poke bowls, tacos, burgers, Mac and cheese, you name it they've got it covered. Honestly this restaurant knows how to do food. It's always totally delicious and the staff are so friendly and accommodating. So if you visit Gili, be sure to spend some time in this wonderful place! And don't forget to sign up for an amazing underwater experience with Trawangan Dive underneath! This place is like my second home, I have made life long friends and we get to eat gorgeous, cruelty-free meals and explore the crystal clear waters. I'm super blessed and you can be too!

Frequently Asked Questions
If you have any question or special requests you can contact us via email: resto@trawangandive.com
What time does your breakfast buffet start & finish?
Our breakfast buffet is open to guests from 7 – 10am every day. Both our in-house guests and outside customers are welcome to enjoy the buffet which has a delicious selection of freshly cooked hot dishes, a pancake station, an egg station, cereals, fresh tropical fruit, homemade granola, Danish pastries, toast, homemade strawberry & pineapple jam. For outside guests we charge a fee of 100k per person to enjoy the buffet.
What happens if I am sick and unable to make it to breakfast before 10am?
Do not worry, if for any reason you are running late and miss the breakfast buffet, we will be happy to prepare a breakfast of your choice for you, with a tea or coffee. Please just ask one of the staff members to introduce you to a supervisor to ensure that you are looked after with the best service.
Do you host parties or large group bookings?
Yes! We love hosting events at Fat Cats as we have such a great space upstairs. For group dinner bookings we require a 24-hour notice period and a deposit of 500k rupiah for groups over 10. For groups of 15 people or less we can prepare a table on the beach and for groups larger than 15 people we would prepare a space upstairs. We also host private parties in our upstairs restaurant with different price packages depending on the requirements. For groups who are on a tight time frame we can offer lunch or dinner buffets for which we change per person, depending on requirements. For all restaurant bookings & enquiries please email: resto@trawagandive.com.
Can I pay with a foreign bank card?
Yes, at Fat Cats we accept both cash and card payments. You can pay with a foreign Visa or Mastercard, credit or debit card. For all foreign card payments, we charge a transaction fee of 3%, you will find that all businesses on the island also have this surcharge as we are charged by the bank for every foreign transaction. It's very important that our customers are aware of this surcharge so that they have the choice to pay by cash if they wish. We also have an ATM within 100 meters of the restaurant.
Do you have gluten free options?
Yes, we have a selection of gluten free dishes on our menu, we can also adapt certain dishes as a gluten free option. We take our customer's allergy requirements very seriously and we have a number of dishes suitable for vegans, vegetarians, coeliac and even people with extreme nut allergies. Please inform your server of any requirement or allergies that you have and they can show you our menu allergy chart and also give you some suitable recommendations. We would ask anyone with an extreme allergy to ask for the manager to ensure that we can communicate the information correctly to the kitchen and prepare a clean space for the preparation of your meal.
Is your kitchen Halal?
We do prepare predominantly Western cuisine in our kitchen which includes pork dishes, however all of the chicken and beef dishes that we serve are sourced from Halal companies. We ensure that the pork preparation is separated from the rest of the food in the kitchen.
Do you have a Happy Hour?
Yes, we have a happy hour everyday between the hours of 4 – 6pm. For happy hour we offer Small Bintang bottles for 25k & Large Bintang bottles for 35k. We also give a 15k discount for each cocktail on the menu. We have a special happy hour menu every month with cocktails available at a very discounted rate.
Why isn't the service the same as a restaurant at home in my own country?
We give all of our staff regular training in Western restaurant standards which are taught by our Restaurant Manager who is from England, however there are a number of factors which need to be kept in mind when visiting our restaurant. The majority of our staff are from Lombok which is still very unaffected by tourism. A lot of them come straight from school and learn to speak English on the job and learn about tourism from scratch. They are very keen to learn and absolutely love having conversations with guests, but we ask our customers to adopt a little patience and understanding whilst communicating with them. There can sometimes be a miscommunication so it's always best to ask to speak to a supervisor if you have a problem or a special request. Fat Cats also belongs to a hotel and a dive center, so the restaurant is always busy, not just with outside customers but with hotel guests, staff and dive customers. At lunch time we adopt a more relaxed attitude in the restaurant and invite guests to order at the bar, but in the evening, we take on a more formal dinner style service. We train our staff to be friendly and welcoming with a little more of a laid-back attitude than formal western restaurants as we are situated right on the beach, so please relax and enjoy 🙂