Take A Break with
Trawangan Dive
Welcome to Trawangan Dive Resort
Rooms to suit
all budgets
Discounts available
for direct bookings
A top location in Gili Trawangan
Our prime location on the best stretch of beach on Gili Trawangan is a definite advantage to our providing everything necessary for a relaxed tropical holiday. You can soak up the sun on our private beach with its stunning views of Mount Rinjani on Lombok whilst sipping one of our fabulous cocktails, drinking something cold, or enjoying your choice of food from our comprehensive lunch and dinner menus which suit all tastes and requirements.
For the more active, our internationally renowned award-winning dive centre offers something for every diving skill level. For the less ambitious, snorkelling directly off the beach puts you among turtles, a kaleidoscope of tropical fish and views of the coral preservation programmes in which we participate. Kayaking and paddleboarding offer more aquatic alternatives or why not explore the island on horseback?
We look forward to welcoming you. Our friendly staff can assist with your bookings and offer discounts for those who book directly. We can organise your island transfers from Bali or Lombok and prepare dive/stay packages to suit everyones' wishes and preferences.

Breath taking views to the neighbouring islands – Gili Meno, Gili Air and Lombok
With our attentive team of highly committed employees, we cater to your well-being day or night. Trawangan Dive invites each guest to sit back, relax, and simply have a good time. Please let us know if there is anything we can do for you.
We look forward to welcoming you!
Rooms types
Our new Deluxe Poolside rooms, Economy, budget and sea -view family room suit all budgets. All have tasteful, modern teak furniture and are comprehensively equipped: air conditioning, wireless internet, fresh-water showers, mini fridge, TV, safety box and complimentary drinking water.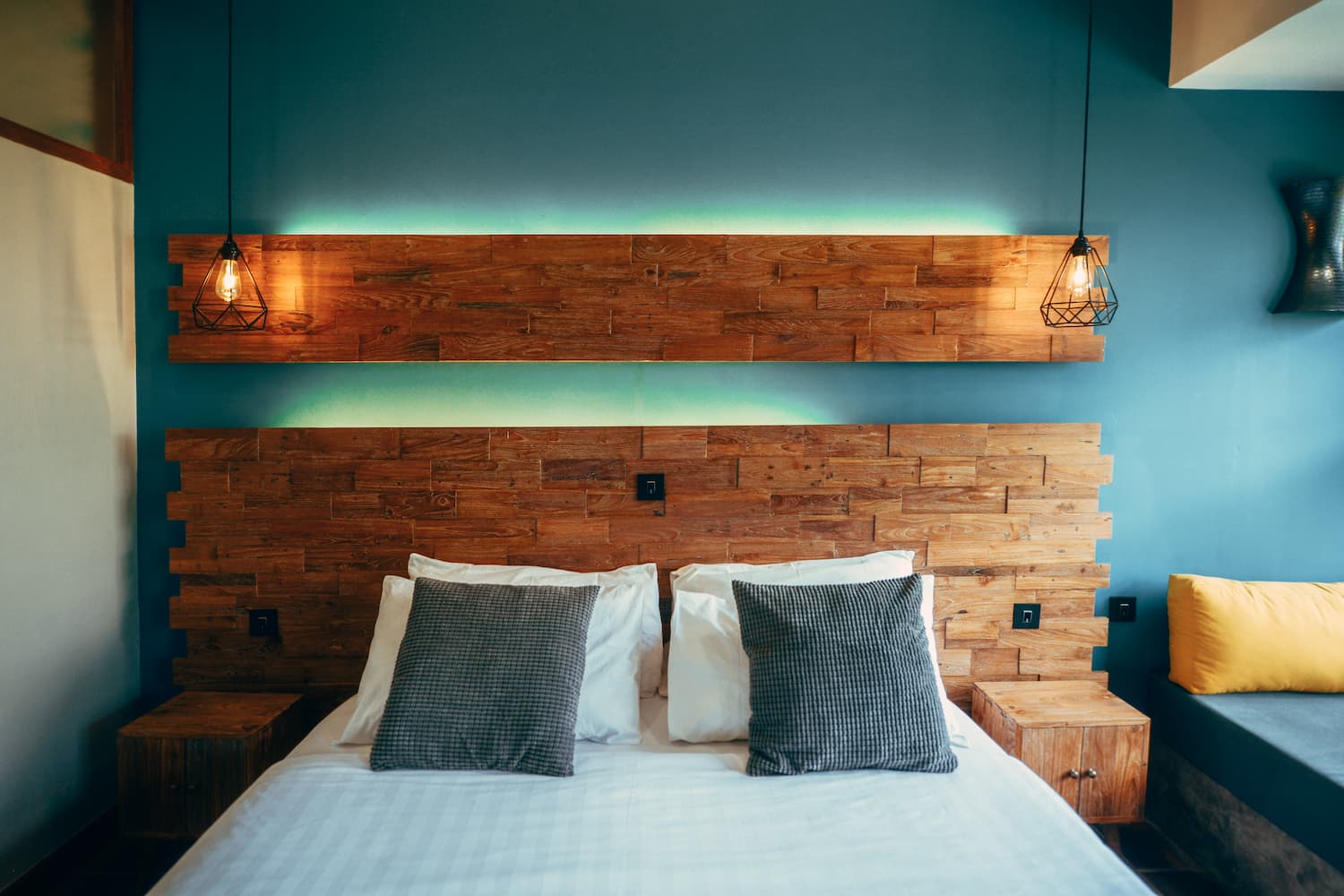 These stunning newly renovated pool side rooms are the perfect island escape. With a large double bed and additional day bed, they are ideal for groups of 2 or 3 pax. The 35m swimming pool is just steps from your terrace.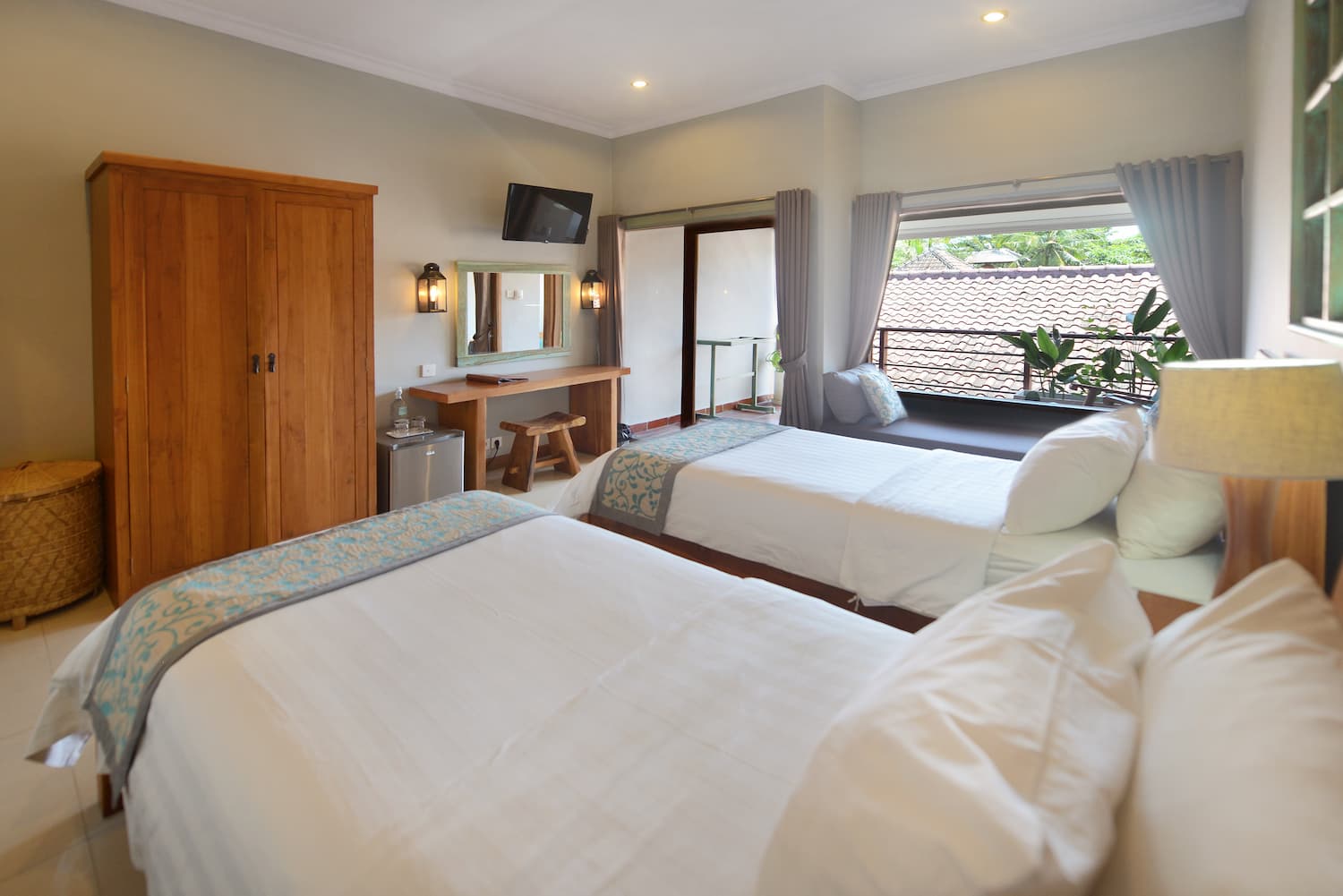 These rooms offer all the amenities for a comfortable stay on an affordable budget. Available with double or twin beds, our economy rooms include tea and coffee making facilities, and a furnished terrace or balcony.
This 2 bedroom villa offers a spacious front room with a queen sized bed and additional room with two twin beds.  The villa includes tea and coffee making facilities, and a fully furnished balcony with stunning pool and beach front views.  This room is ideal for families or groups of 4 or 5 people.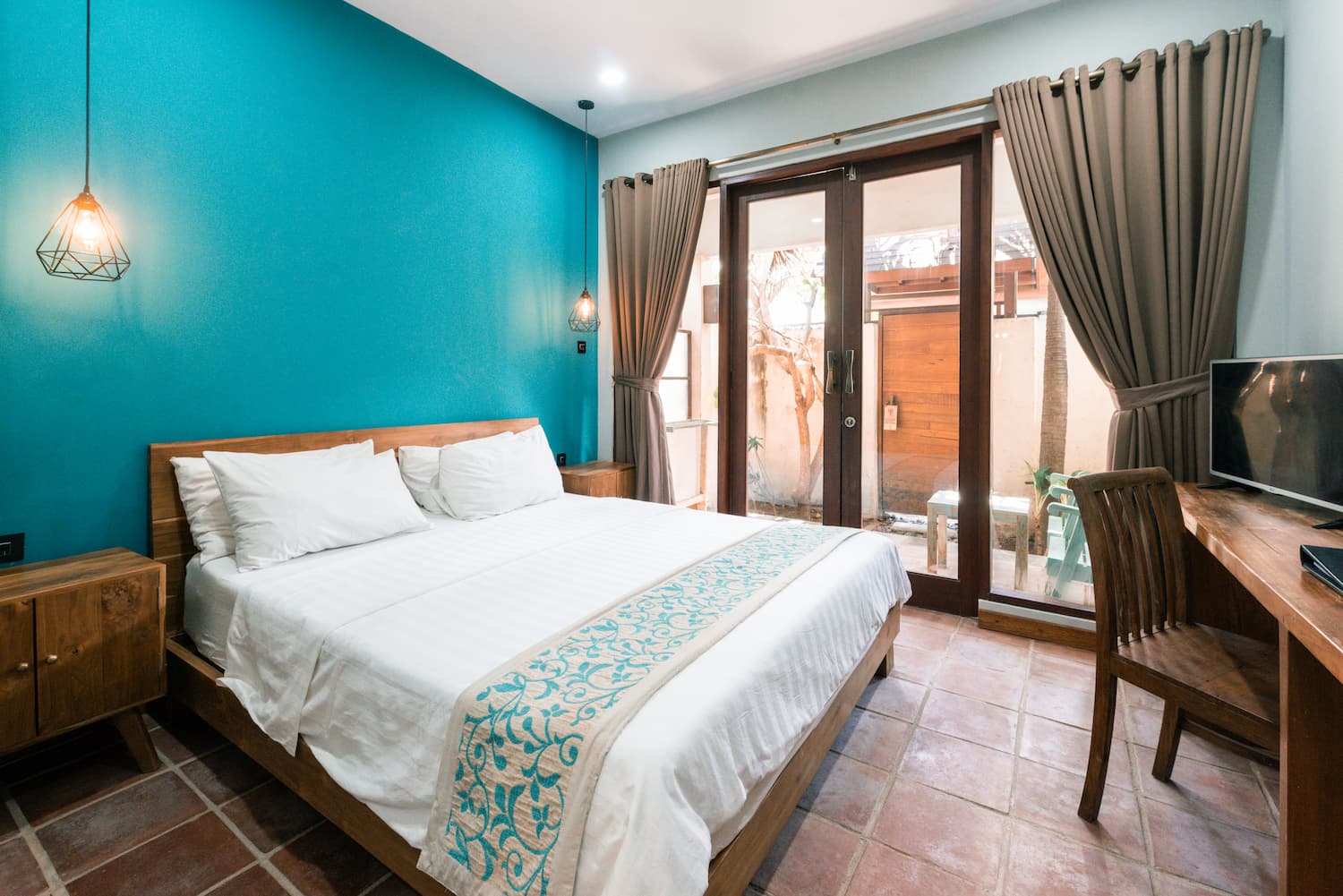 These rooms are located conveniently behind the dive centre.  They are available with a large double bed and a privately gated furnished terrace.
Book now online and don't miss out the best deals.
Feel Good.
Relax.
And Unwind.
Dive And Stay Packages
Make your dive holiday simple by booking one of our dive and stay packages and enjoy maximum discounts on accommodation and fun diving. Our packages include accommodation in either our luxury or standard rooms, three guided boat dives per day, dive gear, tax, service and buffet breakfast.
Trawangan Dive offers hotel comfort in a relaxed tropical garden atmosphere
"A big thank you to all of our awesome guests for continuing to leave us such kind feedback!"
Me and other two friends stayed at the Trawangan Dive Resort for two days and it was worth it. We had a really nice welcome and the room was clean, also the staff was very friendly. The hotel is located by the beach and they have two pools. We highly recommend this place.

Excellent location and the room was lovely. The breakfast was to a very high standard and we were particularly impressed with the resorts swimming pools (especially the bar area).

10/10 this place is the best to stay at Trawangan, given if you're in the island specifically for water sports like scuba diving, etc. The location, the dining setup at the beach, the dive instructors, all in all value for money.

Trawangan Dive was just on the cusp of the quieter area of Gili T, away from the hustle and bustle near the port but still in amongst everything we needed.
The staff were fantastic, including everyone from the dive instructors, receptionists, waiters and everyone else.
My husband did his Padi course and I joined him for a few dives (as I was already qualified) and the team were very accommodating if this. The quality of instruction was great, with safety above all, and we saw lots of marine life; lots of turtles, fish, a moray eel, an octopus and lots more.
The food was good – we ate in the restaurant most days.

The restaurant was great. The diving was wonderful. Wonderful swim up bar where you could order food. Right opposite the beach.

Everything, once we got there the service was amazing, all the staff was great.
The rooms (villa) are very good and the breakfast has been the best on this 23 days of traveling around.
Such an amazing experience diving with the crew (special thanks to Marcus our instructor)

Everything was great. The staff is super friendly, they make you feel in home. Breakfast is amazing, also the view from the restaurant is breathtaking. 2 swimming pools. Comfortable room. Location is great as well. I came to stay 2 nights and ended up in one week 🙂 totally recommend

Reseption was friendly. Breakfast was really good and the beds was so cozy and soft. Decoration was beautiful. We really like this place and I think you will like it too.

Everything- was not noisy like some of the reviews say. I was on the bottom down the back in an economy double room. Breakfast was really good. Right on the beach and very close to everything. Staff really helpful and friendly. Extended my stay 🙂