We have received many inquiries from people asking us what Gili Trawangan is like after the 7.0 magnitude earthquake on the 5th August.
Trawangan dive sustained very minimal damage as a result, but due the damage around the island and uncertainty of whether there would be further earthquakes, all tourists and residents were evacuated from the island, excluding a small group of business owners and dive instructors who chose to remain on the island to protect their businesses, begin the clean up and feed the hundreds of horses and cats that had been abandoned.
While this team of people got to work quickly to restore power and water to the island, clear the main roads of debris, remove dangerous buildings and walls and protect remaining businesses, other teams formed in Bali to form a plan to provide basic provisions to the thousands of North Lombok residents who had lost their homes. Several members of the dive community rallied together to raise funds, purchase necessities, hire trucks and distribute items to those most desperately in need. Trawangan Dive instructors played a huge role in this.
The funds that we raised have ensured that our staff members have the means to build a waterproof shelter for their families before the imminent rainy season. While this is still a short term solution, we are running out of time before the rain will come. They are currently sleeping under tarps. Even those whose houses were relatively unaffected sleep outside for fear of further earthquakes.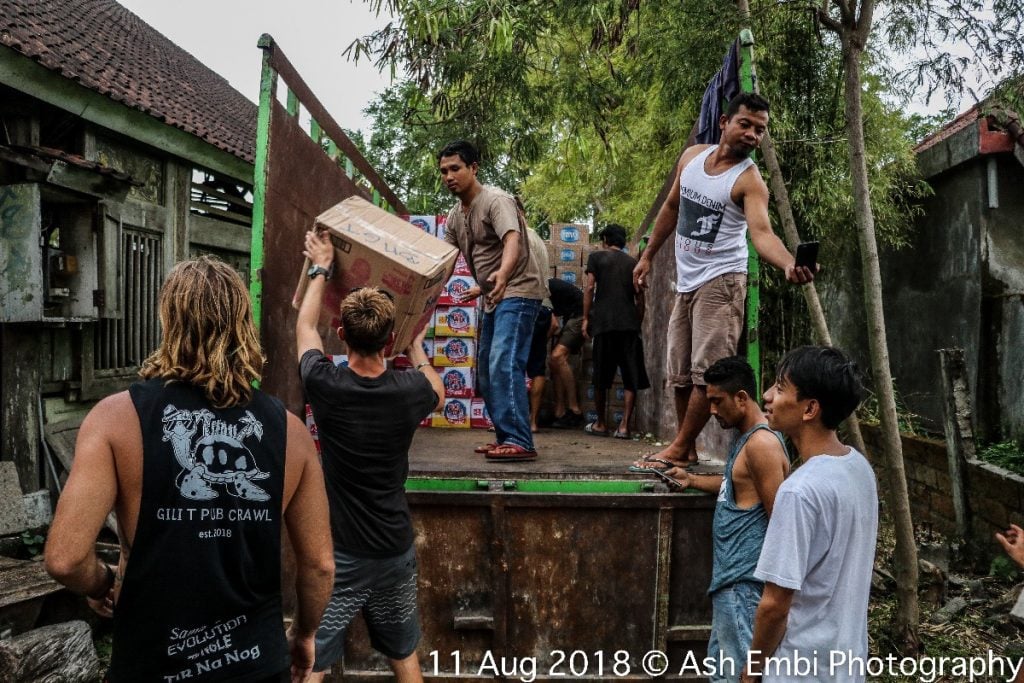 As soon as the basic needs of our staff were met, we were able to move our focus onto cleaning up the resort. Structurally everything was fine, with some cosmetic damage to walls and paint work. Nothing really that a broom, mop and bucket couldn't fix. This gave our staff to help form parts of the teams that went around the island performing tasks in other businesses where all staff had fled. The 'hygiene team' had the rather unpleasant job of cleaning out abandoned kitchens that were beginning to smell. The 'demolition team' spent their days clearing roads or breaking down dangerous walls or buildings. Then there were the volunteers who spend their days cycling around the island feeding abandoned cats, horses, goats, cows and any other animal that was left without any food or water. All of these tasks made significantly more difficult due to the fact that there was a limited food supply (especially for horses) and no fresh running water on the island.
It is quite unbelievable to think that just four weeks later, the island was deemed safe to visit, and is actually a far more beautiful and idyllic version of the recent more populated Gili Trawangan. The beaches are absolutely beautiful, the sunsets are stunning, and you are free to cycle around the island free from crowds. More and more businesses are opening daily, so there is no shortage of places to eat, drink and dive.
It's the ideal time to visit Gili Trawangan and Lombok. Not only will you get to see the best of the islands, but you will be helping to restore the economy. It's an ideal time to learn to dive, with beautiful tropical diving conditions, amazing visibility, minimal boats and divers, and smaller dive groups.