Written by Chelsey Hunts
So, you are thinking about advancing your skills as a scuba diver and have heard that the Advanced Open Water course is your next step. In the Advanced Open Water course, you will become a more confident, competent diver by perfecting your buoyancy skills and increasing your knowledge. It also introduces you to some exciting specialty courses that you can choose to take later on. It is also a lot of fun!
Table of Contents
What is the PADI Advanced Open Water Course?
The PADI Advanced Open Water course consists of five dives, which are typically completed over two to three days. Two dives (deep and navigation) are required. The other three dives are up to you and your instructor to decide. These can be done consecutively or spread out at different times and/or locations. The Advanced Open Water course is a fun and informative course. There is much less theory than the PADI Open Water course. There are no videos or exams, just short knowledge development chapters to read and some questions to answer. These will be reviewed and discussed with your instructor before each dive. You will focus a lot on practical skills throughout this course.
Why choose to do the Advanced Open Water Course?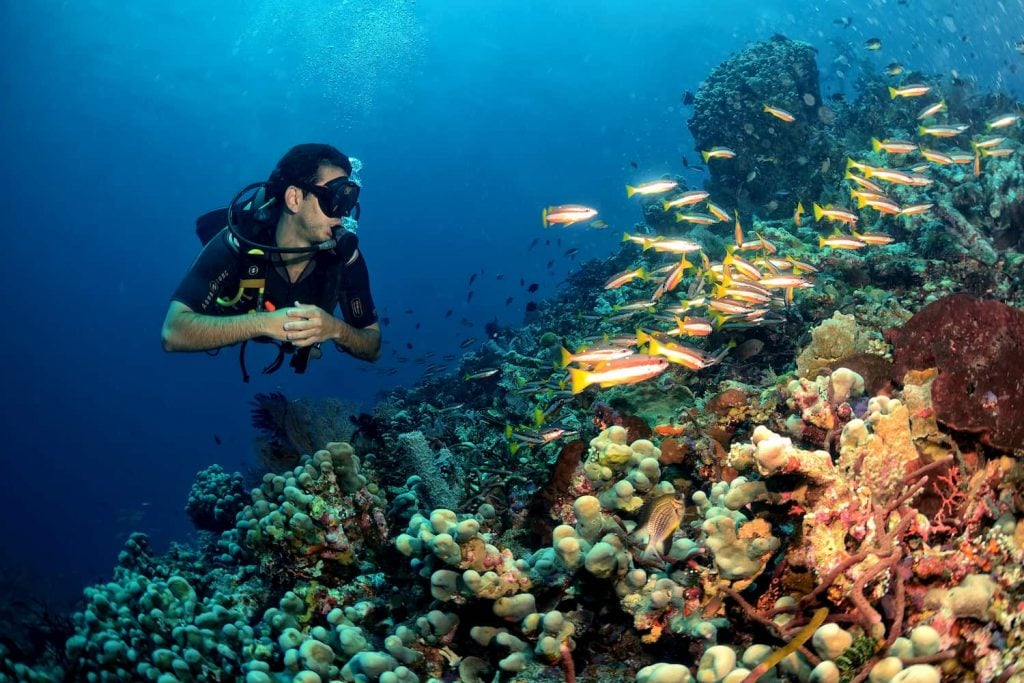 There are several reasons you may have to do the PADI Advanced Open Water Course. Dive more, learn more, dive deeper, or diving at night are just a few. The Advanced Open Water course will allow you to dive down to 30 meters. It gives you the opportunity to do five more dives with an instructor. Your instructor will be able to give you different tips, pointers, and advice on how to improve your dive skills, trim or air consumption, and provide you with general knowledge about the underwater environment. It will increase your confidence, as you will have a better understanding of how things work.
I was still a bit nervous under the water after I finished my Open Water. Doing the Advanced course immediately following allowed my confidence to grow immensely. So much so that I decided straight after that I would go all the way through to do my Divemaster and eventually my Instructor training.
What are the pre-requisites of the Advanced Open Water Course?
To begin the PADI Advanced Open Water course, you must already have your Open Water certification. You can do the PADI Advanced Open Water course immediately following the PADI Open Water course or you can start later.
I did my Advanced immediately following my Open Water and do not regret it. It gave me the chance to dive nine times in a row with an instructor. After each dive when we returned to the dive center, we would talk about the dive; what I did well, what I needed to practice.
How to get the most out of your Advanced Open Water Course.
If you are interested in doing the PADI Advanced Open Water course, my bet is that you like diving. This is the perfect opportunity for you to learn as much as you can about the different types of diving and discover what it is you can do to increase your skills above and under the water. Don't be afraid to ask your instructor questions; that is what they are there for. To educate you and help you become more competent, confident divers!
The Five-Dive Course breakdown
The order in which you do the five adventure dives is very dependent on the dive center you choose, their dive schedule and the conditions for each dive site. Remember, you have two required dives and three elective dives. I will break them all down here.
Required Dives
Deep – The deep dive is where you will go down to 30 meters. This is the same height as a ten-story building, whoa! Awesome. What's down there? Your instructor will teach you everything you need to know about diving to this depth before you go down. You will cover some basic physics and physiology and some changes that occur when going to this depth, pressure, color, and nitrogen narcosis. Nitrogen narcosis, if you get it, is such a funny feeling! [I felt it very strong when I first started diving deeper. It made me giggle and everything looked so beautiful!]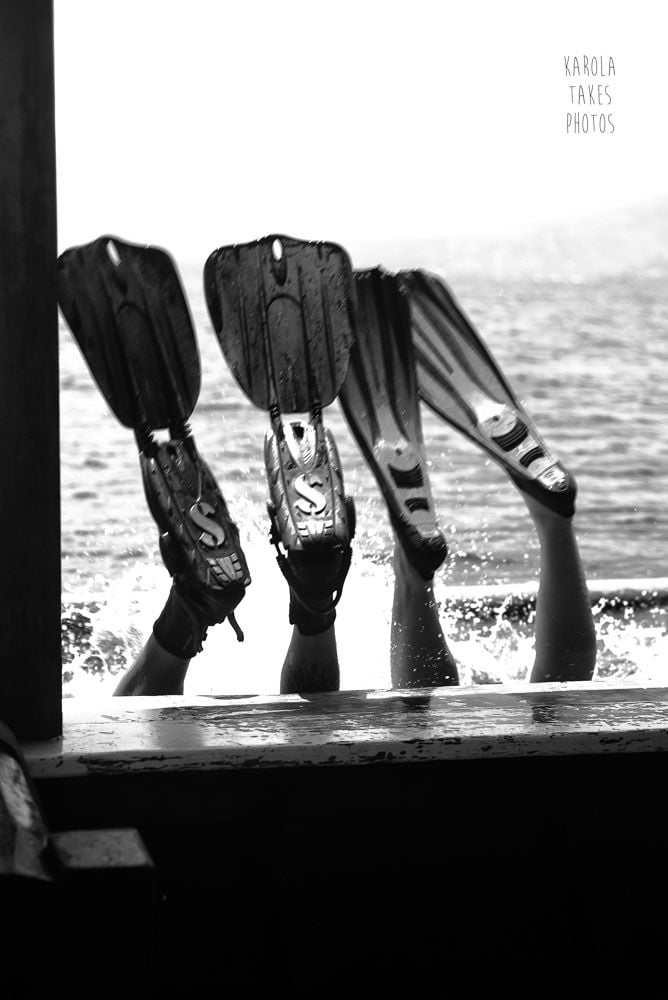 Navigation – In the navigation dive, you will learn how to use a compass, building on what you learned in your Open Water course. You will also learn how to use natural navigation. Just like when we are on the surface, we use different landmarks to tell us where we are going, we use references underwater to make sure we are heading in the right direction.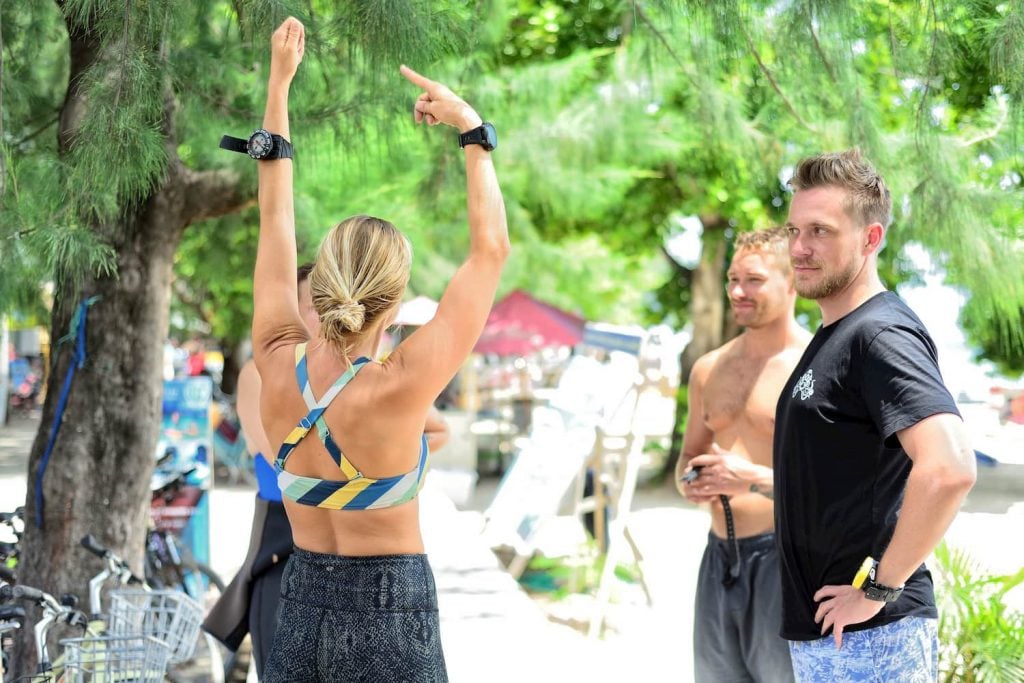 PADI Specialties
Here is an extensive list of PADI Specialties. Availability is dependent on the dive center and area you choose. So, if you are particularly interested in one of these specialties, make sure you research where you may be able to do that dive. The dives you do in the Advanced Open Water course can count as your first dive of that specialty if you choose to expand your knowledge base and skills even further.
Deep, Peak Performance Buoyancy, Boat Diver, Coral Reef Conservation, Digital Underwater Photography, Drift Diver, Ice Diver, Night Diver, Altitude Diver, Cavern Diver, Dry suit diver, Enriched Air Diver, Project AWARE Fish ID, Project AWARE Specialist, Project AWARE Shark Conservation, Search and Recovery, Underwater Naturalist, Wreck Diver, Adaptive Support Diver, Advanced Rebreather Diver, Adaptive Techniques, Emergency Oxygen Provider, Equipment Specialist, Multilevel Diver, Sidemount Diver, Dive Against Debris
How to choose which elective dives you want to do
The dives recommended for your PADI Advanced Open Water course depends on the area you are diving in. For example, you would not do a wreck dive if there were no wrecks in the area. Some dive centers have the three optional dives already planned out for you, as they may only be able to offer those three. Other places may be more flexible.
When trying to decide which optional dives to choose, think of these few considerations:
What am I interested in learning more about?
What will help me improve my dive skills?
Are there any specialties I want to pursue after my Advanced Open Water course?
What will I have the most fun doing?
What is offered where I am diving?
Most Common elective dives
The most common elective dives would have to be Peak Performance Buoyancy, Night, Wreck, Drift, Nitrox, Underwater Photography, and Fish ID.
PPB – Nearly all instructors will most highly recommend taking the Peak Performance Buoyancy dive for at least one of the three elective dives. For the entirety of this dive, you are focused on breathing, buoyancy, positioning, and finning techniques. This dive will help you move around with more ease under the water. It will help your buoyancy and in turn help your air consumption which will allow you to dive longer.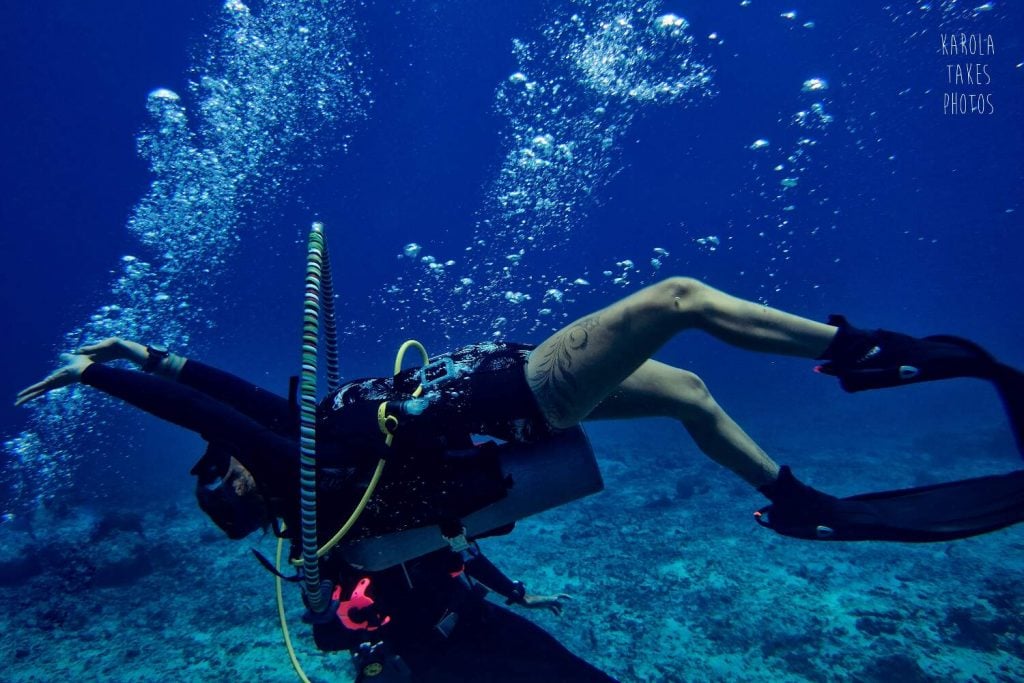 Night – Night diving works just the same as a day dive, but you only have a torch guiding your way! It is an exciting new experience. You can see a lot of different animals out and about compared to what you would see in the day. Typically, on night dives, you are more likely to see crustaceans (crabs, shrimps), eels, and octopus out hunting, and if you are lucky some special critters, like frogfish, bobtail squids, pygmy cuttlefish, and more! Just wait and see.
Wreck – Underwater wrecks are incredibly thrilling and exciting to explore. Your imagination can run wild while swimming around an old ship, plane, tank, pier, or vehicle that has sunk beneath the Ocean's surface. How did they get here? Why did they sink? In your first wreck dive, you will get to learn the history of these wrecks. You will begin to recognize different features, such as entrances/exits, points of interests, any hazards. You cannot enter a wreck unless you have your full wreck specialty. Remember, this dive can count as your first wreck dive for the specialty course! This dive is of course very dependent on whether there are wrecks in the area you are diving!
In the Gilis, we have two wrecks that can be seen as a recreational diver. There is the Glen Nusa II wreck at Shark Point which lies at about 30 meters deep, and there is Bounty wreck off the shore of Gili Meno that sits between 10-18 meters.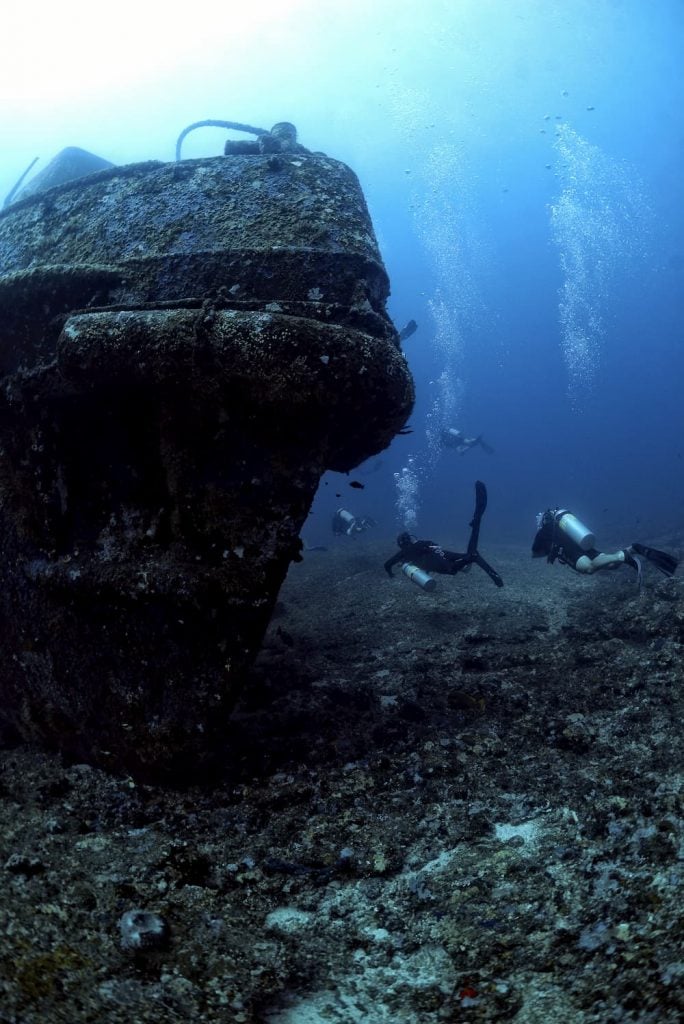 Drift – There is a lot of current that runs through the Gilis as we sit within the Lombok Straight, a narrow passage where water flows back and forth between the Pacific and Indian Oceans. In this dive, you will begin to identify which direction a current is moving, how to best position yourself, and how to plan your dive based on that current. This dive should make you feel more confident when diving in currents as you will better understand what is going on around you. Current can be exhilarating, especially if you know what is going on!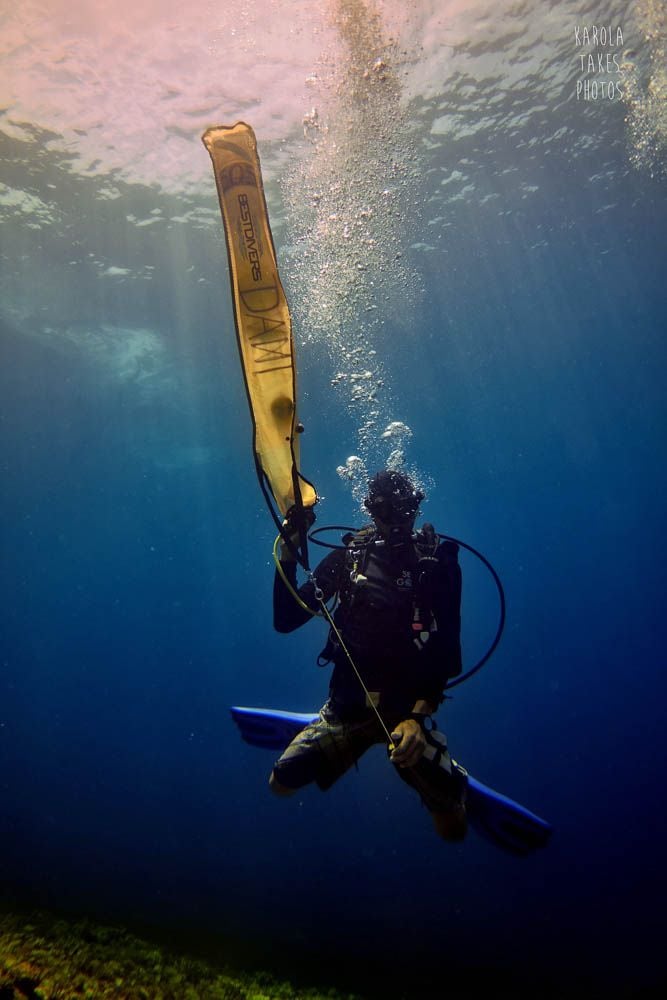 Nitrox – Or Enriched Air Nitrox is when you increase the amount of oxygen you are breathing from your scuba tank. Imagine going to an amazing wreck that sits at 30 meters. With normal air, you can only stay at that wreck for 15-20 minutes. If you dive that wreck on Nitrox, you could stay instead for nearly double that time (depending on your air consumption), allowing you time to explore the whole wreck!
This dive will expand your knowledge of the basic physics and physiology of diving. You will learn how to analyze a Nitrox tank, set your computer, and dive on enriched air. One of the main benefits of Nitrox diving is that it extends your no stop time, or how long you can safely stay at depth. This is especially beneficial if you are doing repetitive dives or the points of interest on a particular dive site sit deeper than 18 meters. This is also another popular full specialty introduction.
Underwater Photography – The underwater photo adventure dive teaches you everything you need to know to start taking your own amazing underwater images. You learn about different kinds of underwater cameras and waterproof housings, the pros and cons of each, how to set I up an underwater camera system, how to use the system, why we use lights or filters on underwater systems and some of the techniques to capture amazing photos. It doesn't matter if you want to take selfies, marine life shots, pictures of corals or just pictures of your buddies!
Fish Identification – Fish ID is a great introduction to understanding the life you are seeing under the water. You begin learning the different fish families and how to tell them apart. You can also start to learn some of the really interesting symbiotic relationships found under the water. Fish ID can also help to understand the best places to search for different kinds of animals as that can sometimes be the best way to find them. For example, if you want to see a clownfish, you look in anemonemone mones (anemones). You can also find some cool species of crabs and shrimps that like to live within the anemones as well. You want to find a seahorse? We will teach you how to look for one.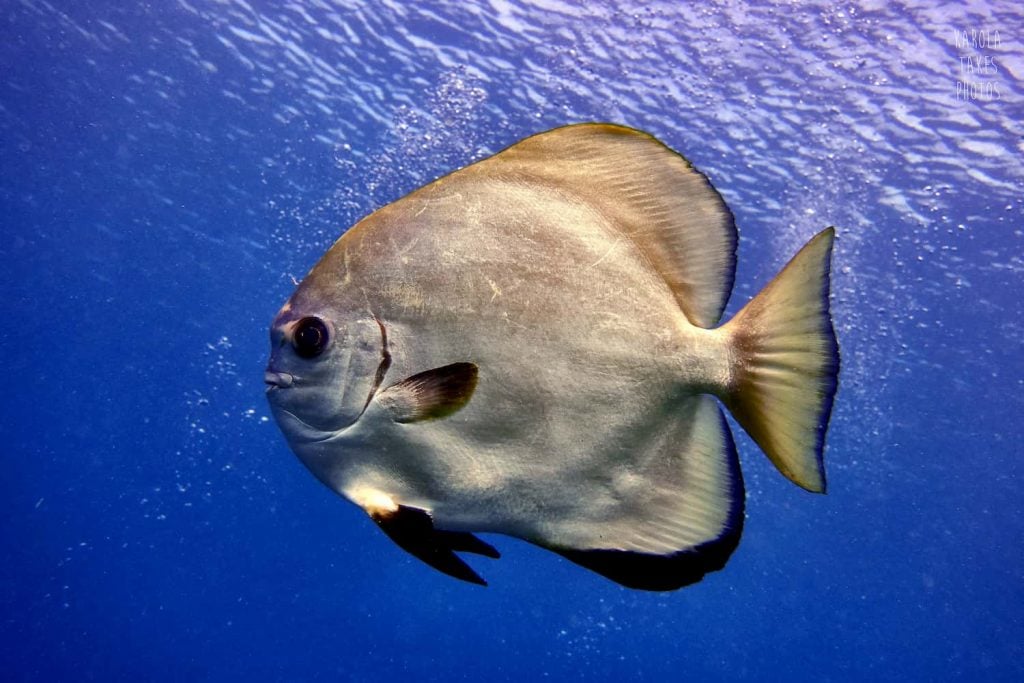 At Trawangan Dive, we offer all of these most common electives. Remember, talk to your instructor about which dives they recommend, tell them which dives you are interested in, and you can work together to come up with the best plan for you!
Some less common dives that we can also offer you are: Dive Against Debris, Coral Conservation, Shark Conservation, Search and Recovery, Underwater Naturalist.
What's next after the Advanced Open Water Course?
Specialties – Finished your Advanced Open Water course, and just can't get enough? You may choose to do any of the PADI specialties that are offered to keep learning and having fun! The most popular specialty courses tend to be Deep, Sidemount, Search and Recovery, Underwater Photography, and Enriched Air Nitrox. One of the best combinations? We think it is Nitrox – Sidemount – Deep. Twice the amount of air with extended no stop times down to 40 meters!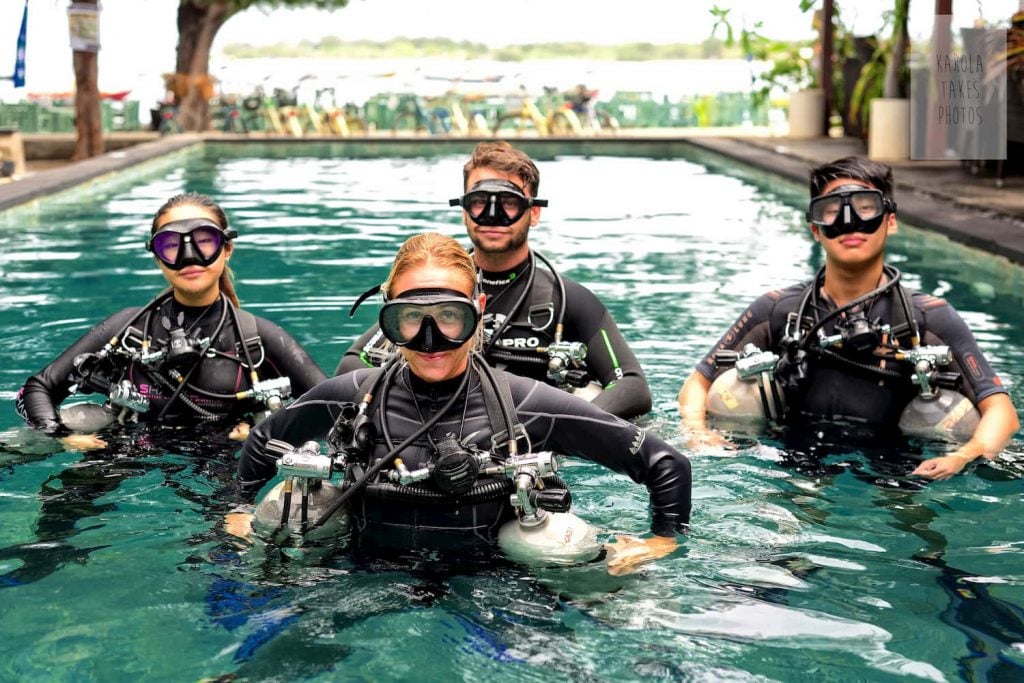 Rescue Diver Course – The Rescue course is one of the best ways to quickly gain confidence in diving! It is a fast paced, exciting, and educational course. Simulating real world problems and acting on those problems. You will feel prepared to handle almost any situation you might run into while diving in the future.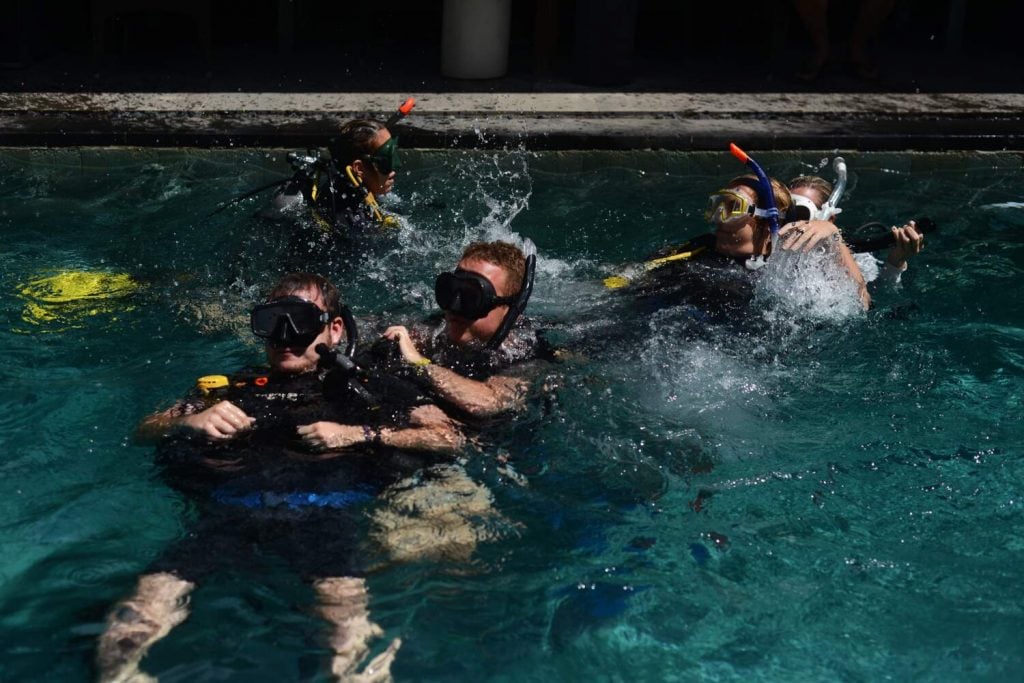 Dive Master – The PADI Dive Master course is your first professional level course that you will take in scuba diving. It can take anywhere from 3 weeks to 3 months to complete depending on the dive center and how you want to go about it. The more time you have, the more experience you will gain. In the Dive Master course, you learn to assist on courses, more in depth knowledge of the underwater environment, physics and physiology, guide certified divers, and create lifelong friendships. You can check out our Divemaster Gilis page to learn more about this incredible course.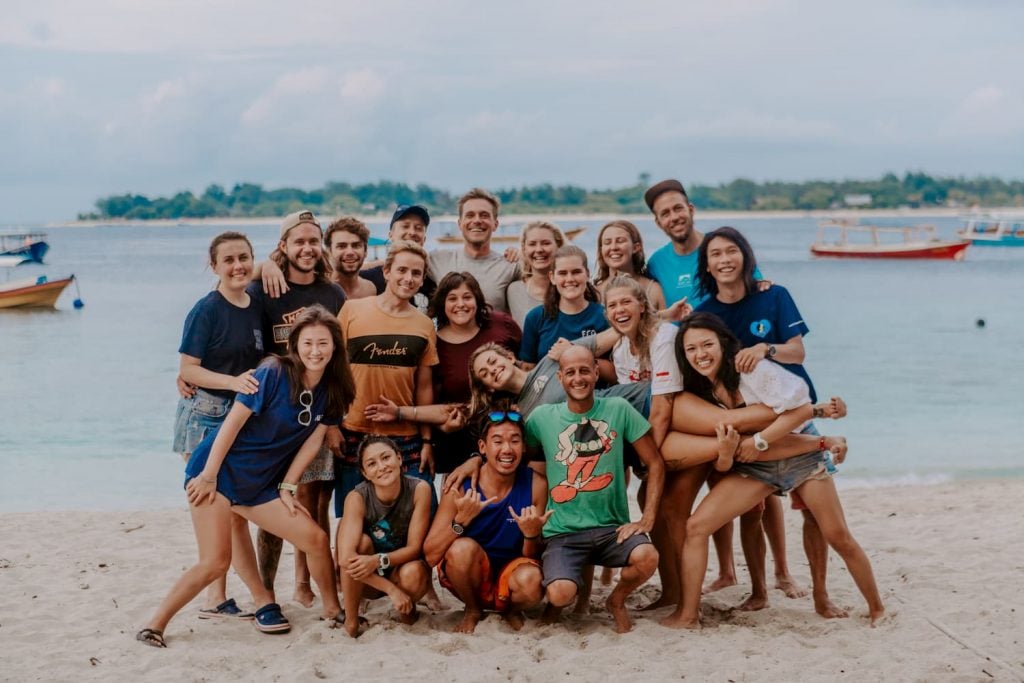 Final Note
Whatever dives you end up doing for your PADI Advanced Open Water course, you should come out the other side feeling like you have learned a lot and are better prepared for real world diving situations. You will hopefully have had a lot of fun, too!