When visiting Gili Trawangan, most people love the fact that there are no cars or motorbikes. The horse and carts (cidomos) have a certain rustic charm about them. Others can find seeing the working horses quite distressing. I'd like to share some information that most tourists would not know upon visiting the island, which may ease any concerns regarding the welfare of these ponies.
I have lived in Gili Trawangan since 2010.  I grew up riding horses in England, so naturally seeing ponies pulling carts wasn't something I was comfortable with. I heard that the Gili Eco Trust together with Jakarta Animal Aid Network organized clinics twice a year for the horses.  The ponies were de-wormed, given vitamin injections, hoof trims, and any wounds treated.  Most importantly, this gave us an opportunity to meet with the horse cart drivers and provide some basic education as to how they could make simple changes to improve their horses wellbeing.  
The clinics soon began to grow, with the involvement of Dental Vet and Animal Aid Abroad, soon we had many volunteer vets and students coming to offer assistance.  Huge amounts of donated equipment has been shipped over from Australia to give to the drivers and make the ponies more comfortable.  Included in this equipment was a forge and anvil, carried over by Kelvin Grove Equine and Grant Forge and Farriery to help produce a better shoe for the ponies on the island.  The clinics have also advanced to provide dental checks and teeth floating (removing any sharp edges from the teeth that could cause discomfort), and even castrations.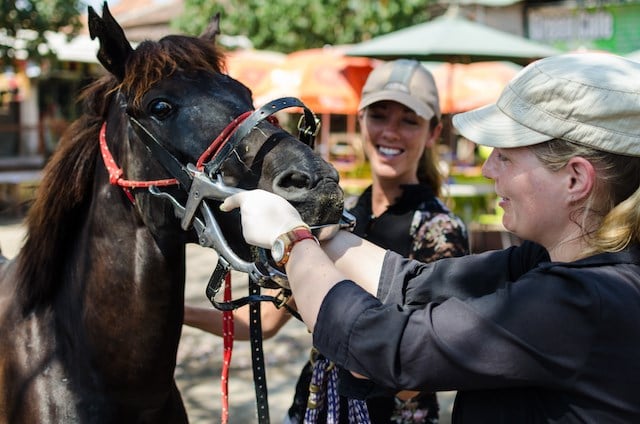 In the meantime, Horses of Gili was established to give the drivers a local point of contact if they had a sick horse.  Most recently, they have been providing horse feed for the horses on the Gili Islands during Covid-19.
Trawangan Dive has been a proud supporter of these clinics, providing accommodation to volunteer vets and helping to facilitate the clinics in any way.
Over the last 10 years, I have witnessed the health and quality of life for these horses improve dramatically.  Weight restrictions have been put in place for the amount a driver is allowed to load into any cart.  These horses are small, but extremely strong and resilient, and for the most part are happy in their work.  While I appreciate that there are always exceptions, is that not true for anywhere?
We usually advise guests that 2 people per horse cart with bags is the maximum load.  We also suggest that guests could look over the condition of the pony pulling the cart.  Can you see ribs?  Are there any obvious wounds, or rubs from the equipment?  Are they breathing particularly hard or sweating profusely? There are usually plenty of horse carts to choose from, and the majority of the horses are fit and healthy.
It took me a long time to not wince every time I saw a horse cart coming past me, but over the years, I have realized that while these ponies are not pets, they have purpose and are not necessarily unhappy. I hope to continue to see improvements in their wellbeing and will help with the clinics in whichever way I possibly can.
Written by Sarah Best