Being a dive instructor here is probably one of the best jobs in the world. Paradise island, check. Amazing marine life, check. Great work-life balance, check. Challenging but rewarding daily tasks, check. There really isn't much more we could wish for.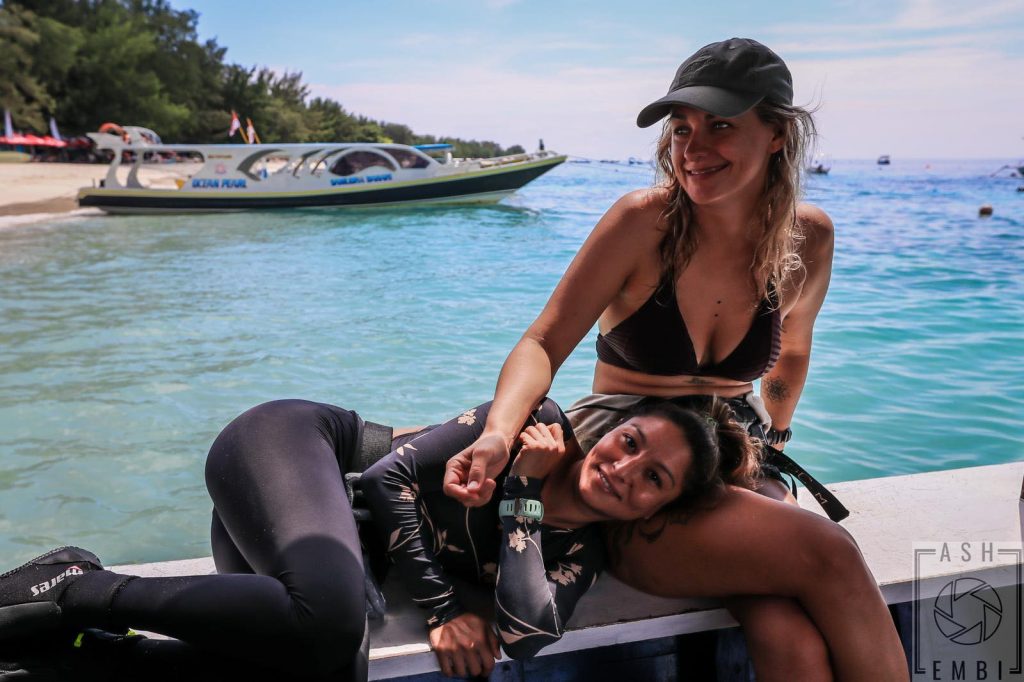 So what does a typical day here involve at the dive centre?
6.30- 7am Woken by the urge to go diving! Sometimes for an unlucky couple the snooze button is needed because things got heated in Irish Bar the night before!
7.15am Get dressed. Not quite the same as in the western world. Usually involves grabbing a bikini or some board shorts and a shirt with the least amount of stains on it. Sometimes shirtless is fine too. No need to worry about socks or shoes. Set off by bicycle to the dive centre.
7.30am Say hi to people on the 3 minute commute, arrive nice and early. Order breakfast. Swiftly set up equipment before breakfast, have a cigarette and have a coffee as quickly as you can. Maybe a pre-dive poop?
8.15-8.30am Meet your students for the day – all smiley faced and eager to learn how to dive. Sit by the pool or on the beach and run through the dive briefing and make sure everyone knows what they are doing. Get distracted during your briefing by one of the cats doing something weird.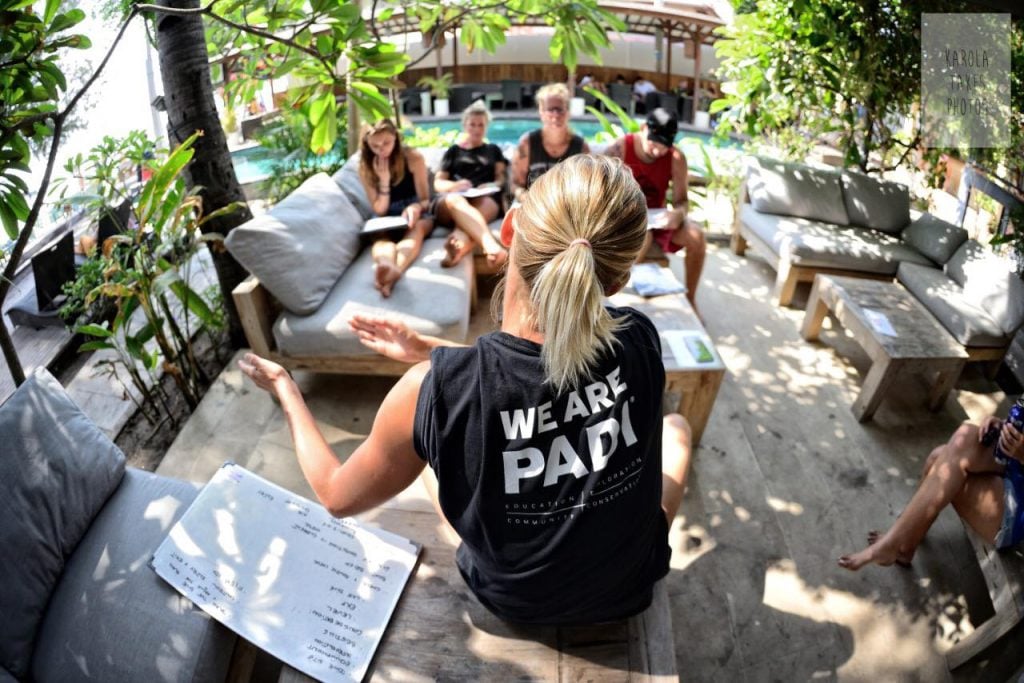 9am – Dive 1 woohoo!
10.30- 11am mid morning snack and rehydrate time. Can I be bothered to change my wet shorts to dry ones? Nope, not enough time – will need to buy nappy rash cream later.
11.30am – Dive 2 woohoo!
1pm-2pm Lunch time. Local food is always a winner. Pick up some nasi campur from the famous Umi next door for less than a quid. Chill with co-workers while discussing dive conditions and get ready for afternoon dive.
2.28pm One student has made a last minute decision to go pee. Rush around to retrieve them and get things under control again.
2.30pm Dive 3 woohoo! First-timer students go for a dive – so much nervous excitement around!
2.41pm Intense 5 way-battle of rock, paper, scissors from opposite ends of the boat to see which instructor will be doing the current check. Not so much about who does the current check, but more to showcase your badass rock, paper, scissor skillz.
4.30pm Back on land. Equipment cleaning, de-briefing, fill in logbooks and chill with a cold Bintang while going over the plan for tomorrow. Dry clothes feel amazing.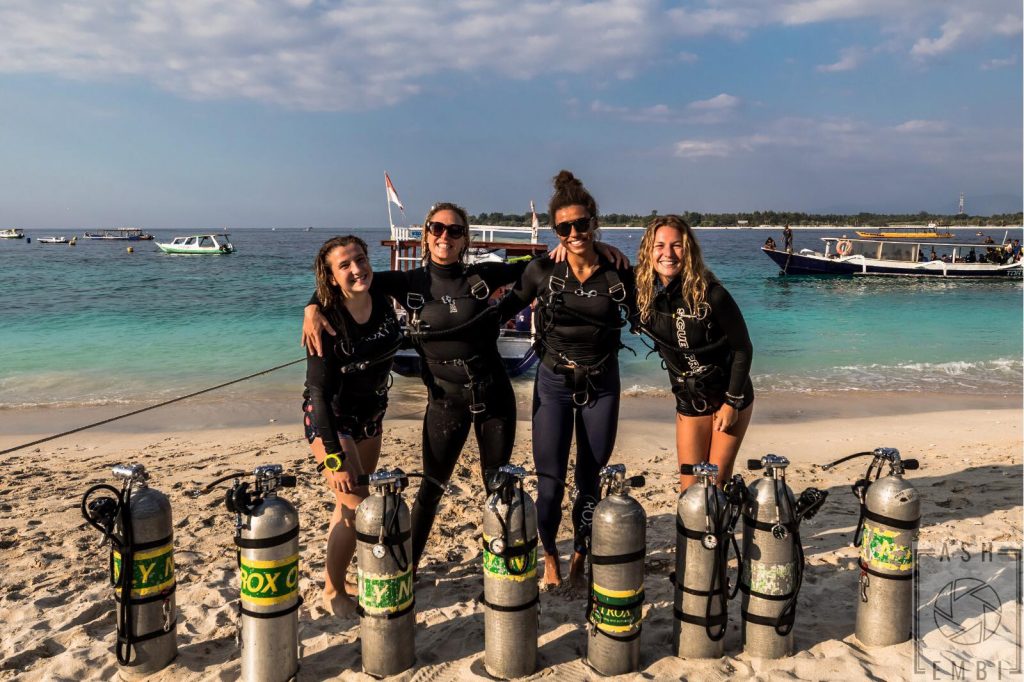 5.30pm Sunset and volleyball sesh on the other side of the island with the crew. Try not to obtain any sand burn injuries as that will take 2 months to heal as we are constantly wet.
7pm Pick up laundry on way home. They've lost your favorite shirt but thankfully it got mixed in with your mate's washing and they have it, phew!
8pm What to have for dinner? Regina pizza is always a winner, or Jali for the carrot cake! Then head off to the chosen bar for a catch up with some other dive shop mates.
10.30pm Bed time! Snuggle down with at least 2 cats in bed with you. Early start tomorrow to do it all again.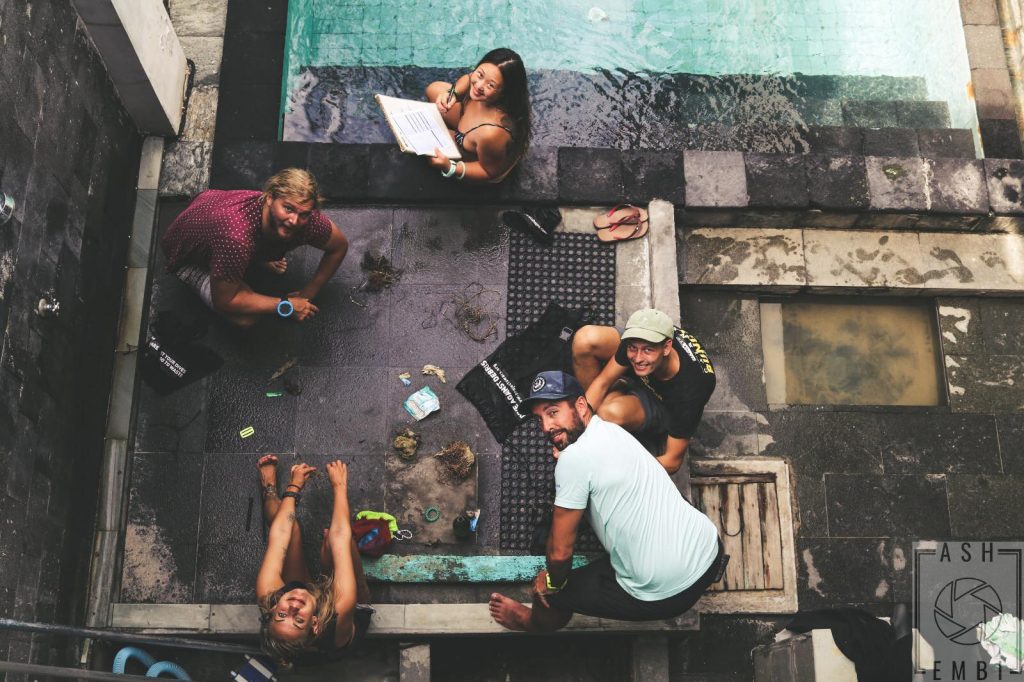 If you're keen to start your diving journey we would love to hear from you!