When you are scuba diving Gili Trawangan there is no shortage of stunning dive sites to explore. You'll find diverse underwater topographies and equally diverse marine life. Despite having so many options, we do have our favourites and these are our top 5 recommended sites for all Gili Trawangan divers to discover while they are here – we hope you enjoy them as much as we do!
Shark Point
This is one of Gili Trawangan's most iconic dive site for very good reasons! Shark Point is loved by both seasoned divers and beginners. The site offers deep ridges which drop off in places to 50 meters. Experienced divers can enjoy deeper dives where schools of jacks and predatory reef sharks can be seen cruising by. There is a wreck of a tug boat at 30 meters for those with advanced certifications and the wreck attracts and abundance of marine life. For divers with Open Water certifications – or taking their PADI Open Water Course in Gili Trawangan, the fields of rolling hard corals and bommies are an incredible sight in the shallows. One of the major highlights here is the number of turtles which are often seen in the 5 – 18metre depth range. Whatever your level or preference, this site will not disappoint.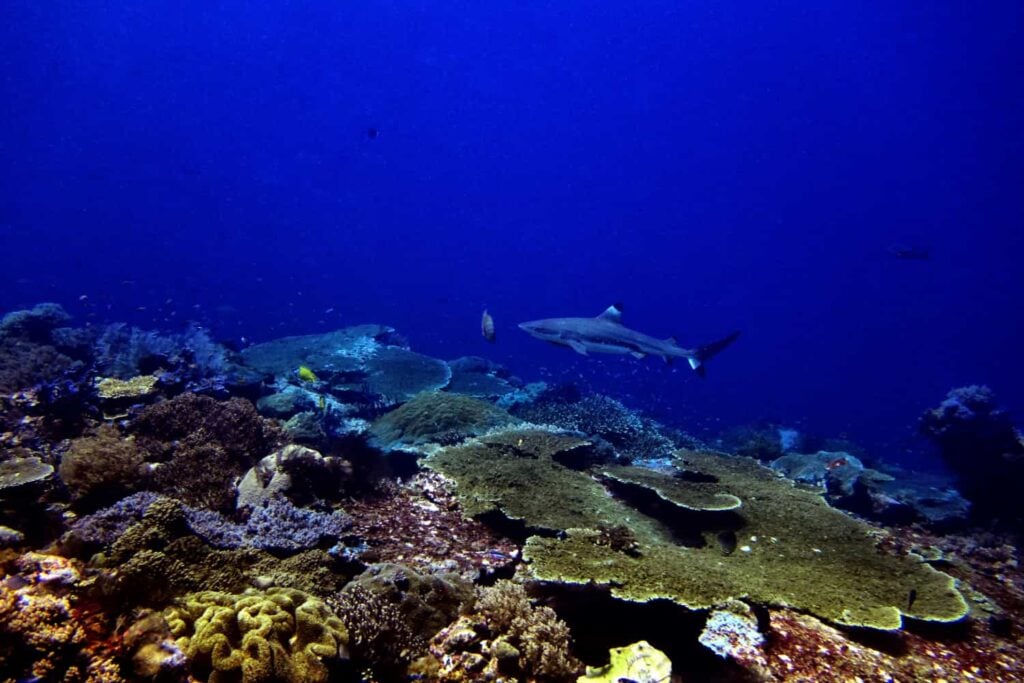 Halik
Another iconic Gili Trawangan dive site which starts in the shallows and bottoms out at around 40 meters. Halik is a great site for macro marine life aficionados who will love the small caves and crevices which are home to a plethora of critters and juveniles – including reef sharks. Corals here are varied and you'll find an abundance of sponges and anemones competing for space on the reef. Marine life here is diverse and colourful reef fish are constantly darting around; schools of yellow snappers are not uncommon, sting rays can be found on the bottom and check out the anemones for clownfish, anemone shrimps and porcelain crabs.
If you like drift diving, (depending on the tides and lunar cycle) this site often offers some great currents which attract even more fish. Halik is suitable for all level of divers from Open Water upwards.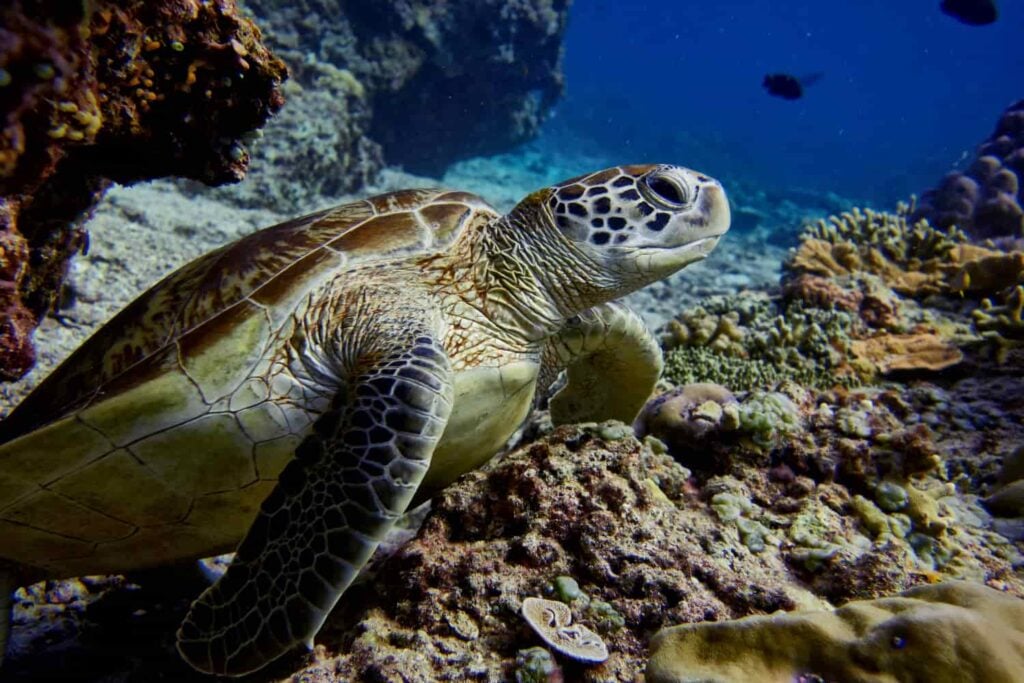 Deep Turbo
We recommend that divers have a PADI Advanced Open Water Certification for diving this exciting dive site. Those who are taking their PADI Advanced Open Water course in Gili Trawangan with us may also visit Deep Turbo during their course!
This is an awesome dive from start to finish – imagine flying effortlessly over the reef with the current – it's a thrilling underwater adventure. The currents at Deep Turbo attract large schools of fish, including batfish and snappers; reef sharks are often seen patrolling the area and blue spotted sting rays are frequently foraging on the sandy patches. One thing to remember is that when you are diving Deep Turbo you should always expect the unexpected – you just never know what might pass you by in the current!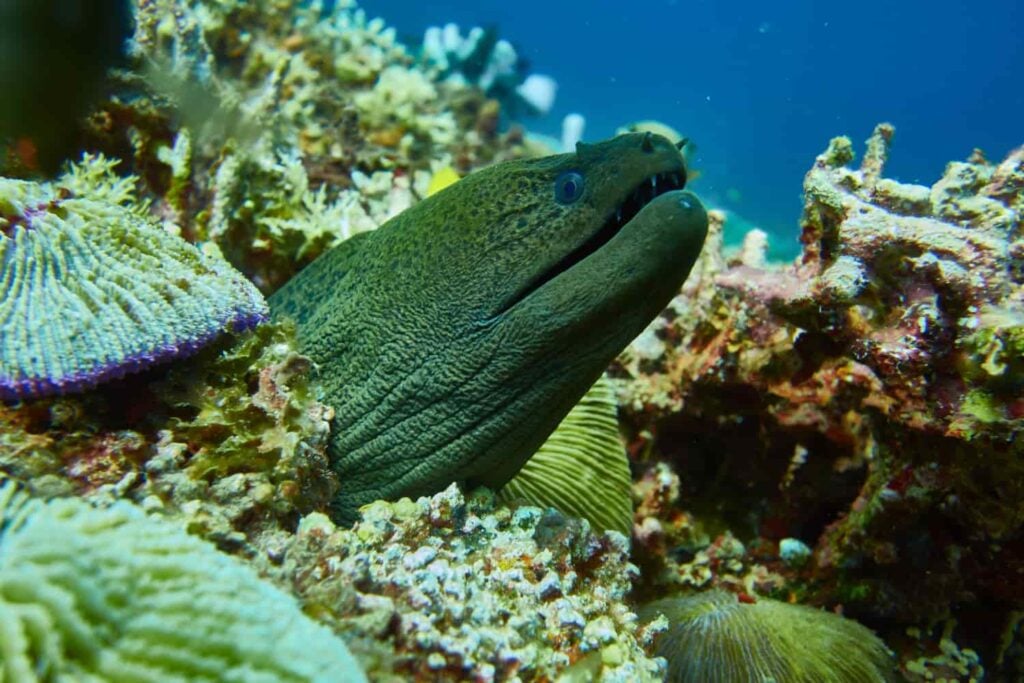 Biorock®
As a leading Gili Trawangan PADI Dive Centre we are firmly committed to coral reef conservation and restoration (Check out our Eco page for more information). We support the Gili Eco Trust and the Biorock® project dive site which is the second largest Biorock® site in the world! This is an incredible dive site which brings together science, nature and conservation in one phenomenal underwater experience. The Biorock® site features over 120 metal structures, through which a low voltage current passes to promote corals to grow faster and stronger than on natural reefs. The Biorock® site is now a healthy vibrant reef which attracts clouds of reef fish and critters. If you have an interest in marine biology, conservation or are just plain curious, this is an amazing site to explore. The Biorock® offers easy conditions and is suitable for all level of divers.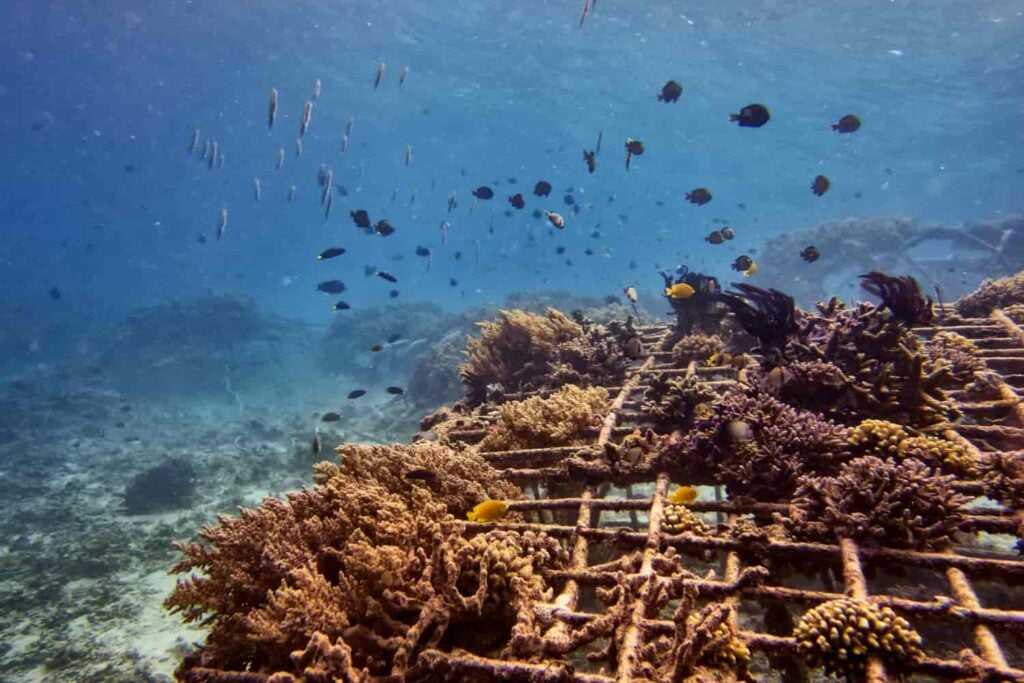 Simons Reef
This dive site is a firm favourite with many of Gili Trawangan's divers. We recommend that you have a PADI Advanced Open Water certification or are taking your PADI Advanced Open Water Course in Trawangan with us for diving this site. Simon's Reef is one of our deeper sites (up to 40 meters) and features numerous canyons which are punctuated by huge, coral adorned bommies which rise up majestically from the sandy bottom. These coral bommies attract fish and marine life like metal to a magnet. Look out for large Gorgonian sea fans which form perfect habitats for macro critters. The currents which run through the site bring in schools of fish and hunting predators including occasional tuna, barracuda, jacks and reef sharks. This is an exciting dive with unique underwater topography.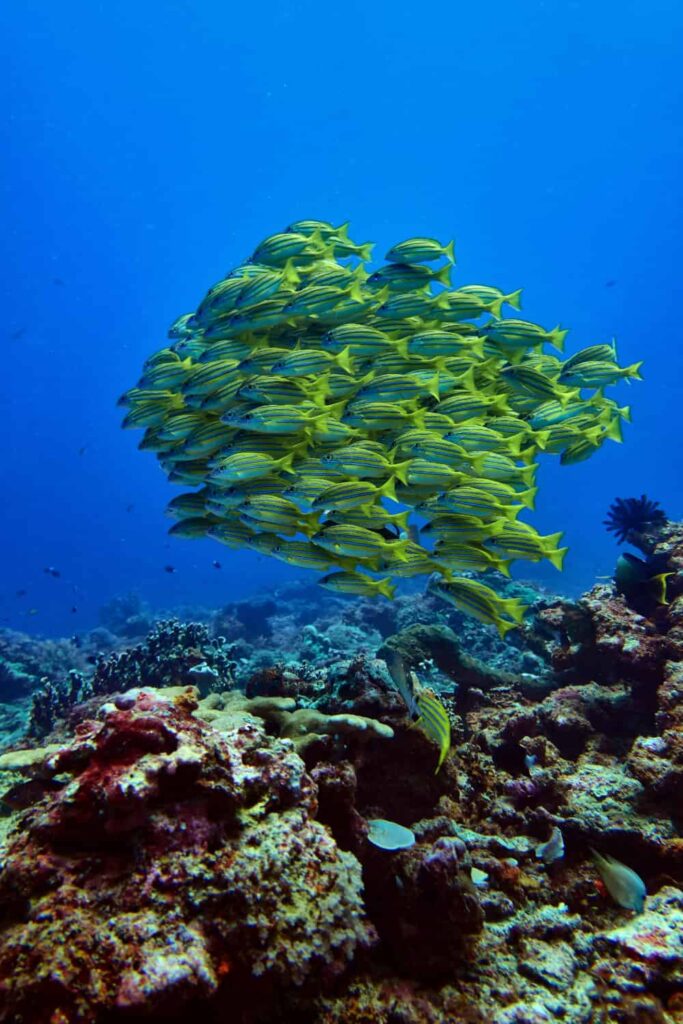 What Our Recent Divers Say About Diving Gili Trawangan with Trawangan Dive:
Highly Recomended!
My partner and I dived at Trawangan Dive a few weeks ago and couldn't rate it highly enough.
The dive masters on the fun dives were fantastic, they went out of their way to point out cool stuff under the sea! All of the staff I met were friendly and professional. Safety was always a priority, which is so important when diving!
Overall I was impressed with the team, resort, facilities and equipment. The resort itself had lots of areas to chill and a great bar/restaurant – including swim up bar! I would highly recommend Divers of any level to dive with Trawangan on their visit to Gili T!
Rkennedy3, TripAdvisor
Amazing Dives!
My friend and I did our fun dives with the amazing guide Saleh. He was so funny and made the dive super relaxed. The dives here are great because the sites are so close so you only spend max 10-15 mins on the boat. The shop has an amazing vibe and everyone was so welcoming. I plan to come back for my divemaster course here. Loved it!
Nicole B (Tripadvisor)
So are you ready to scuba dive Lombok's most famous island? At Trawangan Dive we are experts in the area and your safety is our number one priority. We cater for all levels of diver and offer a full range of PADI courses in Gili Trawangan. Our experienced PADI Divemasters and Instructors are passionate about marine life and conservation – and love sharing our stunning dive sites with divers from around the world.
For more information or to make a booking, contact us on: info@TrawanganDive.com
We look forward to scuba diving Gili Trawangan with you soon!