Are you thinking about trading in your office job for a career in diving? Are you dreaming of making a living out of doing something you truly love? Do you feel destined for a life on the beach and underwater? Does this sound like your dream come true? Here at Trawangan Dive we specialise in professional PADI Dive Training to get you to where you want to be.
The PADI Divemaster certification is your first level of professional training and your passport to starting work in the dive industry! We offer a unique training experience to prepare you for life as a working Divemaster – wherever you choose to be in the world! Trawangan Dive's philosophy on divemaster training is that the best way to learn is to experience how a dive centre operates on a day-to-day basis, not just reading books and doing simulated exercises, but by actually helping the instructor train real students in their diving courses.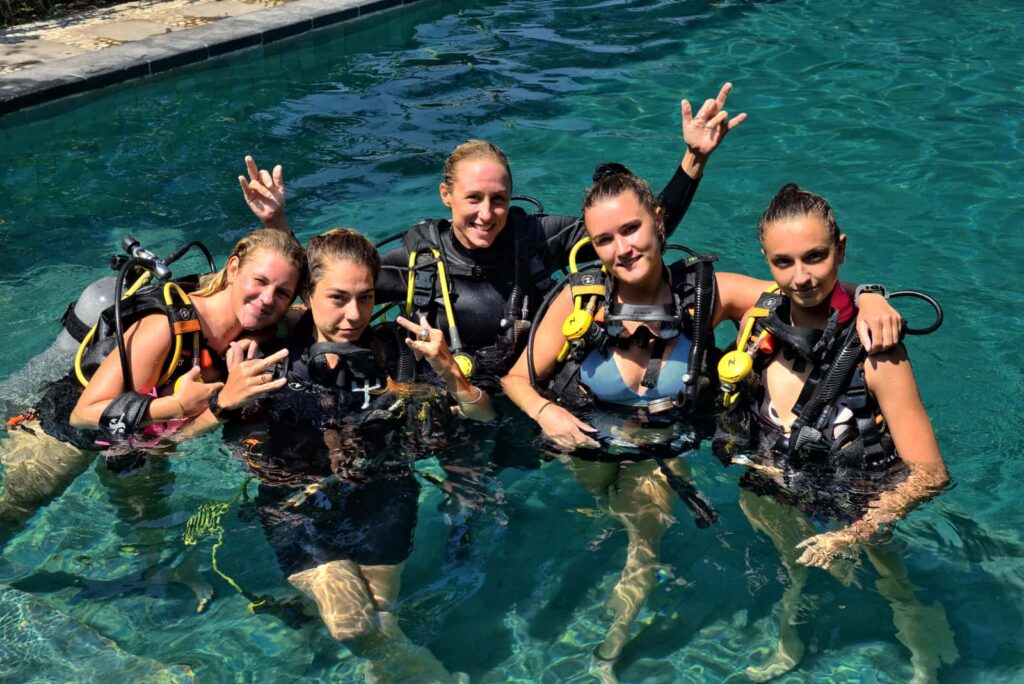 We offer a unique Divemaster training program which we recommend takes place over a minimum of 3 – 4 weeks, however, you can choose to stay for up to 5 weeks. During your Divemaster Training with Trawangan Dive you'll have UNLIMITED free fun diving and if you make 3 dives a day you'll be making well over 60 dives with us during your program!
We also believe in making sure that you have a few additional extra's to compliment your PADI training and give you an even better chance of finding employment so we'll also give you training in compressor operation, equipment repair and dive store sales – all of which are highly sought after skills and incredible additions to your diving CV.
Padi Divemaster on Gili Trawangan
Gili Trawangan is a stunning tropical island off Lombok, Indonesia. Unlike the large tourist centres on mainland Bali, the island has a laid-back vibe, stunning white sand beaches and a relaxed feel.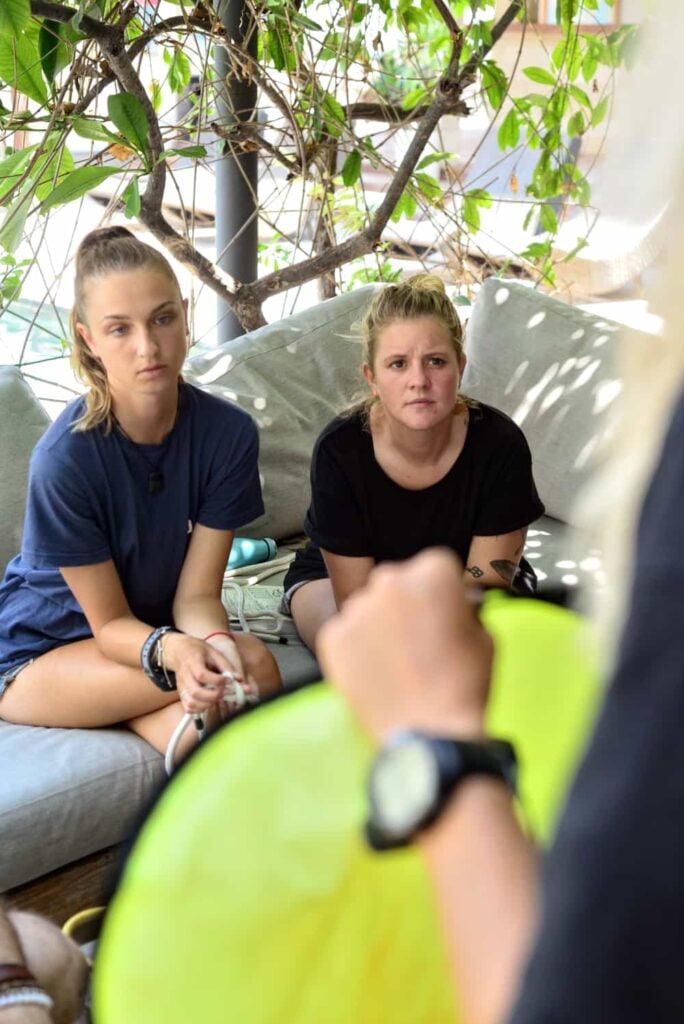 Gili Trawangan is a divers' paradise and there is a strong diving community on the island. You'll have a great time watching spectacular sunsets after diving with our team and your new friends from around the world.
Scuba diving Gili Trawangan offers diverse marine life, vibrant reefs, more turtles than you can count and passing pelagics including reef sharks and occasional manta rays! Our dive sites offer varying topographies and conditions so you'll receive comprehensive training to prepare you for a range of diving environments. By the end of your PADI Divemaster course you'll feel confident in your skills and abilities as a PADI professional. This is the start of an incredible adventure and your ticket to travel the world.
At Trawangan Dive we make sure you have as much support as you need when studying the Divemaster theory component – our dedicated team are here to support you. We have a purpose built dive training pool on site and you'll practice your skills until you have them down like a pro. When you start assisting with leading certified divers and assisting with PADI Courses we'll make sure you are well briefed and feel 100% prepared. There will always be a PADI Instructor on hand, both in and out of the water, to give you encouragement and advice. Becoming a PADI Divemaster is a big step and we want it to be everything you have imagined and more.
On Site Accomondation
To make your training as easy and as hassle free as possible we also offer onsite accommodation so you get the full experience of living and training at a busy PADI Dive Centre. We offer a range of accommodation options to suit all budgets and tastes.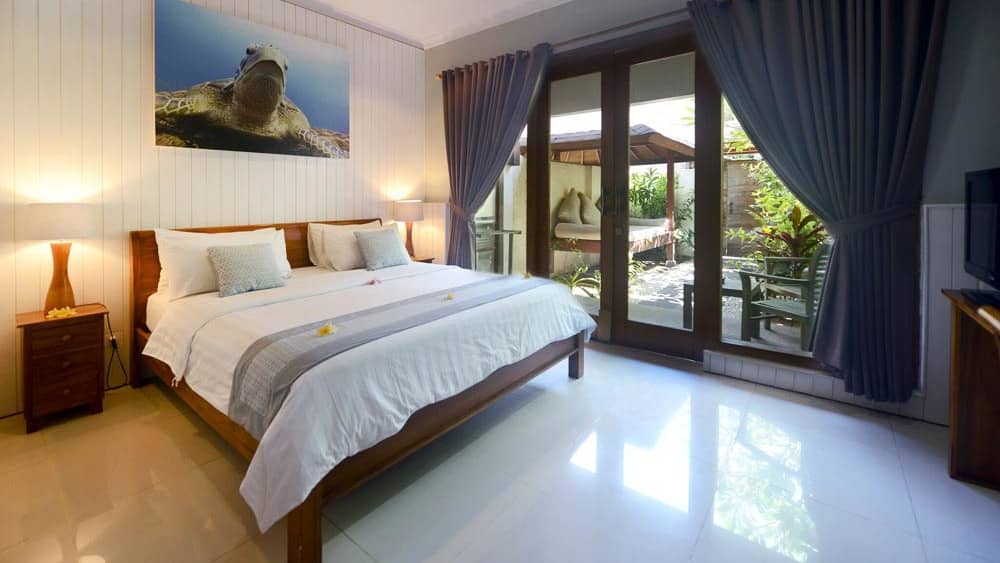 Prerequisites
To start your Divemaster training you'll need to meet the following criteria:
Be a minimum of 18 years old
Certified PADI Rescue Diver with a current EFR certificate (24 months old max). If you are not yet a PADI Rescue Diver or your EFR is out of date, let us know and you can take the courses here at Trawangan Dive prior to starting your Divemaster training. If your Rescue Diver Certification is with another training agency, just let us know – switching over to the PADI system is easy and you'll be certified by the world's largest and most prestigious training agency!
Have a minimum of 40 logged dives. If you have less than this, let us know and we can factor in additional fun dives to your program to get your numbers up prior to training starting.
Have a signed confirmation from your doctor that you are medically fit for diving (we will email you a form for your doctor to sign).
Have a professional and fun attitude and a passion for diving!
For more information about becoming a PADI Divemaster on Gili Trawangan or to book your PADI Divemaster Course at Trawangan Dive, send us an email to bookings@trawangandive.com.