Looking for the first step in your dive career?
Your adventure into the professional level of recreational scuba diving starts here with the PADI Divemaster program. Throughout your course you will expand your dive knowledge and expand your skills to a professional level. PADI Divemaster training develops your leadership abilities allowing you to supervise dive activities and assist instructors with student divers.
Our Philosophy
TDC believes that the best way to learn is to immerse yourself in the daily operations of the dive centre. By assisting instructors on actual courses, you will gain far more experience.
Gili Trawangan is by far one of the best dive destinations in the world to begin a career as a dive professional. It is your dream of a beautiful tropical island buzzing with the energy of a vibrant dive industry.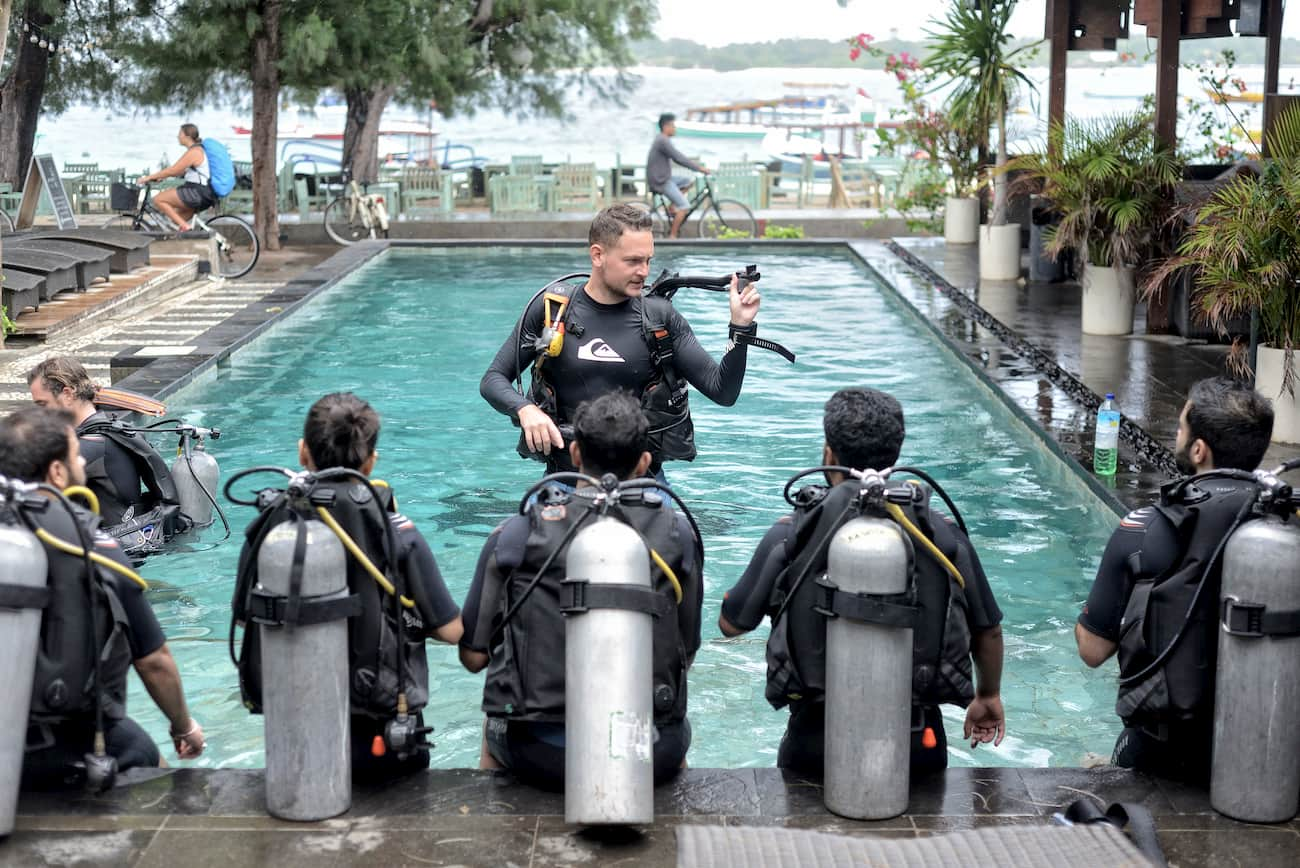 Prerequisites
18 years old
A PADI Advanced Open Water Diver (or qualifying certification from another training organization)
A PADI Rescue Diver (or qualifying certification from another training organization)
An Emergency First Response Primary and Secondary Care (or qualifying first aid and CPR training from another organization) course completion within the past 24 months (You can do this course with us).
Have at least 40 dives to begin the course and 60 for certification.
Be fit for diving and submit a Medical Statement signed by a physician within the last 12 months.
This course includes
Unlimited fun diving during the course
Discounts on equipment, accomodation and meals
Opportunity to assist on courses with real students
Hands-on experience of working in a busy dive centre
Flexible start dates. Start whenever you want.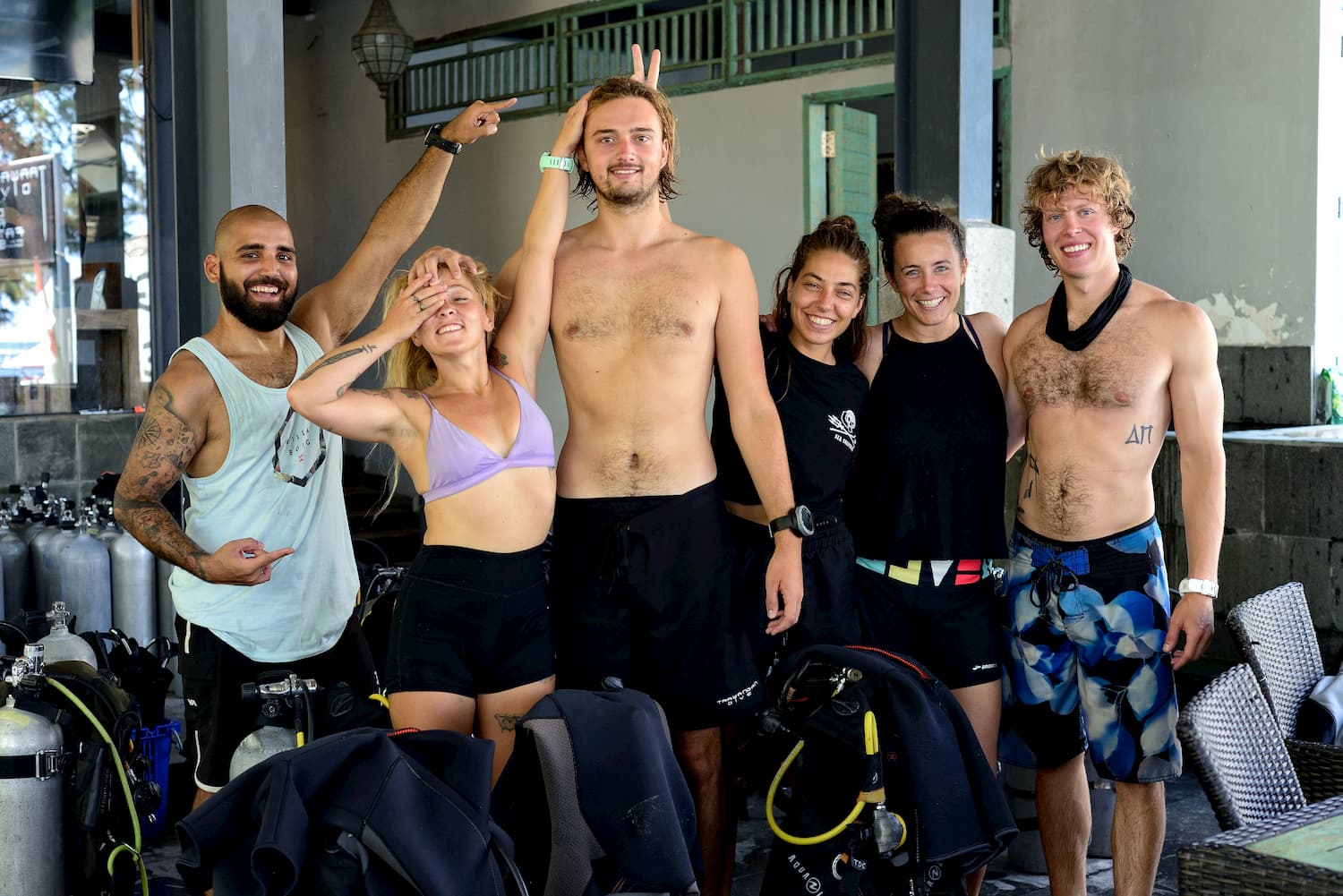 * Not included PADI Divemaster Crew Pack (Materials) IDR 4.500.000
* Not included PADI Application Fee AUD 245
* Not included Park Fee IDR 150.000
Application fee is payable directly to PADI.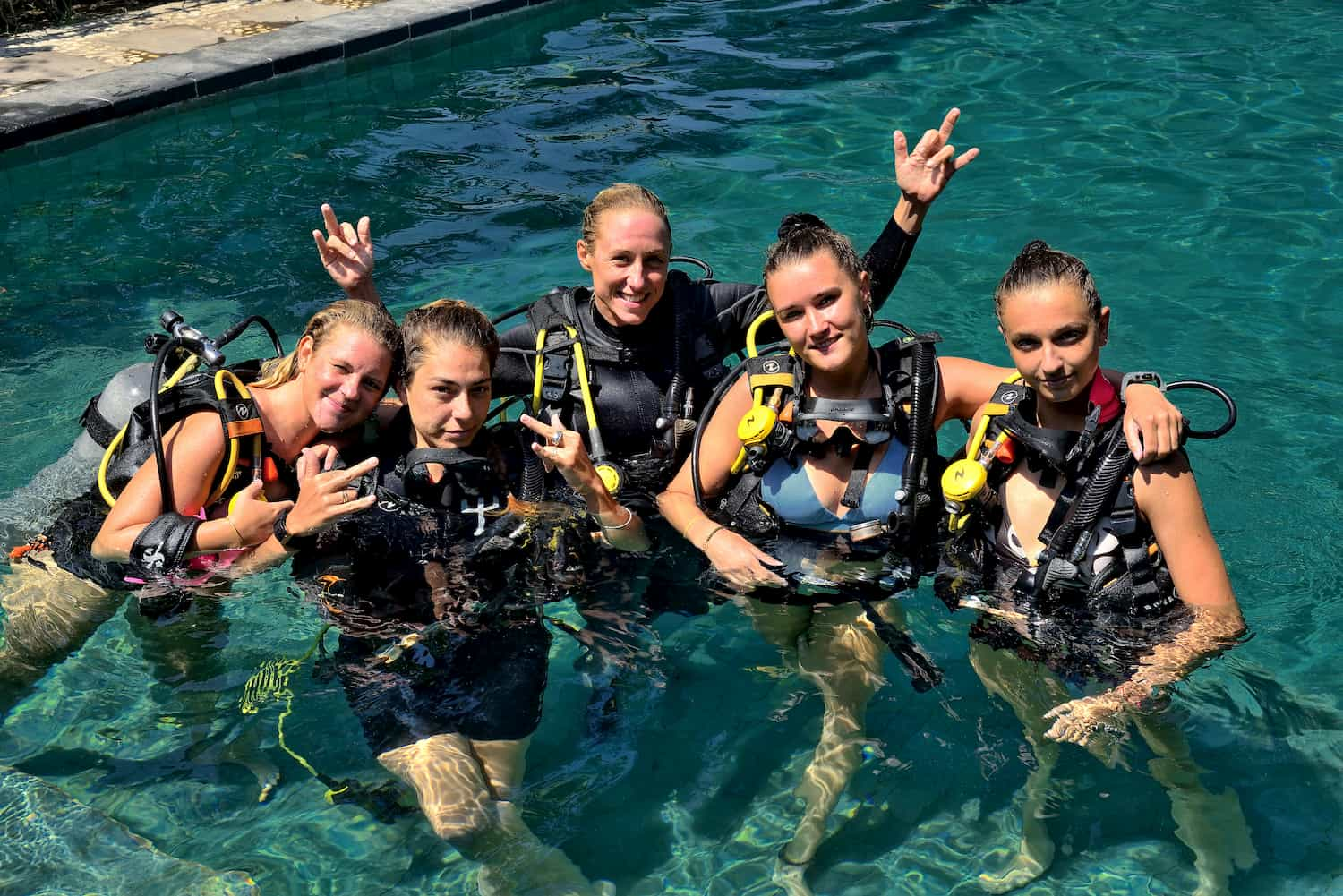 Course Outline – Divemaster Internship Program
Join us in taking your first step as a diving professional. We are very proud of our Divemaster program and it has proven to be a popular choice on the island. Trawangan Dive was the first PADI Career Development Centre (CDC) in the Lombok region and is the only CDC Centre on Gili Trawangan. We also have a dedicated full time Course Director, so if you're just looking to take expand your dive knowledge and experience, or you wish to pursue a career in diving, then Trawangan Dive is the number one choice.
Knowledge development
As a PADI professionsal, it is important that you have an understanding of the theory of diving. You will cover the following topics throughout your Divemaster course: the roles and characteristics of a Divemaster, physics of diving, physiology of diving, dive equipment, decompression theory and the RDP, Divemaster conducted programs, the business of diving and your diving career.
Assignment
You must prepare an emergency assistance plan detailing the proper procedures to follow in the event of a diving related accident (relevant to the local environment). Prepare a map of a local dive site offering useful information for those unfamiliar with the area, i.e. topography, depths, entry/exit points, etc.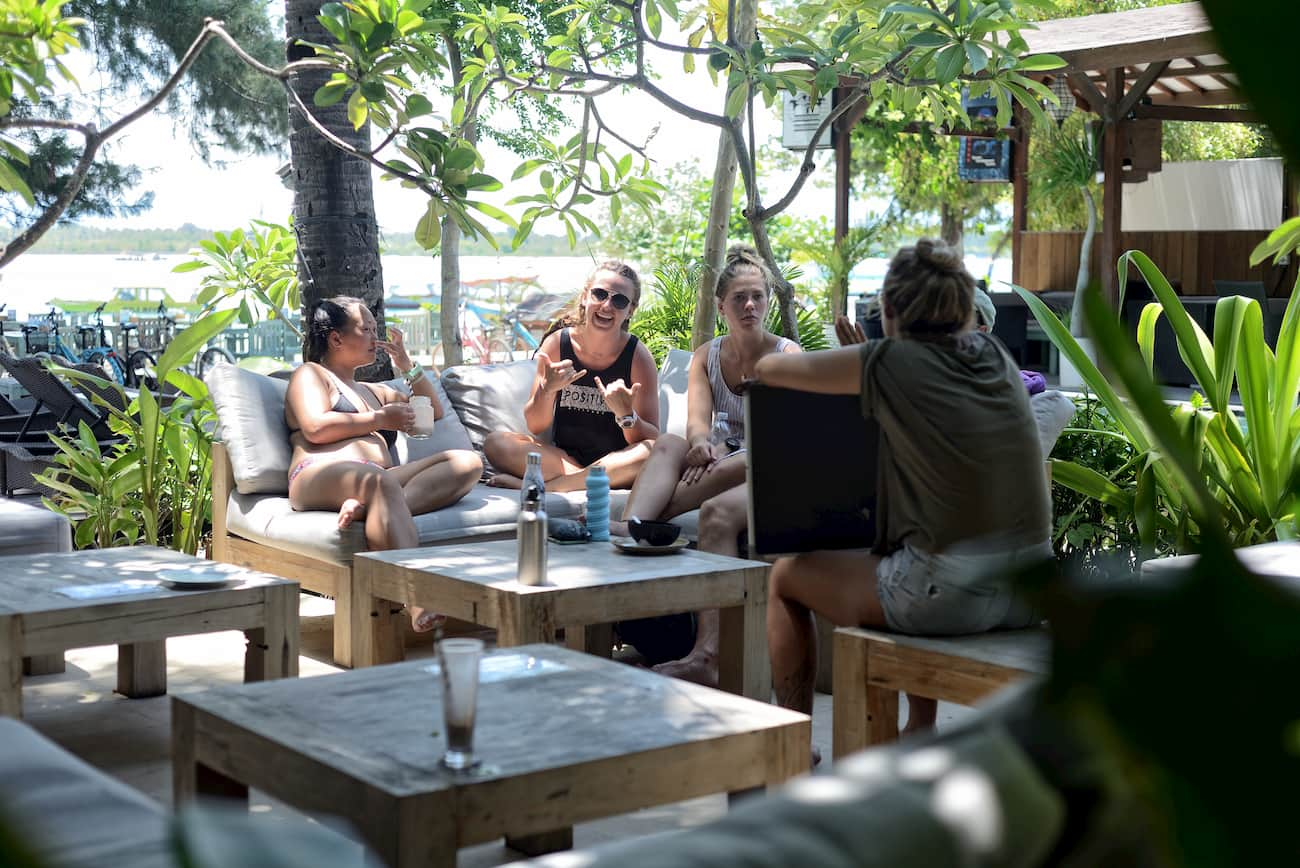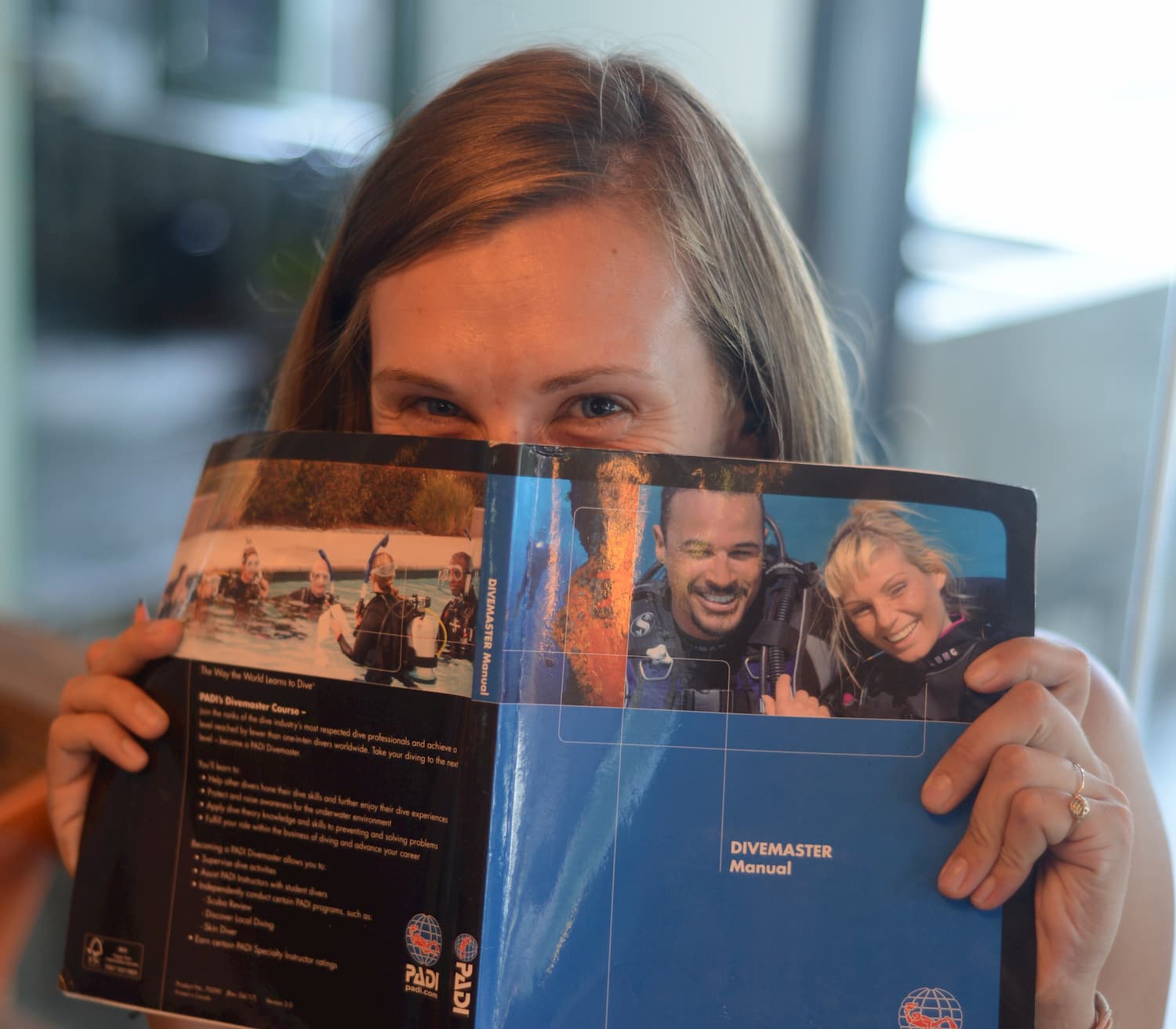 Water Skills & Stamina
In this module, you will perfect your confined water skills to demonstration level, improve your diving ability and practice a rescue scenario.
Equipment Exchange
Underwater, you will exchange all diving equipment with a buddy. This will improve self-confidence and equipment familiarity.
Divemaster Conducted Program
You will conduct a real student training session under the direct supervision of a PADI instructor.
Divemaster Internship
The purpose of this section is to enable the candidate to work with students on a real course and help prevent, overcome, and assist with common problems they may encounter while learning to dive. You will act as an instructional assistant and your performance will be evaluated. In addition, Trawangan Dive will give you training in compressor operation, equipment repair and dive store sales, a very valuable asset to any perspective employer.
Course Time and Costs
We recommend a minimum of three to four weeks to complete the training however many students decide to stay for up to five weeks. During that time, you have unlimited free fun diving and you can do up to 4 dives per day, which will result in well over 60 dives by the end of the course.
The price for the course includes equipment.  However if you have all of your own gear (including regulator, BDC, mask and fins) you will receive a IDR 1.000.000 discount off the course price.  All Divemaster candidates are expected to provide their own surface marker and reel (this is basic safety equipment). A variety of dive accessories are available for purchase in our retails shop.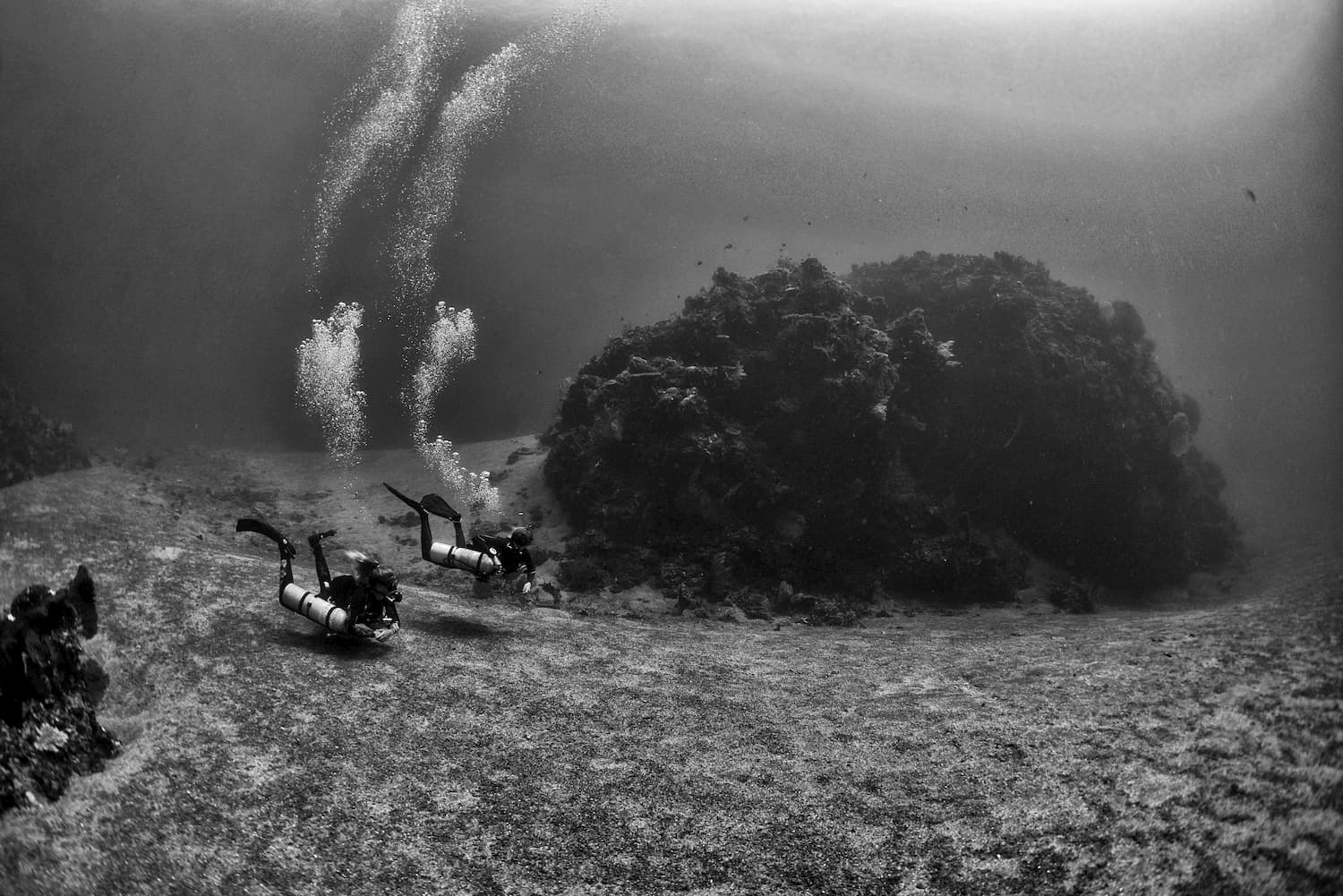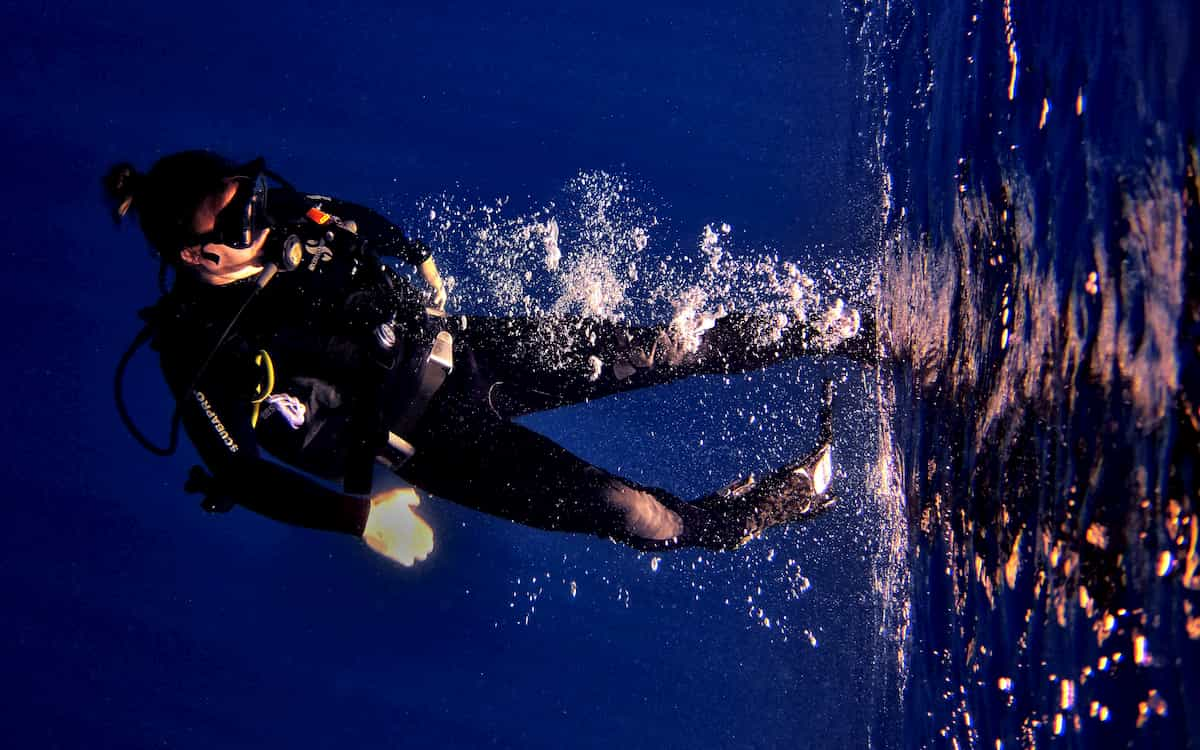 We have an extensive range of Aqualung diving equipment available to buy in our retail shop.
A dive computer is handy as you will be doing repetitive diving so will need to monitor your nitrogen levels.  We sell a range of Suunto and Shearwater computers .
Please note – there is an additional fee for your PADI membership, payable directly to PADI once a year.
What you can teach
After becoming certified as a PADI Divemaster you can:
Supervise both training and non-training-related activities by planning, organizing and directing dives
Assist a PADI Instructor during the training sessions for any PADI Diver course
Conduct the PADI Skin Diver course and PADI Discover Snorkeling program
Conduct the PADI Discover Local Diving experience
Conduct the PADI Scuba Review program
If qualified as a Discover Scuba Diving Leader, independently conduct the PADI Discover Scuba Diving program.
Earn the PADI Digital Underwater Photographer Specialty Instructor rating to be able to teach the PADI Digital Underwater Photographer specialty.
Independently guide Open Water Diver course students on the tour portion of Open Water Diver course Training Dives 2, 3 and 4 at a ratio of two student divers per certified divemaster.
Accompany student divers during Adventure Dives or Specialty training dives under the indirect supervision of a PADI Instructor.
Conduct the PADI Seal Team Skin Diver Specialist AquaMission
Conduct subsequent dives under an instructor's indirect supervision for Discover Scuba Diving participants after participants have satisfactorily completed the first dive with a PADI Instructor.
Teach Emergency First Response courses after successfully completing an Emergency First Response Instructor course.
Accompany Open Water Diver students under the indirect supervision of a PADI Instructor during:

surface swims to and from the entry/exit point and during navigational exercises
when the instructor conducts a skill, such as an ascent or descent, a Divemaster can remain with other student divers (with an individual student or buddy team)
The Final Test!
No one can officially call themselves a Divemaster until they have completed this final task. You will be dressed up and fullfil various drinking games and finally chug a delicous secret potion mady by your Mentor through a snorkel.
Trawangan Dive is known for their awesome snorkel tests on Gili Trawangan. Follow us on Facebook/Instagram to never miss out a snorkel test while you are on the island.
Are You REady To Go Pro?
Send us a message or if you are on the Island head over to our Diveshop. We'd love to meet you.