Getting here &
things to know
There are many fast boat operators running directly between Bali and Gili Trawangan. There are two main ports in Bali, Serangan and Padang Bai. Which one you choose will depend largely on where you are staying in Bali. For those staying in the Kuta, Seminyak or Sanur area, Serangan Harbour is a shorter driver. Padang Bai is more suitable for those coming from Ubud or the northern areas in Bali. There are also more budget options from Padang Bai. We are more than happy to book fast boats for your, just email us on bookings@trawangandive.com for more information. Fast Boat transfer prices can vary quite substantially and you certainly get what you pay for in terms of comfort.
Denpasar, Bali is easily accessed from major airports around the world and within Indonesia. There are also frequent daily flights from Bali to Lombok. Lombok Praya airport can be accessed from any major domestic airports in Indonesia. There are also direct flights from Singapore and Kuala Lumpur. The flight between Bali and Lombok is approximately 25 minutes and cost approximately 450,000 IDR one way. You have a choice of airlines: Garuda, Wings Air and Lion Air offer daily scheduled flights
Please contact us on bookings@trawangandive.com if you would like us to book your flights for you. If you prefer to book the tickets on your arrival into Denpasar, you can do this at the Domestic Terminal which is a short 5 minute walk from the International Terminal.
Lombok Airport to Gili Trawangan
There are three options from Lombok Airport:
We arrange for a car to pick you up and drive you to Teluk Nara Harbour. There you will be met by a private speedboat that will bring you directly to Gili Trawangan. If the tide is high enough, the boat can pull up directly in front of our hotel. If not, then you will get dropped at the harbour, where you can either walk for about 5 minutes, or take a cidomo (horse cart) which will cost around IDR 50,000. The price of the transfer will depend on the number of guests in your group. Email us on bookings@trawangandive.com if you would like us to arrange a pick up. Please note that we need at least 2 hours notice to arrange this service for you.
If you prefer, you can take a taxi from the airport to Teluk Nara Bay and we can arrange for a speedboat to pick you up and transfer you to Gili Trawangan.
The cheapest option is to take a taxi from the airport to Bangsal Harbour. From Bangsal Harbour, take a public boat directly to Gili Trawangan. Please note – the public boats are very cheap, but leave when there are enough people to fill them. The last boat to Gili Trawangan leaves at 5PM, otherwise you can charter a boat. When you reach Gili Trawangan, you will be dropped off at the public harbour. From there, it's only a short walk north to Trawangan Dive.
Sengiggi To Gili Trawangan
We can pick you up from your hotel in Senggigi in our air-conditioned car and take you to Teluk Nara Bay where you will be transfered by speedboat to Gili Trawangan. The journey is just under an hour by car and 15 minutes by speedboat. Please email us on bookings@trawangandive.com for further information and prices.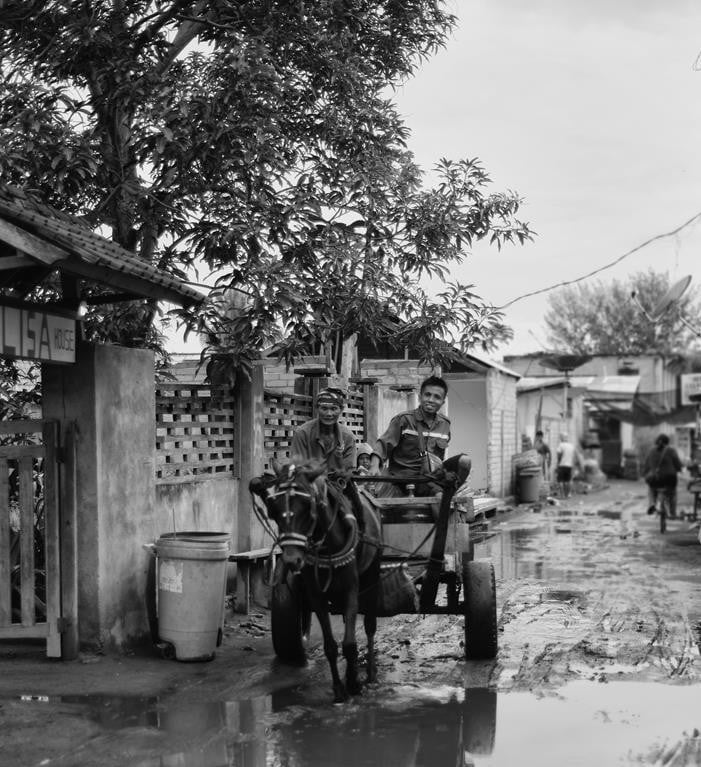 Getting Around
Motorised vehicles are not permitted on Gili Trawangan so, during your stay, you can say a temporary goodbye to traffic, congestion, road rage, exhaust fumes and one or two aspects of road safety. To get around you have 3 choices: you can rediscover the joys of a walk (brisk or leisurely) in gentle sea breezes; ride a bicycle or use a horse-drawn cart, the island's taxi (cidomo).
For the walker, the island provides both shaded and sunny walks with a complete circuit of the coastal path taking about 2 hours. Of course, most walkers take much longer with so many choices of tempting refreshments available en route.
Bicycles can be rented daily from several places close to TDC. Prices and bicycle quality do vary and a short test run is recommended to check that you have a chain and brakes; the life of a rental bicycle can be a hard one!
The horse drawn carts are available throughout the island. Many wait at the harbour for arrivals with heavy luggage. They can also be booked from hotels or flagged down in the street but can be expensive so negotiating a price before a ride is strongly recommended. Like the rental bikes, the horses' lifes can be hard in Gili temperatures and animal welfare concerns have troubled some tourists. Recent initiatives, very actively supported by TDC, have done much to improve matters but we do ask visitors to avoid cidomos with animals thought to be mistreated and not to overload the carts.
Electricity
All three Gili Islands are powered by an undersea cable from Lombok. However in the peak season this can be put under huge strain particularly in the late afternoon and early evening. Most businesses have their own generators to avoid any problems and usually power cuts only last a few hours.
Water
A lot of businesses rely on well water for bathrooms and showers, but some businesses, including Trawangan Dive, provide fresh water from a desalinization plant.  Please use the islands water resources sparingly.
Communication
Wifi is available in most of the hotels and restaurants on the island, but don't expect anything too speedy.  All of the wifi is directed via satellite which means that there are many variables that can slow it down. Try to remember where you are while your video is buffering and enjoy the beautiful scenery instead. It's also simple and cheap to buy SIM cards for your mobile phone.
Money
There are various ATM machines available on Gili Trawangan. All dive centers and larger hotels accept Visa and Mastercard, but will charge you an additional 3% bank fee.
HEalth & Safety
There are several 24-hour clinics on the island, the original one being at Hotel Villa Ombak on Gili Trawangan.  The doctors can deal with minor injuries; minor medical problems and can provide certain prescription drugs.  Herapan Keluarga hospital in Mataram also offers a good standard of care and hyperbaric chamber which can be reached from Gili Trawangan in around 1.5 hours.  Generally there is very little crime on the Gili Islands, however nowhere is a 100% free of petty crime. Like anywhere in the world it's advisable to leave valuables in a safe in your room.