Bio Rock Reef Restoration
What is BioRock?
The Biorock technology is a novel technique to create artificial coral reefs, by building a steel structure and putting a low voltage of direct current through it when sunk in the ocean.
Reef gardeners and biorock students attach corals that are still alive but aren't rooted to substrate onto the structures. Due to the low voltage current and resulting electrolytic reaction a stable substrate is formed of calcium carbonate around the metal, providing a sturdy surface for corals to cement to. This low voltage also promotes the corals grow faster and stronger than on natural reefs. Doing this, Gili Eco Trust restores the beautiful coral reefs of Gili Trawangan in a short period of time. They have proven to be more resilient than natural reefs in severe bleaching events of 2009, 2010 and 2016. More than 120 structures are placed in the waters around the Gili Islands, fostering a lot of new corals and a vast array of fish life.
The Reef Restoration PRogram
Trawangan Dive has an innovative program to restore the Gili islands' reefs. We welcome gap-year students and those looking for thesis or dissertation topics; those on career breaks or anyone wanting an interesting and worthwhile holiday activity.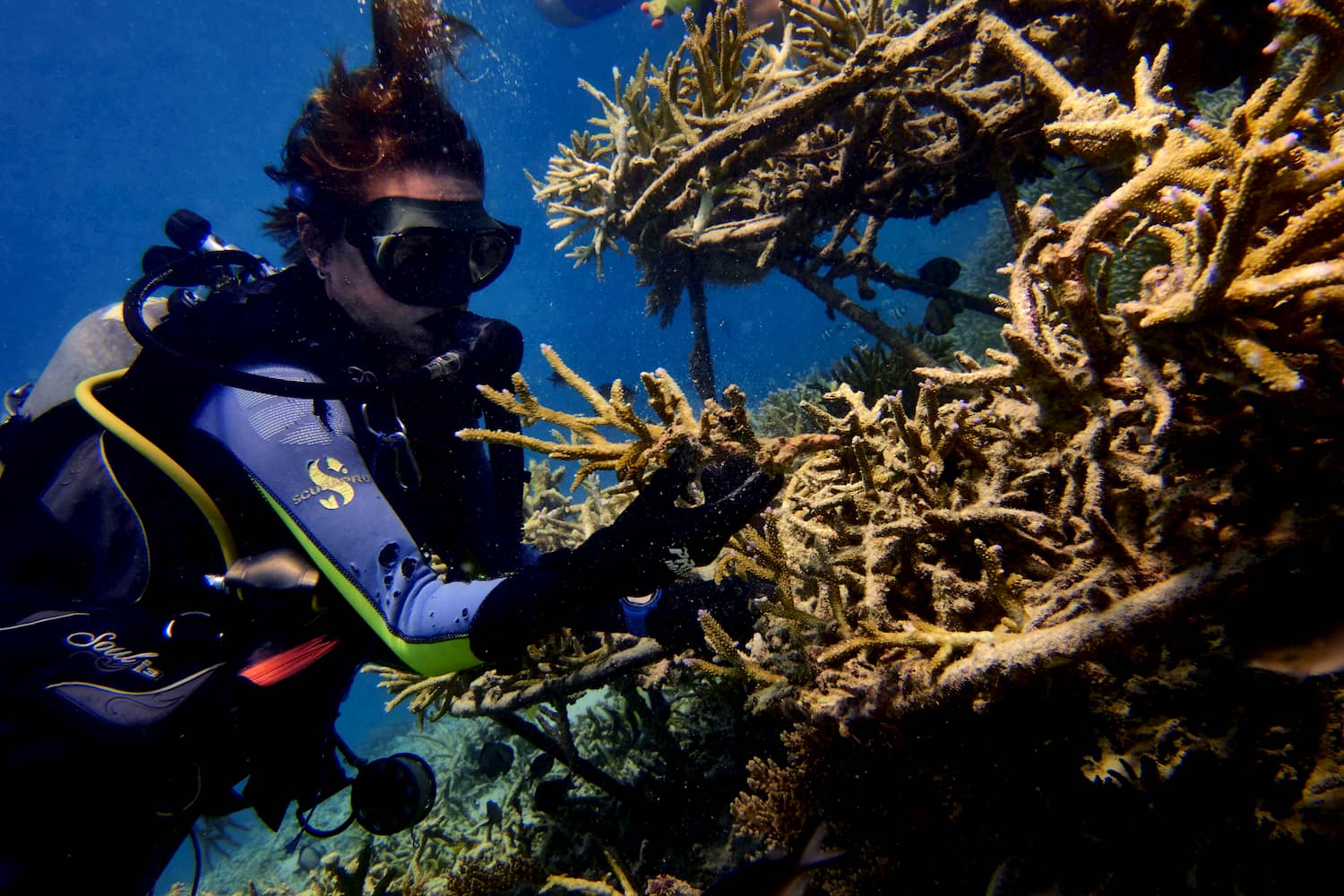 Certain areas of shallow water corals around the Gili Islands have suffered damage by combinations of coral heatstroke, disease, land-based sewage, global sea level rising, over-fishing and direct physical damage. Restoration of degraded reefs and coastal habitats on a scale that makes a difference must be an active environmental priority and not an afterthought.
A revolutionary new technology called Biorock can make this possible. The Biorock Process involves a submerged steel structure that receives a safe low-voltage electrical current. Small pieces of live broken coral are then strapped to the structure and have been shown to grow at 3-5 times the normal rate while coral survival under higher water temperatures and pollution increased by 16 to 50 times.
The Gili Islands are the second largest Biorock site in the world, currently home more than 120 Biorock structures and have hosted International Reef Restoration Training Workshops. The reef restoration project is coordinated by the Gili Eco Trust which works closely with the DKP (Indonesian Marine Conservation and Fisheries). Head of the Gili Eco Trust is Delphine Robbe who oversees the Biorock project around the Gili Islands and here at Trawangan Dive. For more information visit www.giliecotrust.com.
Since 2004 when the first Biorock reef was installed many development and research students from Indonesian and other Universities around the world have come to study the Biorock reef restoration project as part of their Thesis or Masters Degree. Our hope is to continue these projects and make the Gili Islands a global centre for coral research and re-growth.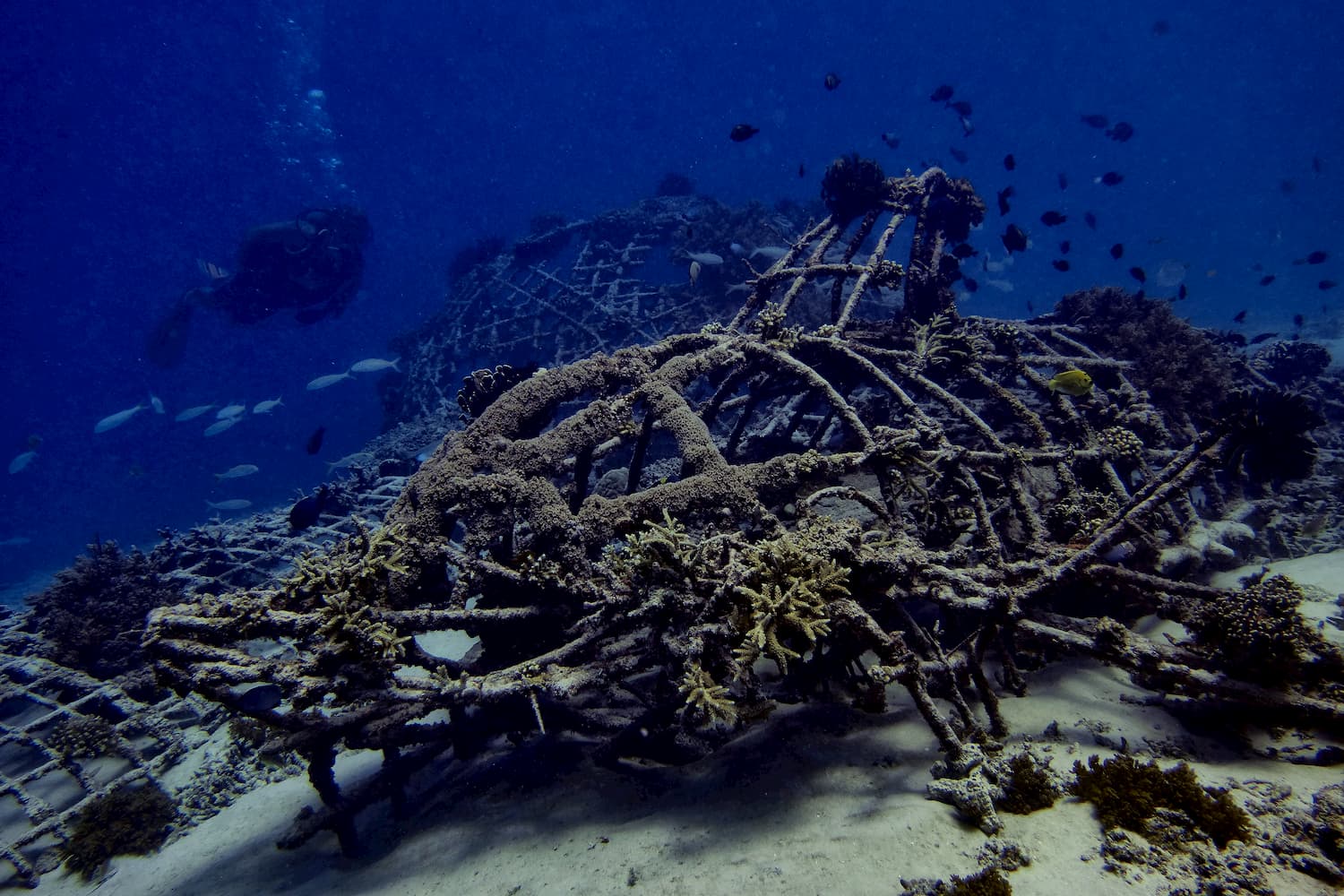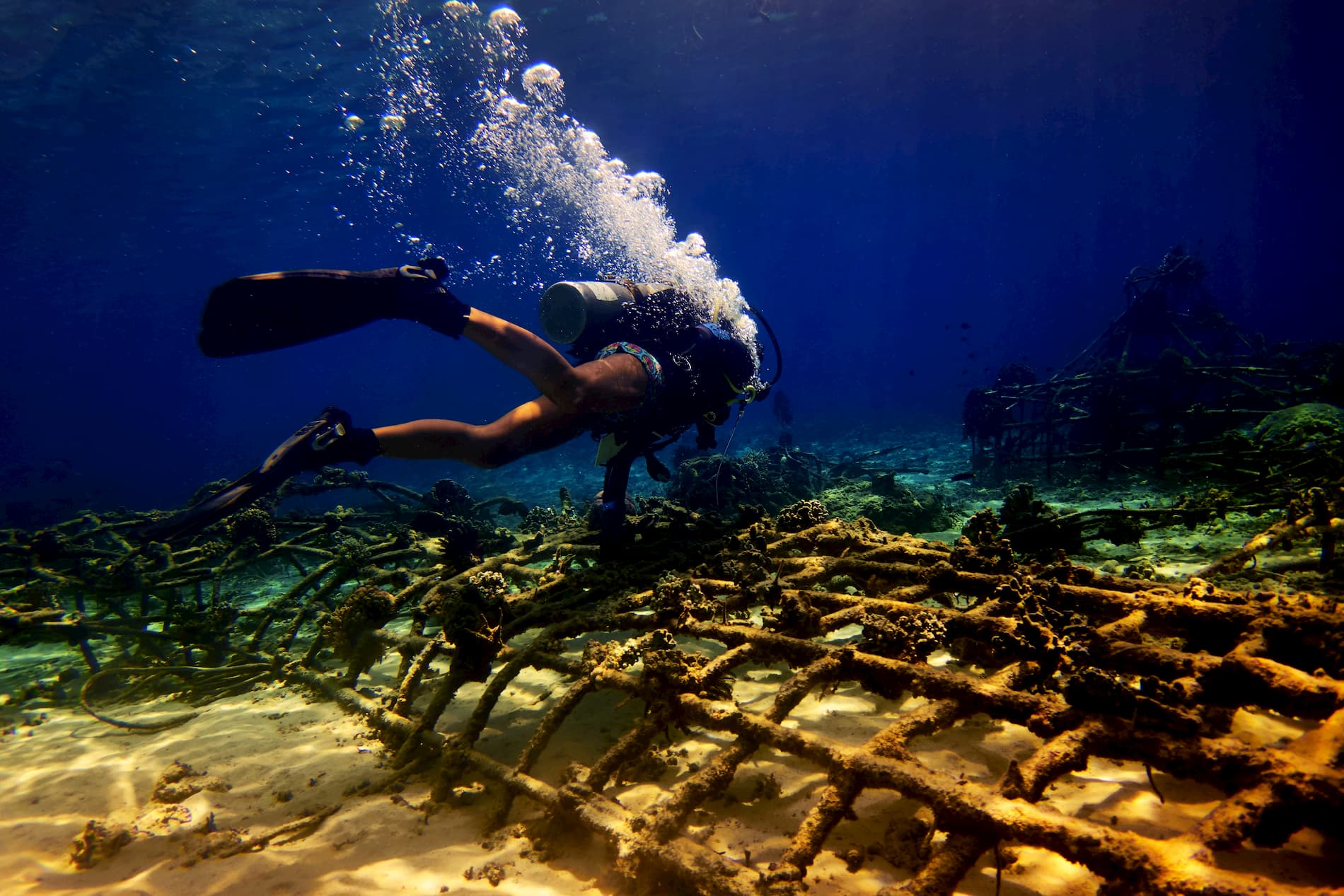 Trawangan Dive offers a variety of training programs. Students and volunteers receive diver training from Open Water to Divemaster level.  During training, they learn coral biology, environmental threats, are taught how to coral garden, survey, conserve, maintain the exciting Biorock and finally design, weld and submerge their own Biorock structure.
For more information on Biorock® technology visit www.biorock.net
Trawangan Dive Reef Restoration Courses
We are offering a wide range of eco courses from Introduction to Reef Gardening to two week BioRock Speciality and Reef Check Course