PADI Instructor Development Course
Get Ready for the ride of your life
Our PADI Instructor Development Course (IDC) ensures that you have the knowledge, skills and confidence required of a certified PADI Instructor.
Learning to teach diving is a bit like learning to drive a car. Passing your driving test does not necessarily mean that you have the skills, experience and confidence to be a good driver. It's the same with diving. Our IDC is more than just a way to get your instructor certification!
Our Philosophy
TDC provides quality training in a relaxed, comfortable environment. Our IDC course is competitively priced and the schedule addresses all the concerns and pressures involved in acquiring a professional dive qualification.
The 15 day course allows for optional free preparation days in advance with 3 days recommended for dive theory study and skills practice. If you feel you need more time, you can arrive earlier. Free fun diving can help ease any introductory phase pressures.
Prerequisites PADI Assistent Instructor
Be a PADI Divemaster or qualifying certification from another recognized organization
Be at least 18 years old
Have 60 logged dives, including night, deep and navigation dives
Have been a certified diver for at least 6 months
Have CPR and First Aid Training within the last24 months
Be fit for diving and submit a Medical Statement signed by a physician within the last 12 months
Prerequisites PADI Open Water Scuba Instructor
All prerequisites from PADI Assistant Instructor Course
Be certified as a PADI Assistant Instructor or be an instructor in good standing with another training organization for at least six months (check with a PADI Course Director for qualifying credentials)
Be certified as an Emergency First Response Instructor
Be at least 18 years old
Be certified as a diver for at least six months
Have 60 logged dives to participate in the Instructor Development Course. You'll need 100 logged dives to take the Instructor Exams
Reasons to choose Trawangan Dive
Highly experienced Instructor training support team
Free Fun Diving before the course
Learning materials, tools, air-conditioned classrom and study areas are provided
Free equipment rental
Free team-teaching opportunities after your course
Organized IDC Party to celebrate our newly qualified Dive Instructors
A range of accomodation options to suit all tastes
Daily Lunch is included
Travel and Visa assistance can be provided upon request
Free wireless internet access
5% discount on all quipment purchases in our Sales Shop for IDC Candidates
Emergency First Response Instructor (EFRI) Course is included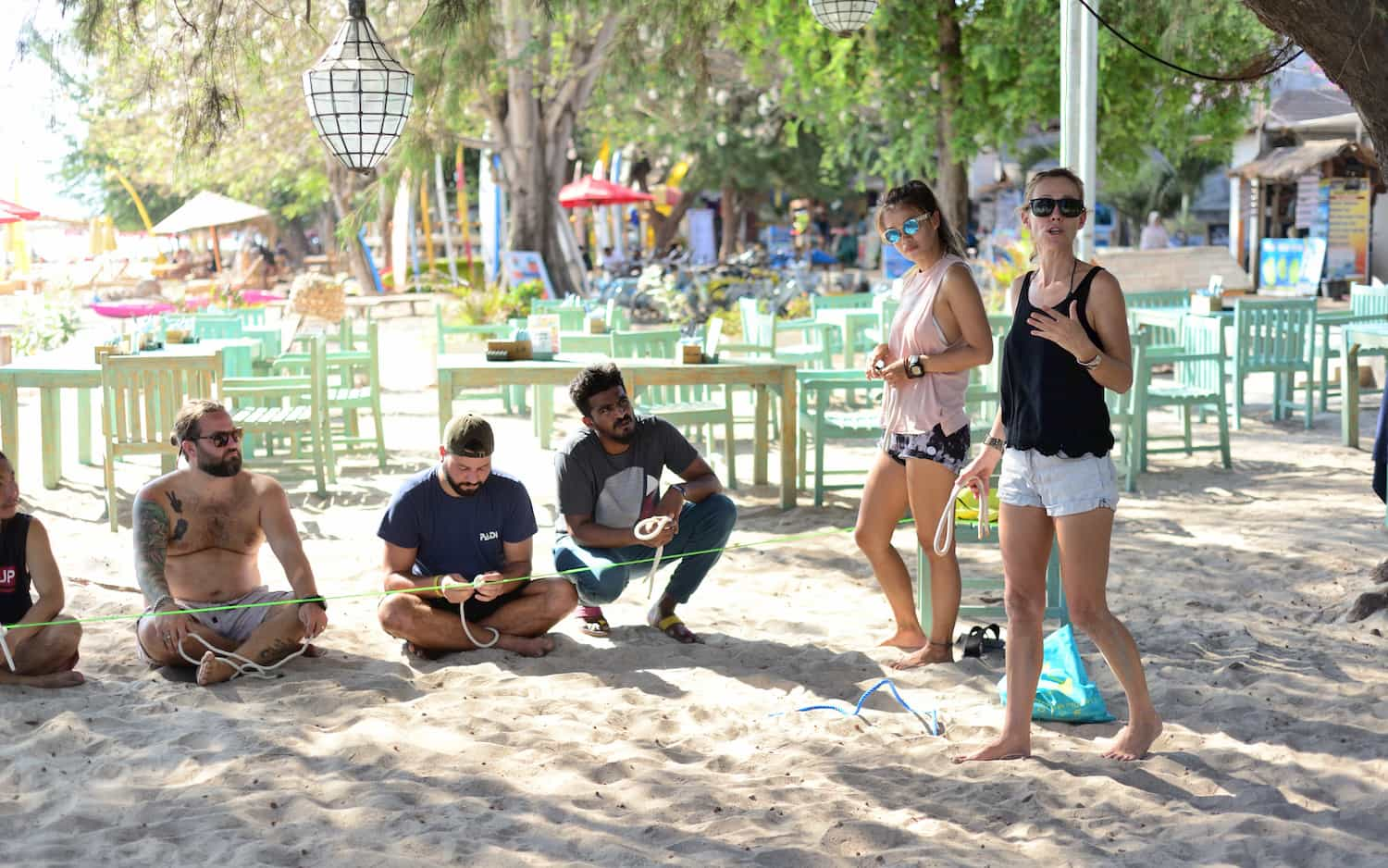 Benefits of a Trawangan Dive IDC
Our PADI Course Director Matt, recognised as one of the very best in the business. Matt has considerable expertise and over 10 years of experience as a PADI Instructor in Indonesia and the Caribbean.
The qualification from Matt's course will enhance your employability worldwide as well as giving  all the essential insights into teaching, dealing with people, running and managing courses, and dive marketing.
You'll gain teaching experience, by shadowing one of our staff teaching a PADI course. You see for yourself the practicalities of running a course, and make a smooth transition to teaching students of your own.
You'll benefit from Trawangan Dive's IDC Staff instructors who will assist, advise and support you. They are ready to share with you their experiences of working in diving, and the challenges and rewards of being an instructor.
You'll enjoy the same high level of professionalism, high-quality facilities and friendly atmosphere that we offer to everyone diving with us.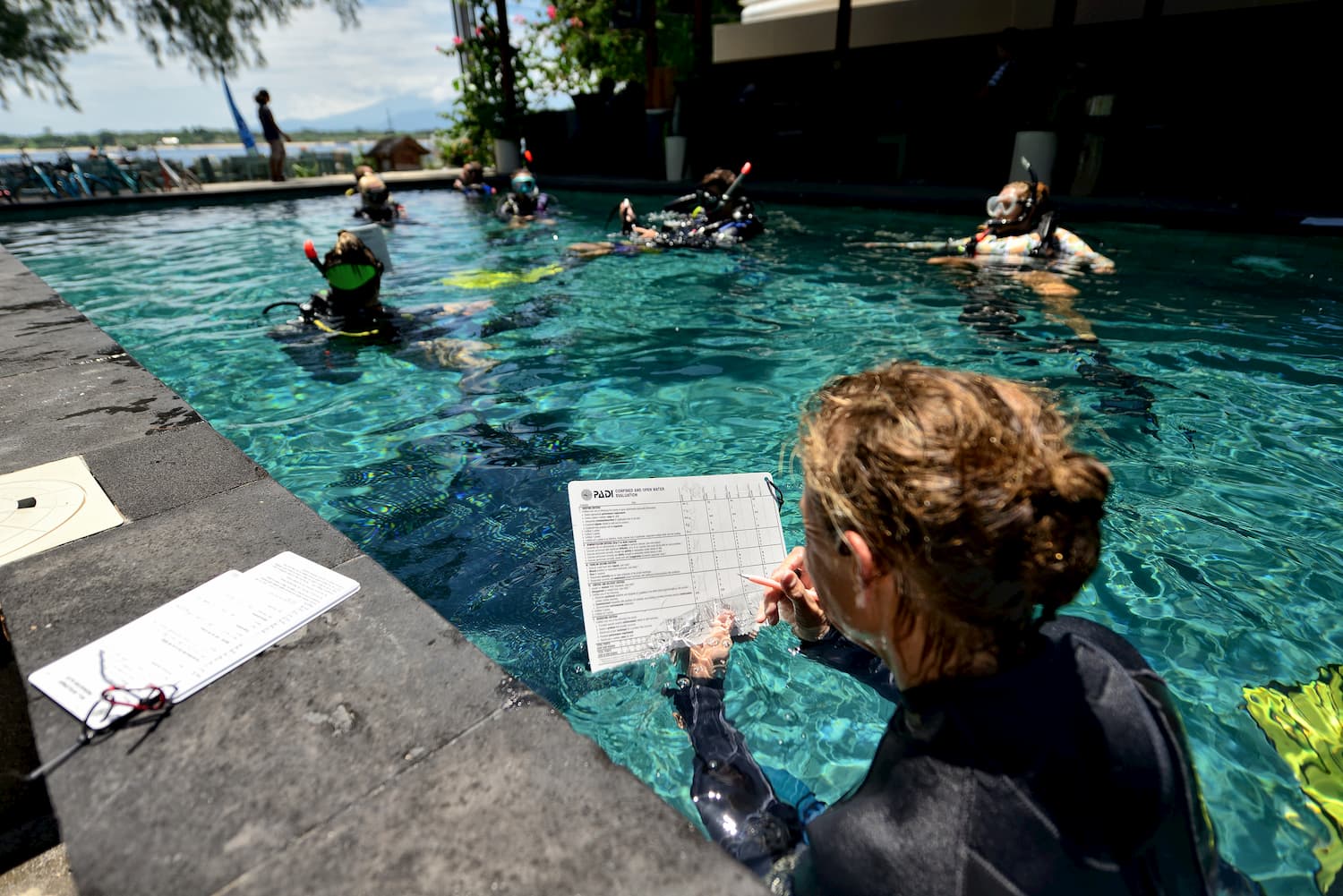 The PADI Instructor Development Course (IDC)
The PADI Instructor Development Course has two distinct parts; The Assistant Instructor (AI) and the Open Water Scuba Instructor program (OWSI). These courses can be taken separately, but are usually combined as the Instructor Development Course (IDC).
PADI Assistant Instructor (AI)
As a PADI Assistant Instructor, you not only gain additional experience as a PADI Professional scuba diver, but you also start learning the PADI System of diver education. You can act as an instructional scuba assistant and assume limited teaching responsibilities. 
Open Water Scuba Instructor (OWSI)
The Open Water Scuba Instructor (OWSI) program is the core of PADI Instructor training. It introduces you to the entire PADI System of diver education and concentrates on further developing your abilities as a professional dive educator.
How To Prepare
By preparing thoroughly in advance, you will benefit most from your IDC, and avoid feeling overloaded. Before starting the IDC, we recommend that you:
Join our free preparation days before the IDC starts.
Purchase your online IDC crewpack and complete the IDC E-learning knowledge components.
Familiarise yourself with the PADI Instructor Manual and the Guide to Teaching
Revise the dive theory topics (Physics, Physiology, Equipment, Dive Skills and the Environment, Recreational Dive Planner), using the Encyclopedia of Recreational Diving and your online crewpack, or sign up for our own IDC online resource center and access dive theory study tools for free.
Make sure you have the latest version of the PADI Instructor Manual or update yours with the latest Training Bulletins
Review the 24 skills you practiced during your PADI Divemaster course
Practice the 'Unconscious Diver at the Surface' exercise from your PADI Rescue Diver course.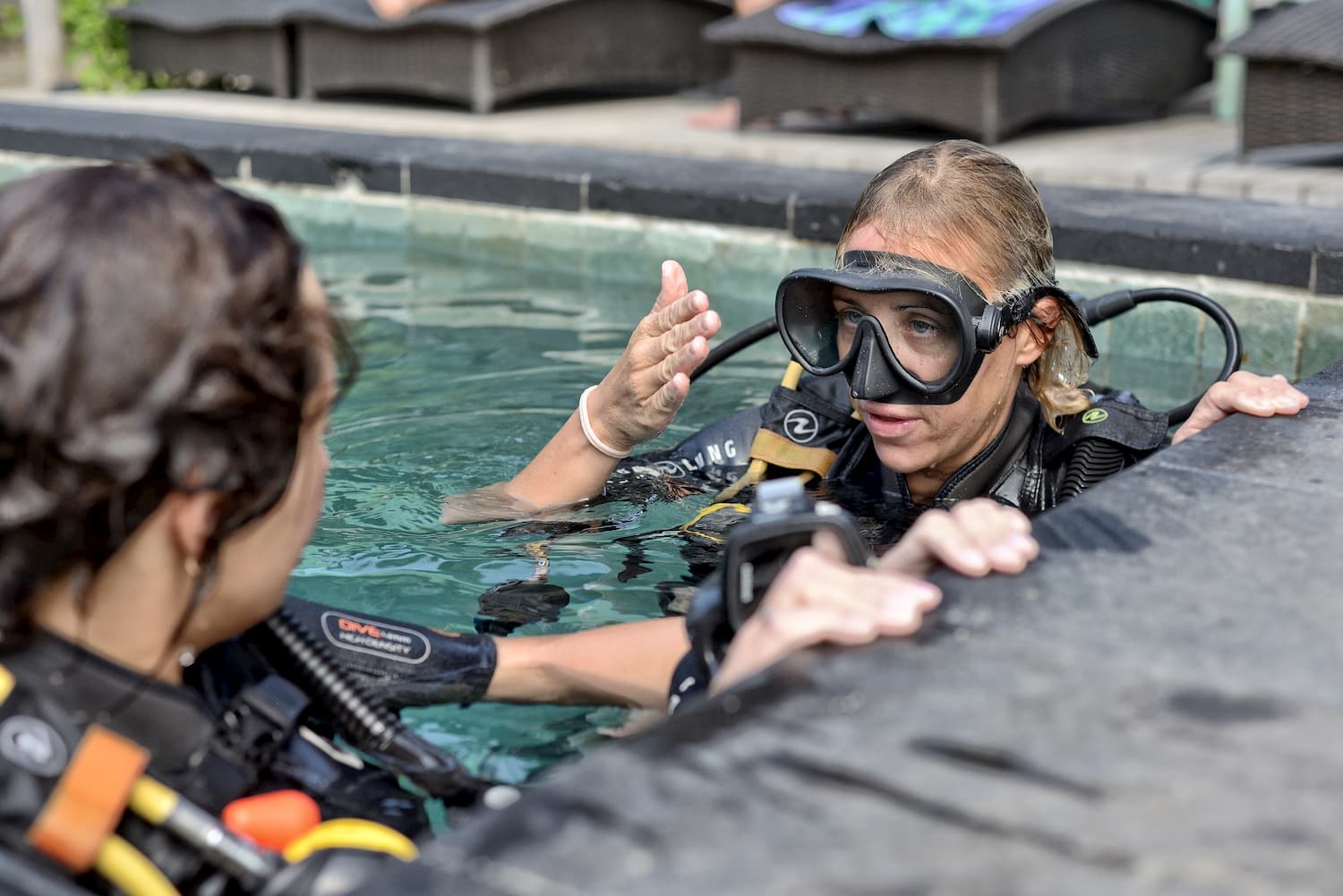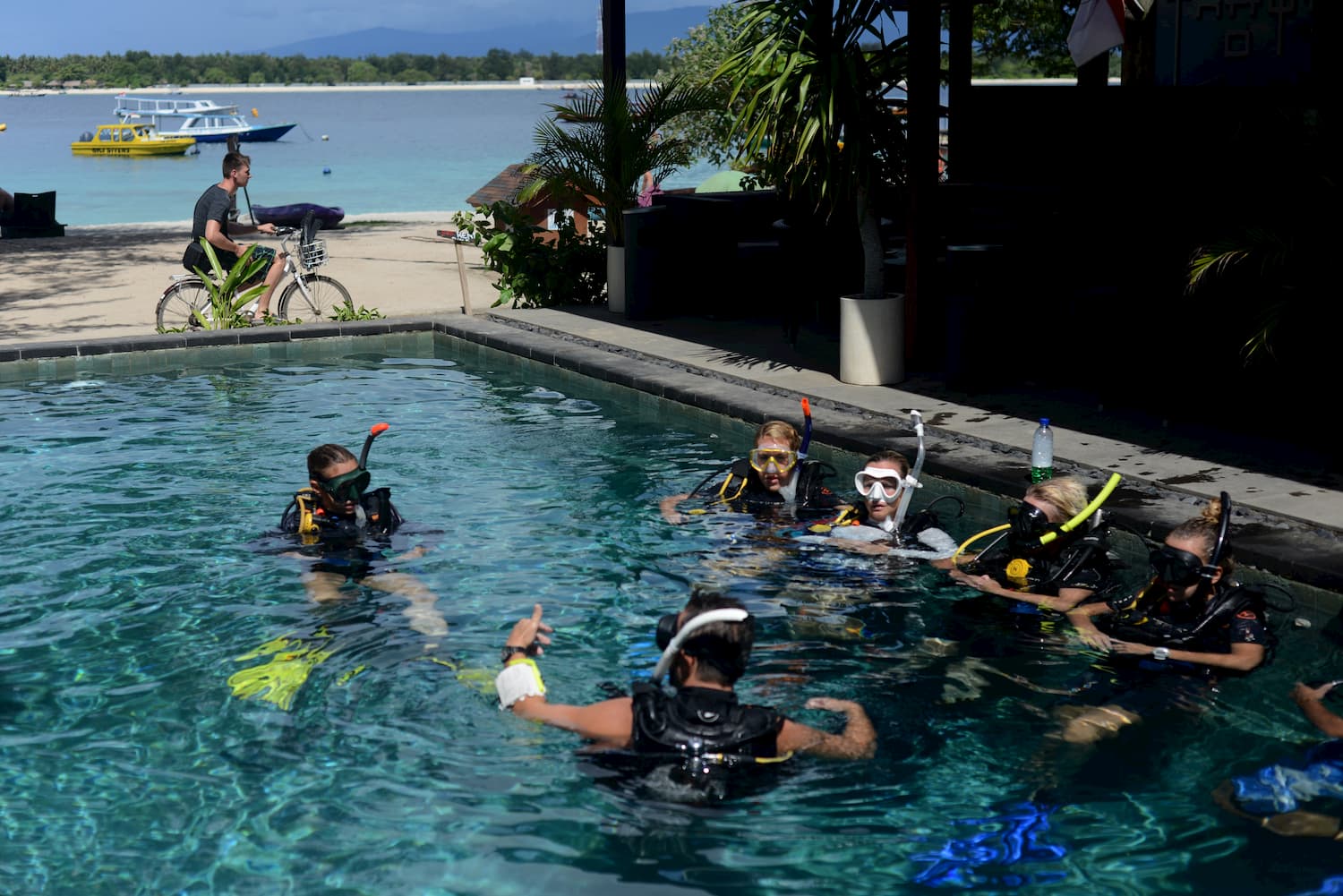 Water Skills Training Locations
Trawangan Dive has two on site swimming pools, and is located directly on the beach. Our open water training sites are a stone's throw away and easily accessible via one of our own spacious and comfortable dive boats.
Our location and efficient logistics give us the advantage of minimal time wasting and more time to work on those crucial confined and open water training sessions. Our training sites are warm, calm and usually have excellent visibility.
Overall Gili Trawangan provides the perfect conditions for Instructor Training!
What materials are required?
The PADI IDC Crewpack includes all the materials needed to prepare for the Instructor Development Course. Most of the crewpack resources are digital and stored online in your own PADI Training account but you will also receive a PADI IDC backpack and Instructor cue cards for PADI's core courses (Open Water, Advanced, Rescue and Divemaster).
In addition the Online crewpack is Multilingual and includes:
Access to the PADI IDC eLearning course components.
The Dive Knowledge workbook online.
PADI Guide To Teaching.
Online processing tutorial IDC resources.
Quiz and exam booklets for the core courses available as a pdf download.
Instructor outlines for teaching PADI and Project Aware specialities.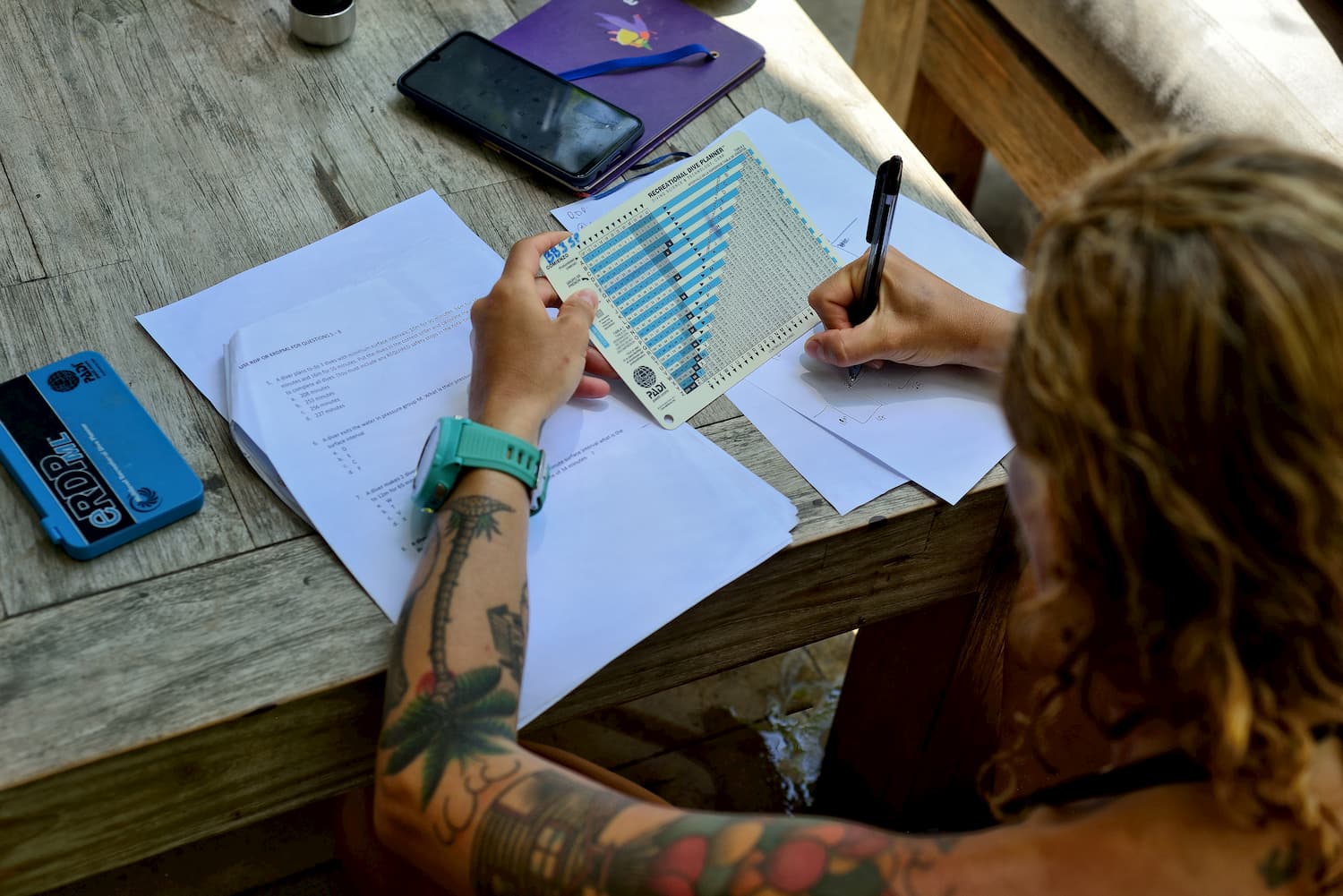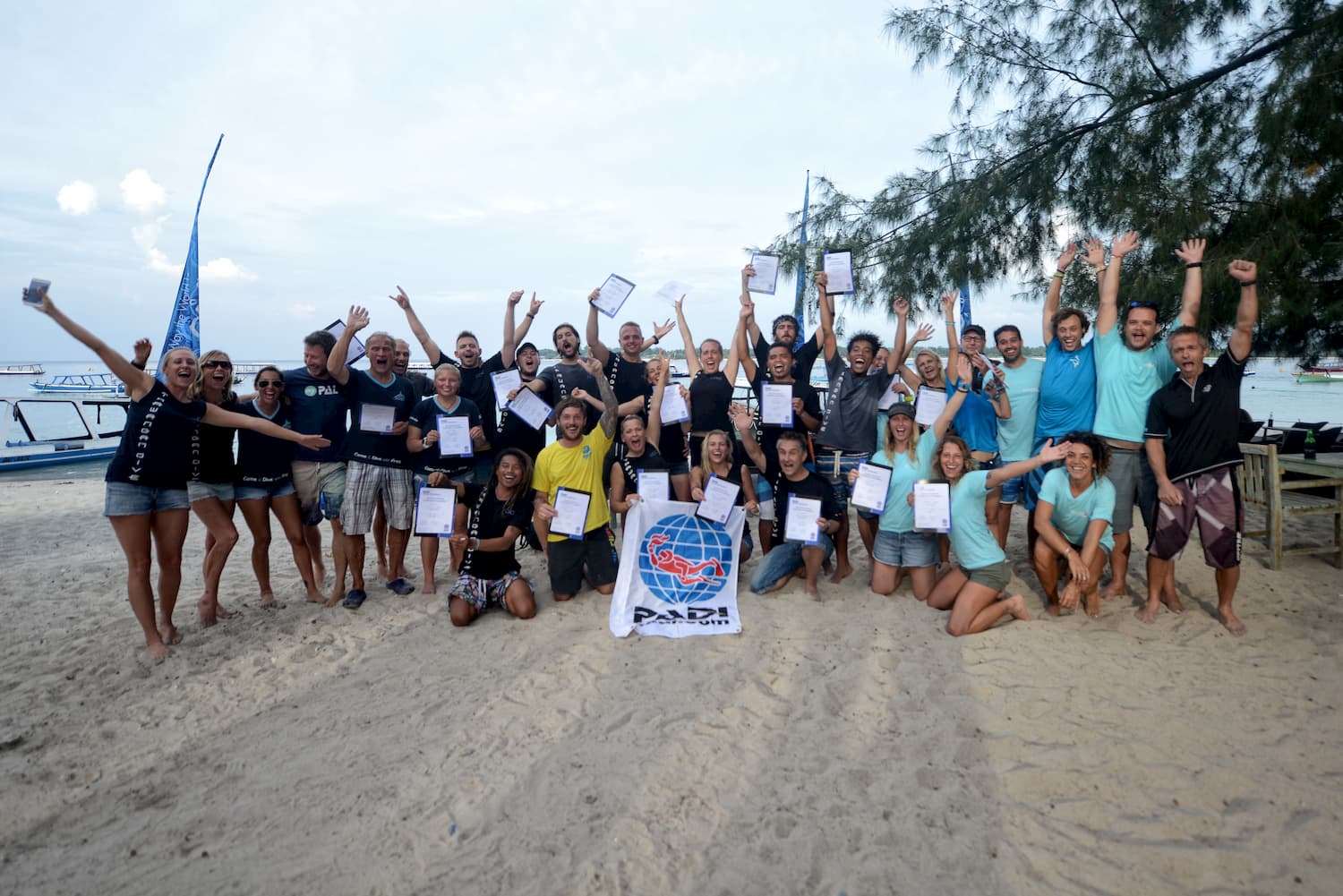 Instructor Examination (IE)
On successful completion of your IDC, you will attend a PADI Instructor Examination, a two day evaluation program which will give you the opportunity to demonstrate what you have learnt.
During the IE, a PADI Instructor Examiner independently and objectively assesses your knowledge and skills, testing everything from dive theory to PADI training standards.
PADI is the only certification organization that requires an objective, independent examination to qualify as a professional instructor. This balanced and consistent evaluation process is one of the hallmarks that make PADI professionals the most demanded and respected instructors in the dive industry.
Provisions may be made during written examinations for instructor candidates with learning disabilities and for those who must take the exam in another language. If you have any special needs, please let us know.
Instructor Development Course
2023
15 Jan – 30 Jan
19 Feb – 06 Mar
19 Mar – 03 Apr
23 Apr – 08 May
27 May – 11 Jun
24 Jul – 06 Aug
21 Aug – 03 Sep
16 Oct – 29 Oct
19 Nov – 04 Dec
20 Dec – 03 Jan
2023
31 Jan – 01 Feb
07 Mar – 08 Mar
04 Apr – 05 Apr
09 May – 10 May
12 Jun – 13 Jun
08 Aug – 09 Aug
05 Sep – 06 Sep
31 Oct – 01 Nov
05 Dec – 06 Dec
05 Jan – 06 Jan
Dates are subject to change and should be confirmed with Trawangan Dive
Start your new Adventure with us!
Send us a message or if you are on the Island head over to our dive shop. We would love to meet you!